Skip Navigation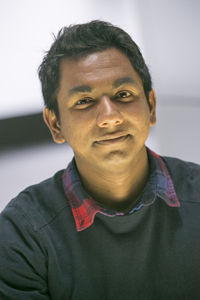 Researcher of the Month

February 2015

Shanawaj (Roy) Khair

Biology major, University Scholars Program, Class of 2016

Research Mentor: Dr. Ellen Li, Stony Brook Medicine

---
When Roy Khair was awarded a Gates Millennium scholarship funding a "good-through-graduation scholarship to use at any U.S. based, accredited college or university of [his] choice"—he chose Stony Brook. Roy recounts, "I thought this place was the best fit for me and turns out it was! I found Dr. Li, I found Dr. Gergen, phenomenal classes…and I found URECA!"
Currently a junior majoring in Biology, Roy has been working with his mentor Dr. Ellen Li since 2013 to explore the role of gut bacteria in colon cancer. Roy contacted Dr. Li as a freshman, submitted a URECA proposal in his second semester at SB, and was selected to participate in the inaugural URECA Explorations in STEM research program –co-administered by URECA, the Career Center and Technology & Society. Roy recalls: "The URECA STEM Exploration program was more than just giving you funding. We had weekly meetings designed to help students be more engaged in terms of career development – how to network, how to present yourself, how to expand your interests, how to know about other careers out there. The Director, Marianna Savoca, was really helpful in terms of getting us exposed and learning how important those skills were." Roy's research with Dr. Li was supported for a second summer (2014) by a URECA-UG Biology alumni award; and he is currently engaged in co-authoring and preparing a manuscript (submitted). Roy plans to apply to MD/PhD programs next year.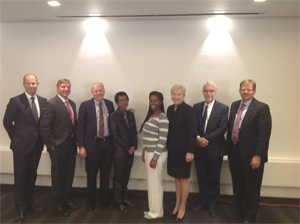 This past fall, Roy participated in the Gates Millennium Leadership Summit and Lobby Day in Washington, D.C.  – enjoying the opportunity to interact with legislators and gain experience in cancer advocacy. [See also >>] Recently, Roy was invited to represent SB undergraduate research at a SUNY RF Board Meeting.  
At SB, Roy has been involved as an EOP/AIM tutor for General Chemistry, Biology, and Organic Chemistry. In his freshman year, Roy was an Undergraduate Fellow - Undergraduate Colleges. His hobbies also include photography, and exploring international cuisines.
Roy's fascination with gut microbiome research began when he was a high school student at John Bowne HS in Flushing, and initiated an independent science research project with Dr. John Dennehy and Dr. James Carpino  at CUNY Queens to investigate the correlation between body mass index and Bacteroidetes and Firmicutes Frequencies in the Gut—a project he presented at the NYC Science and Engineering Fair & that brought him to the Intel International Science & Engineering Fair (ISEF) finals (2012).  Roy was also a participant in the fabulous American Museum of Natural History Science Research Mentoring Program where he worked with Dr. Mande Holford and Dr. Hilleary Osheroff on recombinant synthesis of Tg77 peptide from Tererbra guttata (cone snail venom).

Roy Khair moved from Bangladesh to the NYC area at age 12; and he credits rapidly learning English by being an avid reader of Harry Potter books. Below are excerpts from his interview with Karen Kernan, URECA Director.
---
The Interview:
Karen. Tell me about your current research with Dr. Li.

Roy. Our lab has multiple projects. One of the projects I am involved with is exploring the relationship between gut bacteria and colon cancer. In our GI tract – there are roughly 10 trillion bacteria. We all have it. Research has shown that they affect many components of our health (obesity, development of colon cancer, autism, Inflammatory Bowel Diseases, and many others). We ask how changes in the population of that 10 trillion bacteria affects your predisposition to colon cancer. Or how predisposition to colon cancer such as diet, race, gender—how does that affect the population of gut bacteria — which in turn affects your development of colon cancer. Colon cancer is the 3rd most leading cause of death in the US. It's a very treatable disease if detected early (...you have a higher chance of survival if you get your colonoscopies at onset age at around age 50). If caught late, it becomes life threatening.  
And what first got you interested in this field of gut microbiome research?
I went to John Bowne HS in Flushing NY. We had phenomenal teachers there who were instrumental in encouraging us to pursue careers in science. I transitioned into science research largely because of my biology teacher, Ms. Joy,  who would bring me Science and Nature magazines. I really got into reading about research, and exploring so many relevant topics that I was fascinated by—including the work of Dr. Jeffrey Gordon at Washington University in St. Louis who was a pioneer in gut microbiome research and had explored the relationship between gut microbiome and obesity. Soon I designed an experiment to explore the relationship between gut biome and body mass index of the host. To carry out the project, I reached out to Dr. John Dennehy and Dr. James Carpino (a graduate student at the time) at Queens College who helped me and provided lab space and some financial support to carry out the project. I also got financial support from biotech companies such as Eppendorf, and Roch Diagnostics, and some others. I later submitted my project to NYC Science and Engineering Fair, and it was one of 16 projects selected for the Intel ISEF fair. Up to then, my exposure to the science world had been limited. But going to big science fair where you got to meet Nobel laureate scientists and interact with students who are doing fascinating projects—all of these experiences solidified my conviction to go into science. I knew research was where I wanted to go.  The Science Mentoring program at American Museum of Natural History, a 2 year program, was also a big influence on me. I still remember at the end of the program when we had to give a 10-15 minute presentation on stage … It was a fantastic time in terms of solidifying my interest to do research.
So you came to SB knowing you wanted to do science?
Yes, I had a foot in the door into the research world. And then, when I first came here, I contacted Dr. Peter Gergen, the Director of UG Biology. I told him about my high school experiences and my interest in gut microbiome. He recommended that I contact Dr. Ellen Li in SB Medicine who was the expert on the subject, and I did, following Dr. Gergen's advice. Soon after, she met with me. And I told her about my experiences with the project and gave her a copy of my paper. Dr. Li said the best time to start research was in the summer—and she told me about the URECA program. She gave me more articles to read and get familiar with the project – and then we devised a research plan and submitted it to URECA.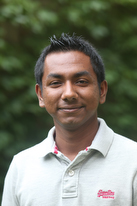 Yes, I remember that you participated in the new URECA Explorations in STEM program that summer. 
The URECA STEM Exploration program was more than just giving you funding. Because we had weekly meetings designed to help students be more engaged in terms of career development – how to network, how to present yourself, how to expand your interests, how to know about other careers out there. The Director, Marianna Savoca was really helpful in terms of getting us exposed and learning how important those skills were.
How has Dr. Li helped you as a mentor?
I don't think I can describe in words how phenomenal Dr. Li is! Dr. Li is very nurturing, very helpful. She always makes sure that you are on the right path. …. . . One day when I was giving a mini lesson on PCR to one of the high school students, Dr. Li chimed into the conversation and we started talking about not only how to do the procedure but why this reaction goes the way it goes, about the fundamental gen chem details that makes a PCR reaction go … We went over the rationale of how a trivial reaction works – and that's essentially Dr. Li's core message to all the students. You have to know how things are working . . . Sometimes you can get tunnel vision when you are caught up with your project. But Dr. Li makes sure that you come back to the basics, and that you know what you're doing, what the rationale is. She wants to make sure that you really understand the fundamentals.
How has being involved in research enhanced your education?
I can't imagine my college education without it. The skills that you acquire in lab –working in real life problems – are applicable to how you handle your classes as well as your everyday lives. The critical thinking & reasoning skills you gain—thinking in terms of process rather than just getting the answer – that is beneficial to doing well in classes. And working in a lab, you tend to run into a lot of challenges where you make a lot of mistakes. That's okay, I think, because that's how you learn. When you make a mistake, that's when you learn the most. Doing research, you learn that you have to carry out the process and see where it leads you…to get to the answer.
Any favorite moments associated with research?
There are so many favorites, especially that first summer. I found that I really enjoy presenting.   When I gave my second presentation at our weekly meetings, an overview of gut microbiome and colon cancer, it was very motivating to get positive comments from others (including a med student), and be told that "it was one of the most understandable presentations."
Speaking of presentations – I wanted to ask about the Gates Millennium conference in D.C. you attended this past fall.
It was amazing. We met with senators and representatives. We talked about legislation concerning cancer – for example, removing financial barriers for colonoscopy for Medicare patients. We talked also about how important policies are in affecting research areas and getting funding. And I met some really interesting people – a lot of volunteers who were either past survivors, or their families had been affected by cancer – and are now involved in public awareness campaigns. I really got a much different, broader exposure at this conference than from anything I'd attended previously, and I could see that cancer prevention involves so more than lab work… It really got me to thinking more about community involvement. We need the public, the private and universities working together towards the common goal of finding a cure. It was really eye opening.
What made you choose SB when you first got the Gates Millennium Scholarship?
Stony Brook was a name I kept hearing – particularly from a lot of the other students in the Science Research mentoring program, and the director of the program too.  I didn't want to go too far away from home--I'm very close to my family, and we're first generation immigrants…   but at the same time I wanted to get the college experience and to work in a research community. So I thought this place was the best fit for me and turns out it was! I found Dr. Li, I found Dr. Gergen, phenomenal classes, and I found URECA! To be honest, if I didn't get that scholarship support – I'm not sure if I would have been able to come to SB …
I would agree that Stony Brook has worked out well for you!
There are so great things about research. Not only because I got to work in a lab, but because I really kind of gained a second family in terms of working with the people there. That first summer I was here – every Friday we went to play soccer after lab work. Right away, you are bonding with friends, and becoming more involved with the SB community. 
Another thing that is beneficial about doing getting research experience is learning how to orient your brain. When you are doing research - or facing something new in your courses, it's all about learning how to adapt yourself to different situations. That's definitely one thing I will take out of my college experience: knowing how to adapt, how to think in a different way, how to put on a different hat.   
What advice would you give regarding undergraduate research?
Talk to other students who are doing research – they can get you exposed to how research works. Also – get involved early on. Research is a long process, in terms of getting independence, getting oriented. It takes time and effort, and consistency. I urge you to get involved in research. It is the best experience you will ever have!