Skip Navigation
Registration Information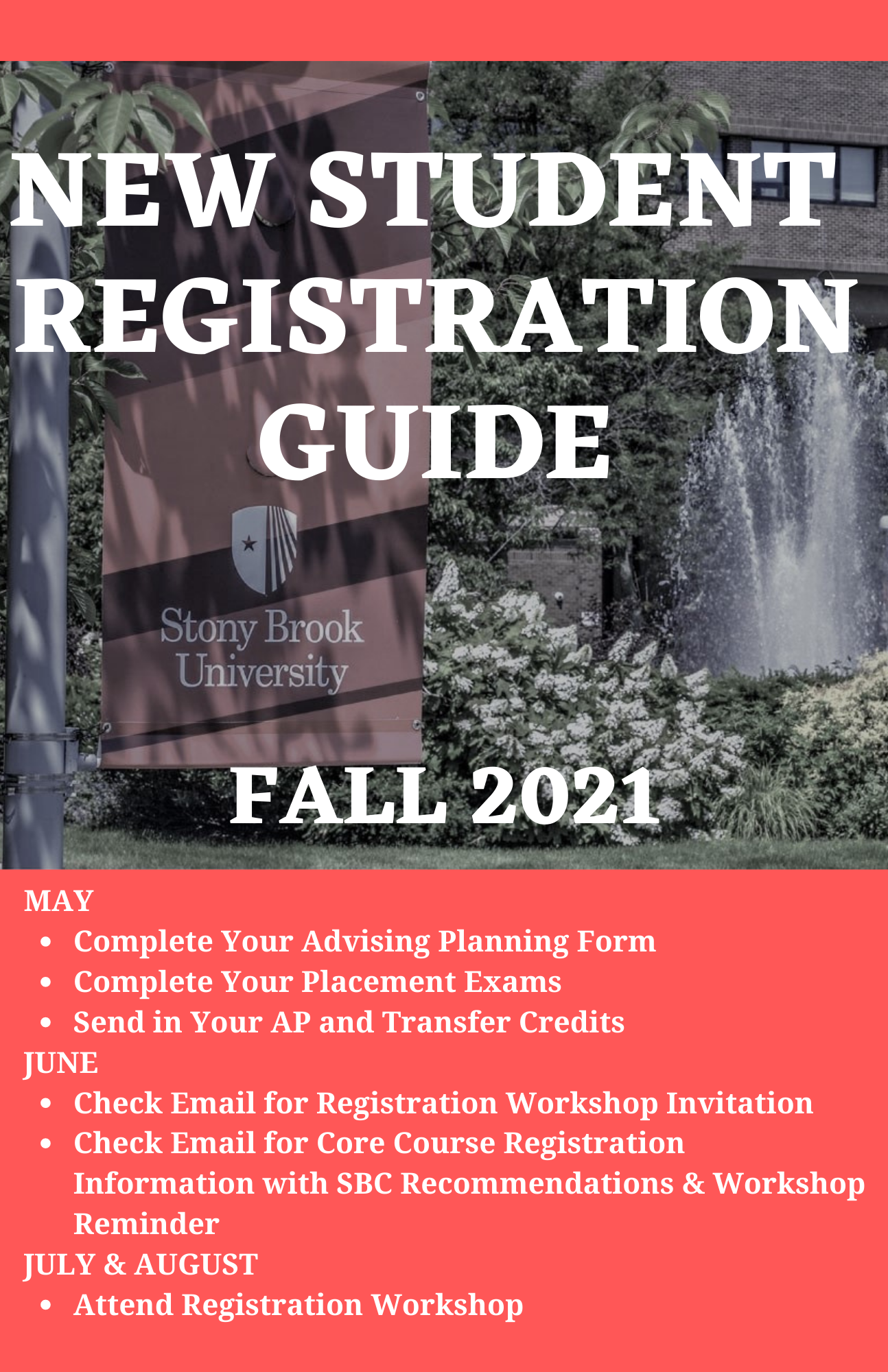 Complete your Advising Planning Form (APF) in SOLAR no later than June 16  to ensure you are registered in the appropriate courses.
The Advising Planning Form will:
Confirm your intended major
Allow you to self-report AP and transfer credits
Direct you to sign up for the Placement Exams you need
AP's and Transfer Credits
You should self report ALL Transfer and AP Credits on your Advising Planning Form.  In addition, if you have AP Math or Chemistry, please email a copy of your scores to  ucolleges@stonybrook.edu . 
IMPORTANT for Transfer Credits:
Send  official transcripts from all colleges and universities to:
Academic and Transfer Advising Services
Suite 105, Stony Brook Union
Stony Brook University
Stony Brook, NY 11794-3217
USA
Send e-transcripts to: transfer_office@stonybrook.edu
Report AP scores online through College Board . Code = 2548.
Registration Workshops
Your Advisors and Student Enrollment Assistants will be enrolling you in your required courses.  You will be assigned a Registration Workshop Date (dates are listed below). 
Please check your Stony Brook Email for Advising Information and Registration Workshop Information in June.
The email will come from your assigned UGC:
socialjustice_equity_ethics@stonybrook.edu
creativity_tech_innovation@stonybrook.edu
globalhealth_wellness_comm@stonybrook.edu
Each UGC wil host 4 Virtual Workshops per week (Tuesdays & Thursdays; 2 per day).
July 13th & July 15th 

July 27th & July 29th

August 3rd & August 5th
AM Workshop: 9:30 a.m. - 12:30 p.m. 
PM Workshop: 1:30 p.m. - 4:30 p.m.
Registration for CEAS, Honors, University Scholars, and WISE Students
Special Populations (Honors, University Scholars, and WISE) will have their Registration Workshops during the week of July 19th. More information to be provided from your program.
For CEAS advising and registration, contact CEAS_Advising@Stonybrook.edu.