Skip Navigation
MFA in Film Program Expands to Include TV Writing, Adds New Manhattan Location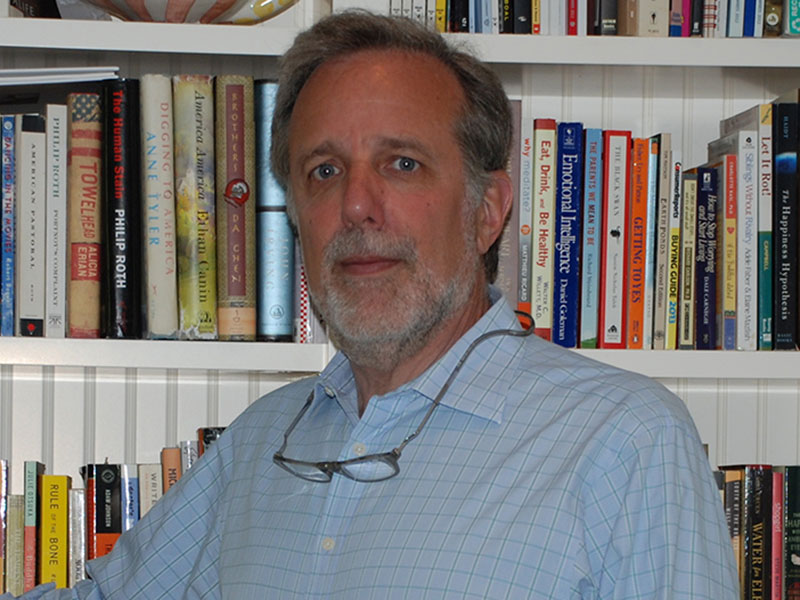 With a new base of operations at 535 Eighth Avenue in Manhattan and the hiring of Alan Kingsberg as a full-time professor for the new TV Writing curriculum, the MFA in Film offered by Stony Brook Southampton in association with Killer Films is poised to join the ranks of top film schools in the U.S.
"Creativity in all its forms is becoming more important in the world and our growth reflects that," Stony Brook Southampton Associate Provost Robert Reeves said. "We are adding faculty, increasing enrollment, and designing innovative new curricula."
"Our new Manhattan space is more like a suite of production offices than a school," said MFA in Film Program Director Magdalene Brandeis. "We have professional-grade equipment such as the RED digital camera, Canon Cinema Prime lenses and Kino lighting packages, and for post, the students work in a top-of-the-line edit suite."
Christine Vachon, Killer Films co-founder and Artistic Director of the MFA program said she plans to integrate Killer's new films  My Days of Mercy, starring Ellen Page and Kate Mara, Todd Haynes's Wonderstruck, and Paul Schrader's First Reformed, into the classroom to "provide students with a look into the indie film market in real-time." 
Vachon also pointed out that the program's expansion into Television Writing with the hiring Alan Kingsberg mirrors  Killer's own expansion with series like Z, The Beginning of Everything for Amazon, and a new series for Sundance Now.
MFA in Film Director Magdalene Brandeis added, "We're thrilled to have acclaimed Writing for Television teacher Alan Kingsberg join us to forge what will be one of the country's first dedicated programs in TV Writing."
"Stony Brook has designed a unique MFA curriculum that will enable TV writers to build the kind of portfolios they'll need to launch their careers in what has become the premier form of storytelling in the U.S. and around the world," Kingsberg said. "I am excited to be joining a group of talented professors at our new campus in the heart of Manhattan."
"We will combine the in-depth small-workshop approach I've practiced at some of the country's top MFA programs since 1999 with the unique one-on-one mentoring approach that's been so successful at smaller liberal arts colleges," he continued. "By adding in the practical wisdom of working showrunners, writers and producers, I believe we have created a unique and unparalleled TV writing curriculum at Stony Brook."
Alan Kingsberg received his MFA from NYU's Tisch School of the Arts, where his film Minors won an Academy Award as the top student film in the U.S. His work in television includes writing the ACE Award-winning documentary Buy Me That for HBO, and writing and producing the BAFTA nominated animated series Cubix for Fox. Kingsberg has also written for Law and Order: Criminal Intent, and kids' classics like Shining Time Station, Doug and Are You Afraid of the Dark?
He was a showrunner on five animated series for Fox, The CW and Cartoon Network, including the hits Cubix, Pokemon Chronicles and Winx Club.  He has written or produced more than 250 half-hours of television for major broadcast and cable networks and has written feature films for Disney and Universal Pictures. He is currently writing on a new Netflix Original animated series.
Kingsberg originated the popular TV Writing workshops at Columbia University's Graduate Film School, where he taught for 17 years. He has been a Visiting Professor at Sarah Lawrence College and has launched TV Writing programs in Sao Paulo and Prague. His students have won numerous awards including multiple first place prizes at the Austin Film Festival, the Academy of Television Arts and Sciences and the Made In NY Fellowship, a Humanitas Award, an HBO Fellowship and a Fox Writers Intensive Prize, all with scripts written in his workshops.
After graduating, his students have gone on to write and produce on prime time shows such as 30 Rock, Narcos, Mozart in the Jungle, Unbreakable Kimmy Schmidt, Stranger Things, Quantico, New Girl, Smash, Vegas, Weeds, Californication, Inside Amy Schumer, The Originals, The Detour, Odd Mom Out, Last Man Standing, Law and Order, Alpha House, Conan O'Brien and  Onion News Network.