Skip Navigation
For Domestic and International Admissions, the Fall 2023 Scholarship Deadline has been extended to January 15, 2023. Priority deadline is March 15, 2023.
Rolling admissions follow through June 1, 2023.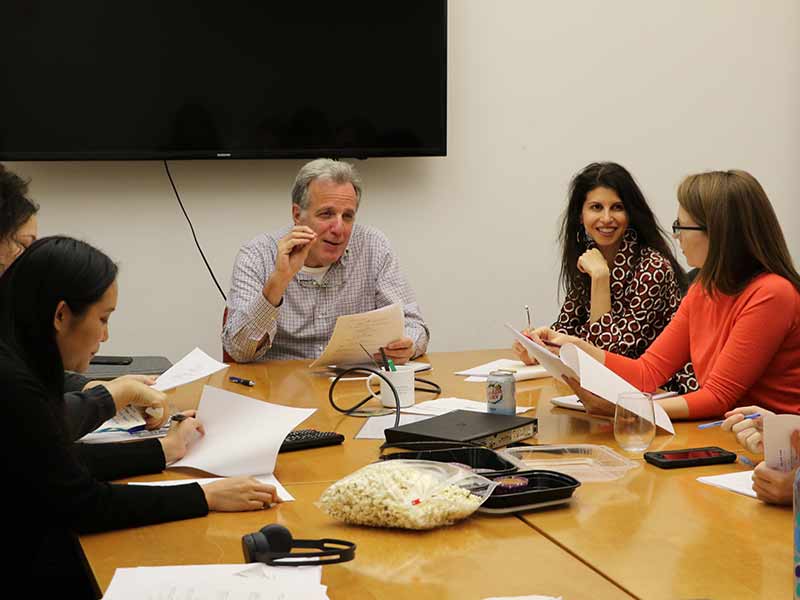 MFA in TV Writing workshop. 
Through small collaborative workshops designed to mimic professional writers rooms, intensive one-on-one advisement and supporting classes with industry professionals, Stony Brook's Television Writing MFA prepares you to join the expanding frontier of television story-telling that is dominating the entertainment landscape in the US and around the world.
Being part of Stony Brook's MFA in Television Writing will enable you to master tried and true techniques and learn how to apply them to this changing and evolving form of storytelling.  


Read more from MFA Director Alan Kingsberg        

News: MFA Students Sweep TV Academy Fellowships

 
EXPLORE... CREATE... MASTER... LAUNCH!
That's the philosophy behind Stony Brook's MFA in Television Writing. EXPLORE a variety of television writing forms including comedy, drama, dramedy, half-hour, one-hour, spec, pilot, network, cable and streaming.
Find your wheelhouse and your voice. Then CREATE original television series concepts and pilot scripts.
MASTER your craft through collaborative workshops and intensive individual advisement and build the writing portfolio that can LAUNCH your career.
The core Television Writing curriculum includes:
YEAR ONE
Writing the Spec Script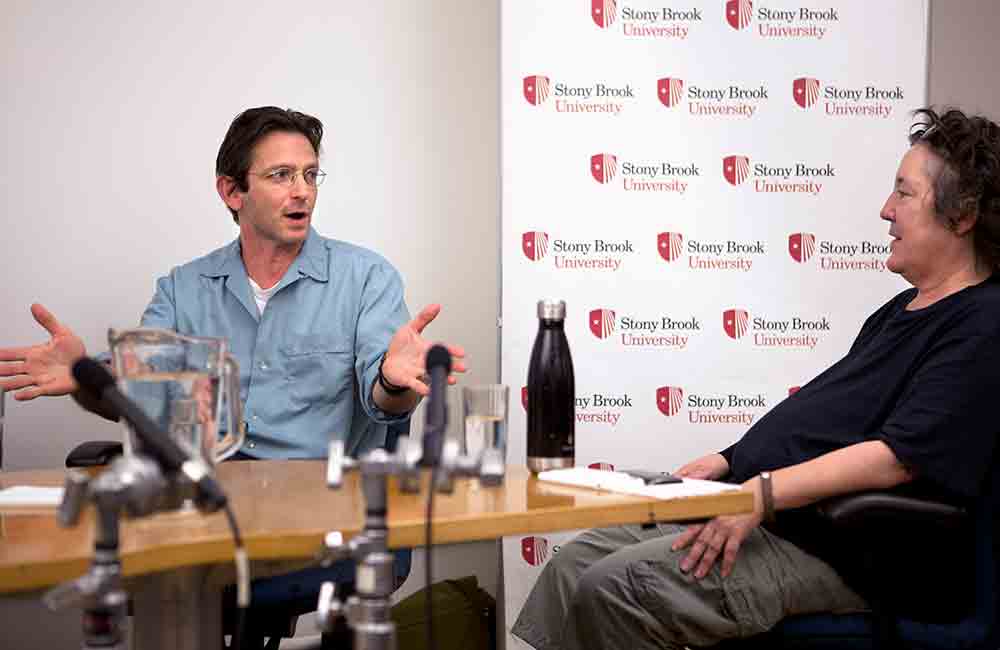 Christine Vachon with Dan Futterman, Showrunner - Looming Tower.
Learn the fundamentals by writing a script for a show that is currently on the air.
Writing the Original TV Pilot
Create an original series and write a pilot script.
Showrunner Workshop
"Break" stories and write scenes with a working showrunner.
Comedy Workshop
Learn to write sketch, late night and monologues in the style of SNL, The Daily Show, Full Frontal, Amy Schumer.
Guest Series - From the Writers Room
In-depth discussions with working writers and showrunners about the writing process, writers rooms, and a specific script or episode they've written.
Screenwriting
Learn the fundamentals of long form narrative and develop a script for a feature film.
SUMMER IN SOUTHAMPTON AND NYC:
Acting for Writers
Learning to act and to direct actors makes you a better writer. This is the first workshop in our four-step content creation ladder.
YEAR TWO
Advanced Pilot
Create the second pilot script for your TV Writing portfolio.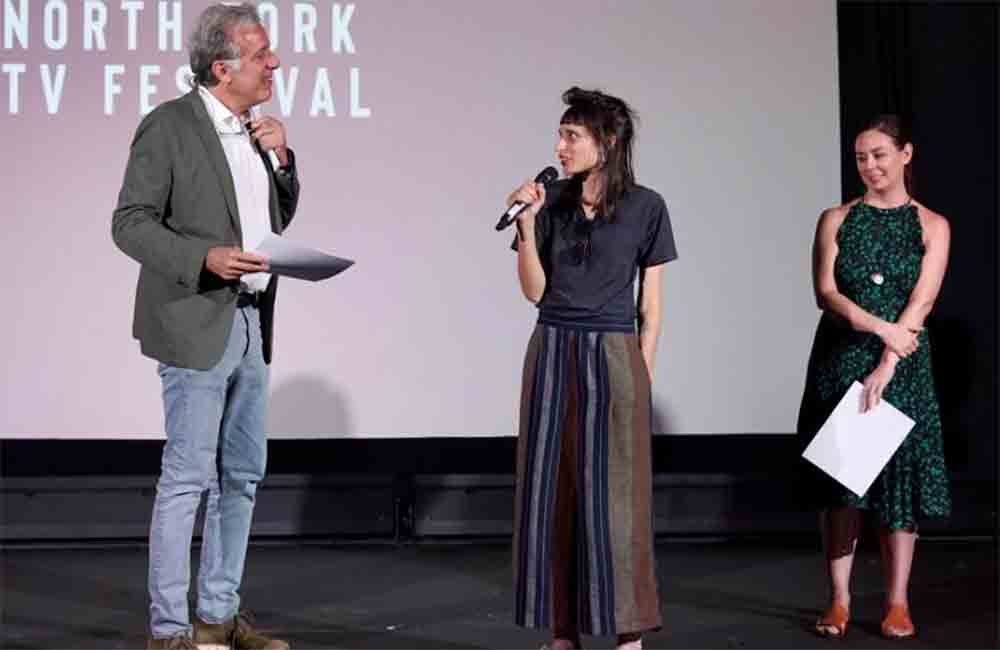 Stony Brook TV Writers win Best Pilot Award at North Fork TV Fest.
Limited Series
Learn how to work collaboratively in a writers room to construct story arcs for a limited series based on true events. 
Skills
Learn how to work camera, sound and editing gear. This workshop is paired with Directing the Camera and is the second workshop in our four-step content creation ladder. 
Directing the Camera
Directing scenes from your script gives you insight into how your writing is translated into a visual medium.  This is the third workshop in our content creation ladder.
Web Series 
Write, produce, direct and edit a micro-pilot for a web series.  This is the capstone class in the content creation ladder and pulls together writing, acting, skills and directing the camera. 
Business of TV
Learn how to work with agents and managers, how to pitch and strategies to break into the business.
Pilot Three
The capstone writing class where you develop the third pilot script for your TV writing portfolio. 
Revision
Revise and polish the writing portfolio that can launch your career as a television writer. 
YEAR THREE
Thesis
Work with your thesis advisor to get your "best" script industry-ready and prepare a pitch for a new series that you can develop after graduation.  Can be in-person or on Zoom. 
Internship
Work on a show or at a production company, network or studio to get real world experience. (Optional)
ELECTIVES
An array of electives from the MFA in Film and the MFA in Creative Writing are available in all three years of study.
SAMPLE ELECTIVES:
Producing with Christine Vachon
Memoir with Roger Rosenblatt
Teaching Practicum – Karen Offitzer. Learn to teach at the college level, design a syllabus and teach the following semester at Stony Brook undergraduate.
Humor on the Page with Patty Marx.
Poetry, Writing the Short Film, Dystopian Fiction, European Cinema and more.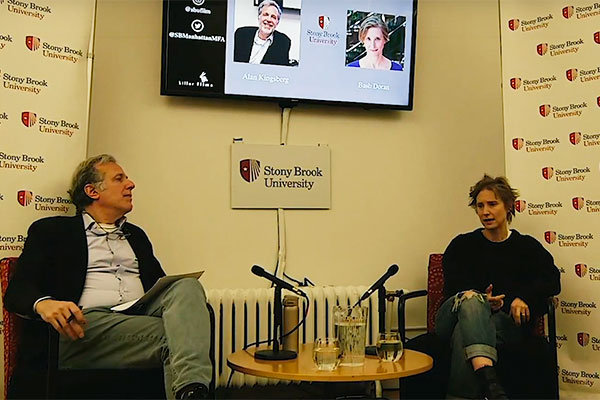 Tips from the Writers Room
Writers and showrunners share tips about working in professional writers rooms — from making your script as strong as possible to getting hired on a show. 
Television Writing Guest Series
Enjoy this series of short videos featuring Alan Kingsberg, Head of Television Writing for Stony Brook University's MFA in Film Program, in conversation with writers and producers from some of today's top television programs.