Skip Navigation
Magdalene Brandeis Joins Journalist Robin Pogrebin to Cohost Panel
Following Screening of Equal Means Equal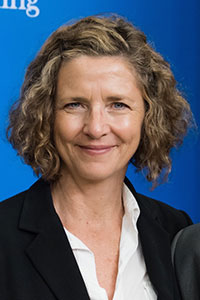 Southampton, NY, August 16, 2016—Fresh from her visit to the White House as a juror for the March on Washington Film Festival, Associate Director of the Stony Brook Southampton MFA in Film program Magdalene Brandeis will be cohosting a panel on National ERA Day, following a screening of the documentary Equal Means Equal.
The screening will be held at the Greenport Theatre on Front Street on Friday, August 26, at 3 p.m.
Cohosting the panel with Brandeis will be New York Times Culture Desk reporter Robin Pogrebin, who covers art, auctions and architecture for the Times.
Equal Means Equal has been described as "an unflinching look at how women are treated in the United States today." Following both real life stories and precedent setting legal cases, director Kamala Lopez discovers how outdated, discriminatory attitudes inform and influence seemingly disparate issues, from workplace matters to domestic violence, rape and sexual assault to the foster care system, the healthcare system and the legal system.
Along the way, she reveals the inadequacy of present laws in place that claim to protect women, ultimately presenting a compelling and persuasive argument for the urgency of ratifying the Equal Rights Amendment.
Screenings and panels to discuss the issues addressed in the film are scheduled across the country on August 26 in response to the filmmakers' and event organizers' question: Why have an Equality Day when we still do not have Equal Rights?"
According to a release from organizers, with screenings of Equal Means Equal across the nation and with multiple national and local organizations partnering for the first time, "our Women's Equality Day Event is shaping up to be one of the most historic shows of unity in the women's movement in the past decade."
The League of Women Voters will be registering audience members as they leave the screenings. The YWCA, NAACP, AAUW, The Women's Commissions, the National Women's Political Caucus, the ERA Coalition and many other groups are either hosting or partnering for the screenings.
Screenings are planned at the United Nations headquarters in New York, at the Carter Presidential Library in Atlanta, Georgia, at the U.S. State Department's Loy Auditorium and the Navy Memorial Theater in Washington, D.C., and in cities and small towns like Greenport all across the U.S.
For more information, visit equalmeansequal.com.