Skip Navigation
Lesson 4: Accessing & Using Primary Sources 
Students in EGL 333 visiting Special Collections to conduct research with the Pietro di Donato Collection.
Special Collections, SBU Libraries.


LESSON 4: ACCESSING & USING PRIMARY SOURCES
4.1 Examining and Handling Materials
4.2 Reading, Interpreting, and Analyzing Sources  

4.1 Examining and Handling Materials
Accessing Primary Sources in Original Formats
Manuscripts, maps, archives, and rare books in their original formats may require specialized handling and storage due to intrinsic value, age, and/or condition.
A balance often needs to be struck between access and preservation. These materials may be stored separately from the general collections and may not be borrowed for preservation or security reasons; they are often housed in archives, rare book libraries, museums, and cultural institutions. 
Scheduling an Appointment
Access policies do vary by institution and organization, so it is always recommended to contact an archive or special collections prior to making a visit and to schedule an appointment, if possible. In this way, staff can identify materials relevant to your research topic and retrieve them in advance.
By making contact in advance, you can plan your visit and maximize your research time.
Many repositories store materials off-site, and therefore lead time from a few days to more may be needed. Some collections may contain multiple formats and be shelved in different areas.
Additionally, some repositories may be staffed by only one or two people or be managed by volunteers, and therefore walk-in appointments are not possible.
At SBU, access is by appointment. We are glad to schedule an appointment for you. Please click here and read the guidelines for accessing and examining primary sources in SBU's Special Collections and University Archives, SBU Libraries.
Reading Rooms
Many libraries, archives, and institutions with special collections provide access to primary sources in a supervised reading room. These spaces have specific guidelines in place to ensure the protection of collections.
Security measures are typically in place for preservation reasons. For example, some libraries may not allow backpacks and cell phones in the reading room, and lockers may be provided. Security guards, video cameras, and other forms of surveillance may be present.
Generally, only pencils can be used for note-taking.
Food and drinks are typically not allowed in reading rooms or by collections. 
Handling Original Primary Sources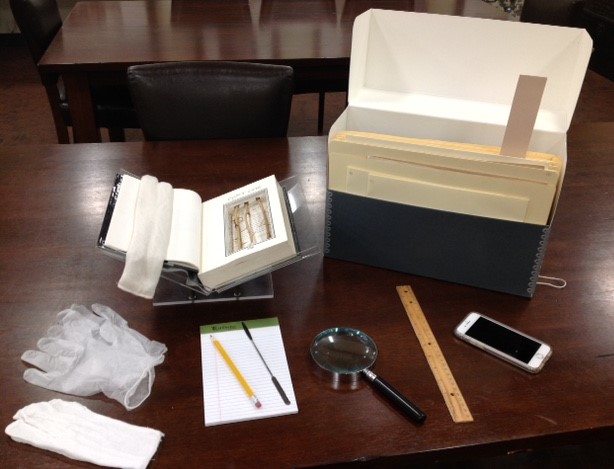 Pictured left to right: a pair of cotton gloves and polyvinyl gloves; a book supported in a cradle with a weight holding open a page; a notepad for note-taking; a pencil; a microspatula for turning pages; a magnifying glass; an archival box with an acid-free strip as a place holder; a ruler; and a cell phone for taking photographs. 

It is always advised to examine materials slowly and carefully. 
You should wash your hands before arriving to use collections. In some cases, disposal cotton or polyvinyl gloves may be required to handle certain materials. For example, oils on your hands can be transferred onto glossy photographs, while newspaper print and ink from carbon paper can transfer onto your hands.
In reading rooms, there are usually large tables and desks to accomodate a variety of materials. 
While consulting an item, it needs to be kept flat upon the surface of the table. Books, papers, laptops, or other objects should not be laid on top of the materials. 
It is also important to remember that items must be kept in original order. If you are reading a book and need to take a break or position it for photography, it should not be turned upside down. An acid-free strip or a folder could be used as a bookmark or place holder.
If needed, departments will often provide cradles, weights, and supports for books to stabilize them on tabletops. If materials are stapled or clipped together, a staff member may remove them with microspatula, a tool that can also be used to gently turn pages. 

4.2 Reading, Interpreting, and Analyzing Sources
Careful reading and review of primary sources is an interrogative and iterative process; you may need to ask additional questions or revisit them as you find more information.
You will need to formulate and apply questions that support evidence-based answers about the source: where, when, why, and created it? 
A questionnaire framework can be applied and adapted at this stage of research. While not all questions may be relevant, they will provide a foundation for your investigative work.
1. Physical Characteristics
First, consider the physical characteristics of the primary source you are examining.
What is the format - book, artifact, manuscript, newspaper, photograph, document, etc.?
What method and/or instrument was used to create it?
How many pages does it have?
What are the dimensions of the item? 
Does the item have a cover and/or title page? If yes, what does it depict or state?
How is it bound and/or filed (spiral bound, stapled, boxed)?
2. The Creator(s) or Author(s)
Consider its authorship such as who wrote, recorded, or otherwise created the item.
Who created or authored the item?
Does the item include biographical content? If yes, describe it.
3. The Context
It is important to be able to place the creation of the item on a timeline and in relation to historical events.
What year was the item produced? If there is no date, how could you estimate the year?
Where was it published or created?
What historical or social events might have influenced its production?

4. The Contents
How are the contents organized? 
Is there a preface or introduction and if yes, who wrote it?
Does the item have other information? If yes, what type?
Are there illustrations in the book or document and if yes, what type? How do they enhance the item or text?
What language(s) are represented in the item?
5. The Purpose
Why was the item created?
What audience or user was the creator trying to reach?
How did you come to that conclusion?
Consider the point of view of the creator(s). What was their stake in producing the item?
6. The Meaning
What are your general impressions about the author, creator, historical context, etc.?
Might the item contain biases? If yes, what is it?
What does the item communicate?
What questions does this item answer and what needs further investigation?

TO COMPLETE LESSON 4:
1 - In the form below, enter your e-mail address. 
2 - Answer the 10 "True or False" questions and submit your responses. 
3 - Scroll up to check your answers.
4 - Click on "Next: Continue to Lesson 5" at the bottom of the webpage.