Skip Navigation
North Fork TV Fest Announces Second Annual TV Pilot Competition Winners
August 2, 2019—The NOFO TVFest/SB Pilot Competition announced the winning scripts for best original television pilot. Splitting first prize and $500 are Noelle P. Wilson for her pilot, By the Book, and Kate Levitt for her pilot, Trouble.
The competition is presented in association with Stony Brook University's MFA in Film and TV Writing program.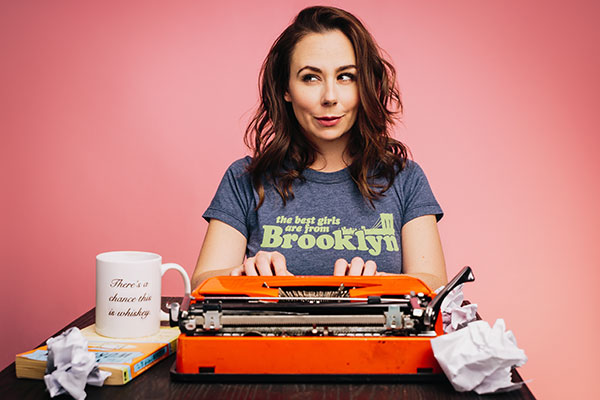 Noelle P. Wilson, creator of By the Book. 
By the Book is a half-hour comedy set in 1990s Brooklyn. The story follows a twenty-six year old single woman who returns to teach at her Catholic alma mater. When she goes head-to-head with the same systematic teaching she was raised on, she attempts to prove that maybe God needs to get with the times.
Trouble, a one-hour drama set in 1999, follows four struggling teenagers at a "therapeutic" boarding school in rural Arkansas where students grapple with issues such as gender identity, morality and the how to survive the effects of toxic childhoods.  The school promises to conform all students to the norm but the costs of forced conformity are too high for some.
According to Alan Kingsberg, Head of TV Writing at Stony Brook Manhattan's MFA in Film: "These two pilots get inside the emotional lives of characters in an honest and heartfelt way that is rarely seen on television. Both tell tightly scripted and well crafted stories. By the Book by Noelle P. Wilson brings humor to a character seeking to fix her life by fixing the Catholic school that repressed her.  Kate Levitt's  Trouble deals with four teenagers in the midst of life crises and the high emotional stakes they face when their boarding school tries to 'fix' them. This is Kate Levitt's second win at the North Fork TV Fest after her script Living took first prize last year. Living also won first prize in the 60-minute pilot category at The Nantucket Film Festival."
A second-year MFA student at Stony Brook's MFA program in Manhattan,  Noelle P. Wilson is a writer, actor and director born and raised in Brooklyn, New York. She has had roles on  Chicago Med, The Knick, Law & Order: SVU, Ray Donovan and the web series  All My Friends Are Married. Noelle has directed over half a dozen short plays by Emmy winning writer Seth Freeman, as well as the upcoming short film  Daphne by Marta Kotzian. She is a contributing writer for  The Women of Amy Sherman-Palladino, the second book in The Women of... series being released this November by Fayetteville Mafia Press. When she isn't toiling on a script, behind or in front of the camera, Noelle enjoys training for half-marathons and consuming French fries. She lives in Queens with her husband and their three plants. 
Says Wilson: "This past semester, Gary Lennon, the show runner for  Power, came to Stony Brook Manhattan to speak as part of the Guest Series. He encouraged us to use our lives, put ourselves in the script and write the thing we are most ashamed about. All of that really spoke to me, and in writing  By the Book I was not only able to find the humor in my own life experience, but also create a character who's the role model I wish I had growing up. In a way, creating this series and writing this pilot was my own take on answering the question, 'if you could go back and tell your younger self anything, what would it be?' Oh lots and lots!"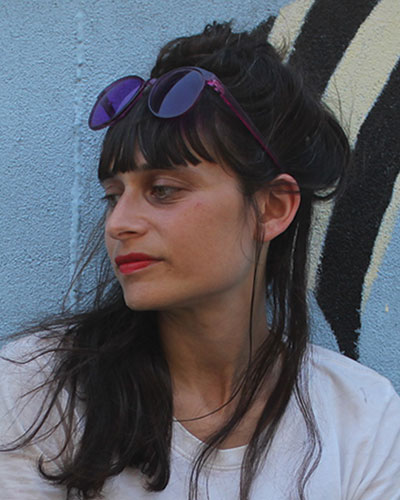 Kate Levitt, creator of Trouble. 
Stony Brook Manhattan thesis student Kate Levitt has been a professional drummer who has performed with musician Dan Deacon, and in bands such as Teeth Mountain. She has toured both nationally and internationally, playing festivals including Bonnaroo, Lollapalooza, and Primavera Sounds in Barcelona, Spain.
Kate's projects have been profiled in Vogue Italia, The Village Voice,  Pitfork.com and the Baltimore City Paper.  Kate also recently won Showtime's Tony Cox award for her 60-minute scripted pilot, חי, (Living) at the Nantucket Film Festival. The same pilot was a finalist at the Atlanta Film Festival earlier this year, and won North Fork TV Fest TV Pilot competition in 2018.
Says Levitt: "I was honestly a little nervous to write this script. The show deals with mental illness, addiction, and familial difficulties, and I felt that if these themes weren't explored with 100% care, honesty, and empathy, it would do an injustice to both the characters and people who have experienced these things directly. However, these are also obviously topics that need to be discussed. I'm really thankful I had the opportunity to write this script at Stony Brook because not only is it an environment that is open to this sort of dialogue, but our cohort is also considerate enough that the feed back I received was both compassionate and concrete."
MFA in Film Director Magdalene Brandeis says, "Alan Kingsberg has built an amazing TV Writing curriculum within our Film MFA. After just two years, his students' pilot scripts are winning awards in nationwide festivals and competitions. We're proud to have him as part of our Stony Brook MFA leadership team, along side Christine Vachon, Pamela Koffler, David Hinojosa, and all the fabulous producers at Killer Films."