Skip Navigation
Online Summer Workshops for Teen Writers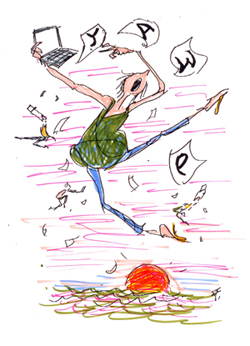 The Young Artists and Writers Project (YAWP), created by Stony Brook Southampton's MFA in Writing and Literature program, is dedicated to mentoring young people in the development of creative expression and critical thinking through writing.
The YAWP Summer Workshops pair seasoned adult writers with students, ages 13-18, for workshops in fiction, personal narrative, poetry, playwriting and screenwriting.
Student work is eligible for publication in the YAWP EZine.
---
 THE YAWP CREATIVE WRITING WORKSHOP
JULY 10-14, 2023, 10:00 a.m. - 3:00 p.m. LIVE on Southampton Campus
and
JULY 24-28, 2023, 10:00 a.m. - 3:00 p.m. via Zoom
and
JULY 31 - AUGUST 4, 2023, 10:00 a.m. - 3:00 p.m. via Zoom
Student writers explore fiction, poetry, personal narrative and dialogue. By week's end, students have several pieces of completed work to submit or publish and participate in a reading of their work to be showcased online.
Cost: $295
---
 THE YAWP SCRIPTWRITING WORKSHOP
JULY 17-21, 2023, 10:00 a.m. - 3:00 p.m. via Zoom
Each student creates a short, two-character script for stage or screen. The final day is devoted to a rehearsed reading of students' work to be showcased online.
Cost: $295     
Partial scholarships available. All Workshops conducted via Zoom.
---
 The goals of YAWP include:
• To enhance critical thinking, collaboration and communications skills.
• To help each student find and develop his or her unique voice and point of view.
• To use creative expression as a way to solve problems and promote global awareness.
• To advance 21st century skills while supporting ELA requirements.
• To develop and support the next generation of writers, readers and artists.
For more information about our workshops, contact William Chandler at william.chandler@stonybrook.edu, or call us at (310) 614-1217.