Skip Navigation
Young Artists and Writers Project
Follow us on TWITTER, FACEBOOK and INSTAGRAM(@YAWPyoungwriters) |   Watch our videos on YOUTUBE
Read the latest issue of our YAWP Ezine! 
Get information on our Summer Workshops for student writers 
The Young Artists and Writers Project (formerly the Young American Writers Project) is dedicated to mentoring middle and high school students in the development of creative expression and critical thinking through the writing arts.
Sponsored by Stony Brook Southampton's MFA's in Creative Writing and Film, YAWP programs pair professional writers and writing teachers with high school and middle school students in a variety of innovative, inter-disciplinary writing workshops in area schools, as well as on Stony Brook's Southampton and Manhattan campuses, including: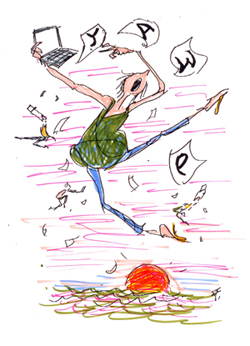 Playwriting 
Screenwriting
Poetry
Personal Essay
Fiction
… all of which conclude with special projects and presentations, as well as potential vodcasts, blogs and/or publication in the YAWP Ezine.
The goals of YAWP include:
• To enhance critical thinking, collaboration and communications skills.
• To help each student find and develop his or her unique voice and point of view.
• To use creative expression as a way to solve problems and promote global awareness.
• To advance 21st century skills while supporting ELA requirements.
• To provide community outreach for Southampton Graduate Arts.
• To develop and support the next generation of writers, readers and artists.
YAWP school-based workshops are offered throughout the school year, and can be custom designed to fit the needs of an individual school. They can "push-in" to Creative Writing, English, Theatre or other academic classes, or they can be an extra-curricular or retreat program. School break workshops are offered on the Stony Brook Southampton and Manhattan campuses in the summer as well as during winter and spring breaks, and the YAWP Scriptwriting Retreat is a life-changing week-long writing residency for high school students on the Southampton Campus. YAWP programs can be particularly effective for at-risk students, or for those who find writing and communications skills challenging in the traditional academic environment.
Please contact us to discuss how the YAWP programs can best serve your individual school, student group or young writer!
Emma Walton Hamilton
Executive Director
emma.waltonhamilton@stonybrook.edu
Will Chandler
Program Director
william.chandler@stonybrook.edu