Skip Navigation
ADMINISTRATIVE INFORMATION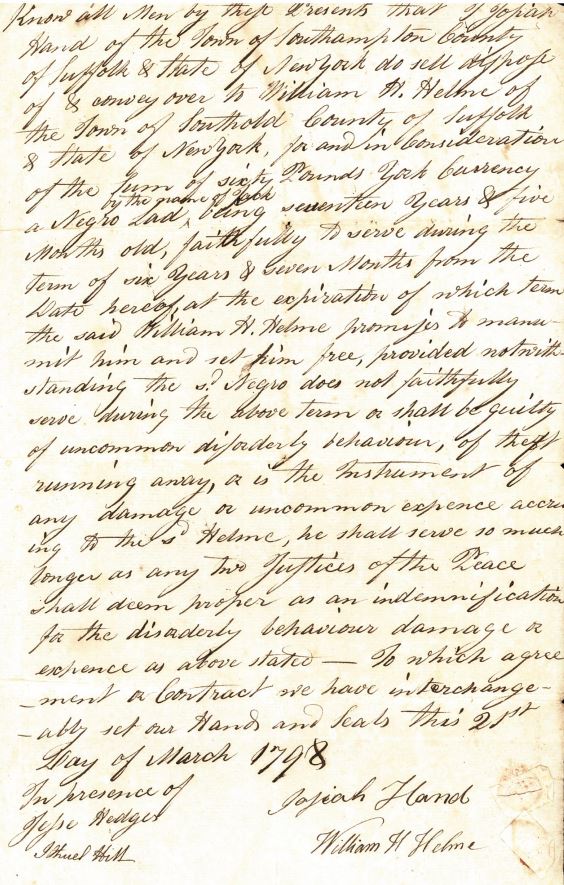 Title
Josiah Hand Collection
Collection Number
SC 340
OCLC Number
924686182
Creator
Josiah Hand (1756-1835) and William H. Helme
Provenance
The document was acquired by purchase from Antipodean Books.
Extent, Scope, and Content Note
A manuscript indenture to convey servitude of an enslaved African American young adult named Jack from Josiah Hand to William H. Helme. The document is dated March 21, 1798. The amount of currency stated is a sum of sixty pounds York currency for a term period of six years and seven months. At the time this document was created, Jack was seventeen years, five months old. Witnesses were Jesse Hedges and Ithuel Hill.
1 sheet (23 cm. x 30 cm.), signed at the bottom by Josiah Hand and William H. Helme, and witnessed by Jesse Hedges and Ithuel Hill.
Two small wax seals are affixed on the lower right of the docoment. 

Arrangement and Processing Note
The document was transcribed in October 2015 by students in EGL 494, Honor Practicum: Research (professor Douglas Pfeiffer) with edits by Kristen Nyitray and Lynn Toscano.
Students: Quinn Adikes, Tanner Bruckmann,  Georgia Cartmill, Janaea Eads, Melissa Harney, Elizabeth Hermitt, Maddison Martinez, Brian Mazeski, Christine Publik (typed transcription), Ryan Stears, and  Nicketa Ramdeholl.
Read about the class visit here.
Finding aid updated and revised by Kristen J. Nyitray in July 2020
Special Notes
1 - This document has been digitized. View it here.
2 - This document was featured in the Long Island Museum exhibition "Long Road to Freedom." Read about it here.
Language
English
Restrictions on Access
The collection is open to researchers without restriction.
Rights and Permissions 
Stony Brook University Libraries' consent to access as the physical owner of the collection does not address copyright issues that may affect publication rights. It is the sole responsibility of the user of Special Collections and University Archives materials to investigate the copyright status of any given work and to seek and obtain permission where needed prior to publication. 
Citation
Josiah Hand Collection, Special Collections, Stony Brook University Libraries
Historical Note 
Josiah Hand was born on September 30, 1756 to David Hand and Zerviah Stuart in Poxabogue and died on December 12, 1835 in Brick Kiln; both geographic areas are located in the Town of Southampton, Long Island, New York. He was married to Hannah Mulford (c1758-1799) and had three children: Mary, Fanny, and Jane.
Subjects
Slavery -- New York (State) -- Southampton -- History -- Sources
Southampton (N.Y.) -- History
African Americans -- New York (State) -- Southampton
Slavery
Southampton (N.Y.)
Long Island (N.Y.) -- History
New York (State)
Slavery -- New York (State) -- Southold -- History -- Sources
Southold (N.Y.) -- History
African Americans -- New York (State) -- Southold
Southold (N.Y.)
Transcription
Know all men by these presents that of Josiah
Hand of the town of Southampton County
of Suffolk & State of New York do sell dispose
of & convey over to William H. Helme of
the town of Southold County of Suffolk
& State of New York for and in consideration
of the sum of sixty Pounds York currency
a Negro lad (^by the name of Jack) being seventeen years & five
months old, faithfully to serve during the
term of six years & seven months from the
Date hereof at the expiration of which term
the said William H. Helme promises to manu-
mit him and set him free, provided notwith-
standing the sd. Negro does not faithfully
serve during the above term or shall be guilty
of uncommon disorderly behaviour, of theft,
running away, or is the instrument of
any damage or uncommon expence accru-
ing to the said Helme, he shall serve so much
longer as any two Justices of the Peace
shall deem proper as an indemnification
for the disorderly behavior damage or
expence as above states - To which agree-
-ment or Contract we have interchangea-
-bly set our hands and seals this 21st
 Day of March 1798.

Josiah Hand
William H. Helme
In presence of
Jesse Hedges
Ithuel Hill