Skip Navigation
ADMINISTRATIVE INFORMATION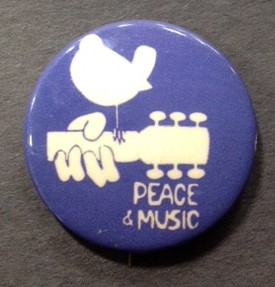 Pinback button from the Woodstock music festival held August 15-18, 1969. Dove and guitar illustration with the phrase "Peace & Music." Part of the Nettie Feinberg Collection. 
Title
Nettie Feinberg Collection
Collection Number
SC 390
OCLC Number
In-process
Creator 
Various
Provenance 
Donated in spring 2004 by Nettie Feinberg. She decided to donate her collection at the suggestion of her son Richard Feinberg, Librarian Emeritus, Stony Brook University.
Extent, Scope, and Content Note 
This collection consists of 3 cubic ft. comprising 82 political-themed buttons produced ca. 1950 to 2008.
The items were collected by Nettie Feinberg (1916-2012) between between ca. 1950s to 2000; many were acquired through her late husband Samuel Feinberg's job as a columnist for the fashion trade paper Women's Wear Daily. The "The Naturals Are In" button is in reference to using cotton and other natural fibers for clothing. The "Hess's Allentown, PA" button was from the large flower show at Hess's Department Store in Allentown, Pennsylvania.
Nettie Feinberg was involved with political campaigns and movements. She became interested in politics after witnessing the effects of the Great Depression, World War I and World War II. Many of the buttons were purchased by Feinberg as fundraisers to show support for political candidates before an election. Several of the buttons have historical significance. The "I am a Civil Rights Marcher August 28, 1963 Washington, D.C." button was attained from Feinberg's son, Lawrence, at the civil rights march where Martin Luther King Jr. gave his famous "I Have a Dream" speech. There are several buttons relating to the Vietnam War. The "Moratorium" and "National Strike For Peace October 15, 1970" buttons were both obtained at major rallies protesting the Vietnam War. The "Political Cartoon" button is a political cartoon drawn by Richard Levine depicting the General of the Vietnam Air Force and Dean Rusk during the Vietnam War.
"A pin-back button or pinback button, pin button, button badge, or simply pin-back or badge, is a button or badge that can be temporarily fastened to the surface of a garment using a safety pin, or a pin formed from wire, a clutch or other mechanism. This fastening mechanism is anchored to the back side of a button-shaped metal disk, either flat or concave, which leaves an area on the front of the button to carry an image or printed message. The word is commonly associated with a campaign button used in the United States and abroad during a political campaign. The first design for a pin-back button in the United States was patented in 1896, and contemporary buttons have many of the same design features.    Political buttons have been used in the United States since the first presidential inauguration    in 1789, when George Washington's supporters wore buttons imprinted with a   slogan ."     (Source: Wikipedia, entry for "pin-back button")    
Arrangement and Processing Note
Processing and finding aid completed by Special Collections in December 2005. 
Finding aid revised and updated by Kristen J. Nyitray in May 2019.
Organization: filed alphabetically by title (if applicable), then by symbol.
Language
English 
Restrictions on Access
The collection is open to researchers without restriction.
Rights and Permissions 
Stony Brook University Libraries' consent to access as the physical owner of the collection does not address copyright issues that may affect publication rights. It is the sole responsibility of the user of Special Collections and University Archives materials to investigate the copyright status of any given work and to seek and obtain permission where needed prior to publication.  
Citation 
[Item], [Box], Nettie Feinberg Collection, Special Collections and University Archives, Stony Brook University Libraries.
Historical Note
Nettie Feinberg was born in Manhattan, New York in 1916. She grew up in Manhattan and received her Bachelors Degree in Advertising with a Minor in History and French from New York University. She met her husband Samuel Feinberg while interviewing for a position at a newspaper. They were married on February 23, 1939. Mr. and Mrs. Feinberg had three children: Lawrence, Richard, and Alice. The family moved to Flushing, Queens, New York and while her children attended school, Mrs. Feinberg received her Masters of Education from Queens College and went on to teach in an elementary school in South Jamaica, Queens. She continued her career as an educator, becoming a reading teacher in underprivileged schools in Queens and Brooklyn. After Mrs. Feinberg's children were grown, she moved back to Manhattan with her husband and accepted a job teaching at a high school for expectant mothers. She retired from teaching in 1983 at the age of sixty-seven. Mrs. Feinberg lived in Manhattan until 2002, when her husband passed away. She moved to South Setauket and lived there until her death in August 2012.
Subjects
Buttons.
Pin-back buttons.
Buttons -- Collectors and collecting.
Political collectibles.
United States -- Politics and government -- 20th century.
Politics -- U.S. History.
Campaign buttons -- U.S. History.
INVENTORY
Box 1

Tray 1
Abortion: A Personal Decision
Adlai
Bella for Mayor Because New Yorkers Deserve the Best
New York City Needs Bella Abzug for Mayor
Boycott Non-UFW Grapes
Boycott Non-Union Lettuce
Bring All the Troops Home Now Demonstrate October 31
Bring Our Men Home From Viet-Nam Now
CEC NYC '74
Clinton/Gore Rapid Response Team
Clinton Team
Congressional Action Now
Contributor
District 12 Has Pride Prevention and Relation in Drug Education
Don't Breathe Near Me- We're Running Out of Oxygen
Tray 2
DSEPPS Division of Special Education and Pupil Personnel Services
Dukakis/Bentsen
EL AL 20
Environment!
ERA All People Are Created Equal
Eugene
Express Yourself Vote
Feed the Cities Not the Pentagon
Fonz, The
4 Day Week
Get Involved
Give Earth a Chance
Great Match Ruffian, The
Have a Happy Day
Hillary for U.S Senate
Tray 3
Hillary for U.S Senate
If You Are Not Part of the Solution You Are Part of the Problem
I'm Crazy About the Big Apple
It's In The Bag
Keep Abortion Safe and Legal
LBJ
Life on Earth Stop Spending on Death
Make Money Unitote at the Point of Sale
Make Peace with Mature
McCarthy
McGovern
McGovern
McGovern
McGovern '72
I Belong McGovern Million Member Club How About You?
Box 2

Tray 1
Michelangelo at the Morgan
Moratorium
National Strike For Peace October 15, 1970
Naturals Are In, The
New Port
Peace and Music
Pentagon is Rising October 21, The
People Carter and Mondale
Press
Of Course Of Course
Replacing Regan with Bush is like an operation for Hemorrhoids
Save the Tilden Merry Go Round
Say Hello for a Better New York
Season Ticket Collection
Slapstick Vonnegut Lonesome No More
Tray 2
Spark
Take G.M
UFT
United Nations Decade for Women 1976-1986
War is not Healthy for Children and Other Living Things
We Love Animals and Things
We Want What You Want
WWD
Tray 3
American Red Cross symbol
Bird in cage
Clothing Hanger inside a red circle with a line through it
Donkey
Flag in circle
Fist
Green button with blue circle with a line through it
Leaf
Safety Buttons With Red, White, and Blue Beads
Shoe
Box 3
Hillary for President (2 buttons)
"Impeach Cheney First"
Kerry Edwards: A Stronger America
Obama '08
Obama and Biden
Obama Biden
"The Emperor Has No Brains"
Box 4
Hess's Allentown, PA
I am a Civil Rights Marcher August 28, 1963 Washington, D.C.
Political Cartoon