Skip Navigation
15th Japan Center Essay Competition (2019-2020)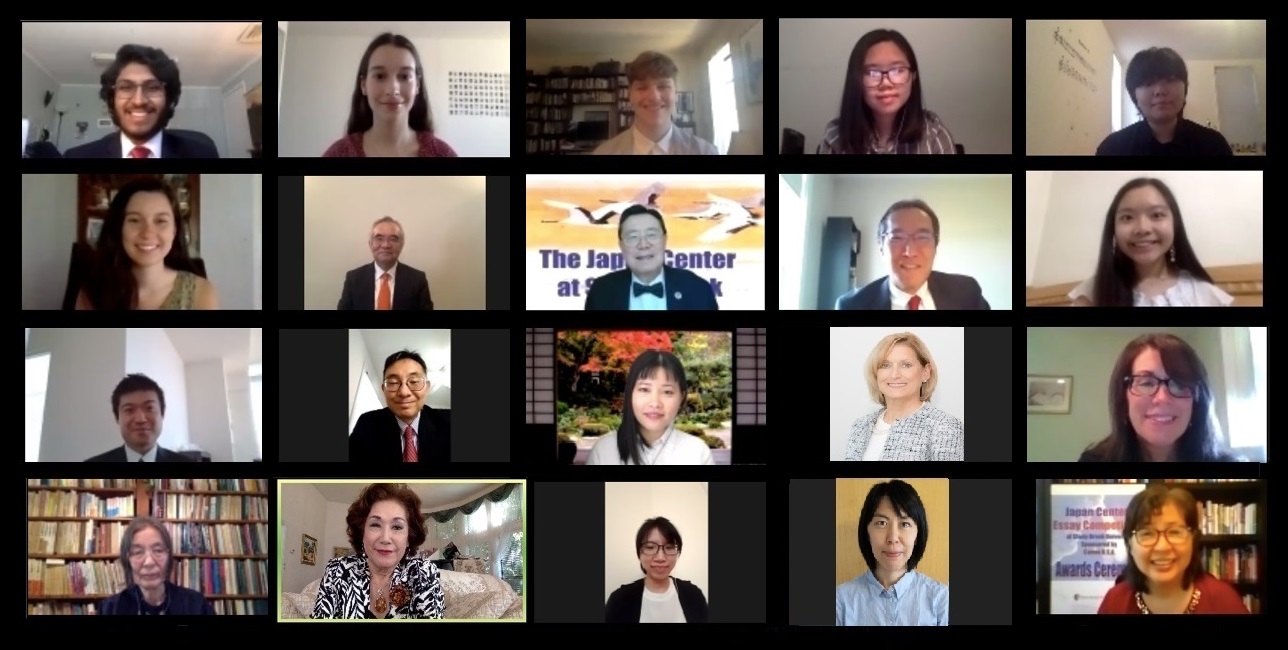 15th competition award ceremony was virtually held through Zoom on June 13th, 2020 due to the Covid-19 pandemic.  The JCSB expresses special appreciation to Ambassador Kanji Yamanouchi and Canon USA President Kevin Ogawa who participated in the ceremony and made this occasion very special for the awardees.
Announcement: Click here.
Rubric: Click here.
Media attention:  SBU News,   Consulate General FB,  NY-Shukan-Seikatsu,   New York City Biz Lizt,   New York City Patch, PR Newswire . 
Award Winners
High School Division Best Essay Award
  1st Place Best Essay Award and Consul General of Japan Special Award
"Finding Myself on Mount Fuji" by Nathaniel Goodyear (Fiorello H. LaGuardia High School of Music & Art and Performing Arts)                                       
2nd Place Best Essay Award
"Saori Weaving: Lessons in Life" by Rebecca Smith (The Brearley School)
3rd Place Best Essay Award
"My Name: A Culmination of Poetry, Art, and History" by Jenny Huang (Stuyvesant High School)
College Division Best Essay Award
  "The Walking of Mountains" by Sailesh Srinivas (Stony Brook University)
Uchida Memorial Award
   "The Wise Hawk's Claws" by Lynca Saito (Stuyvesant High School)          
Special Award
   "The Nakasendo Trail: A Pathway to Natural Understanding" by Hannah Mirando (Cornell University)
   "Bridging Our Similarities and Differences" by Kelly Su (Brooklyn Technical High School)
Finalists
Lucinda Isaacs (Bard High School Early College)
Rachel Ly (Townsend Harris High School)
Yumiko Figaro (Academy of Mount St Ursula)
Semi-finalists 
Stacey Cajita (Staten Island Technical High School)
Deland Chen (West Hempstead High School)
Dario Cipani (Stuyvesant High School)
Joe Consul (Commack High School)
Claire De La Roche (Stuyvesant High School)
Bisham Deena (SUNY Empire State College)
Isabella Giraldo (Valley Stream Central High School)
Jessica Kielb (Farmingdale High School)
Karen Lin (Stuyvesant High School)
Mohammad Miah (Staten Island Technical High School)
Narumichi Nakamura (Commack High School)
Rhythm Osan (Division Avenue High School)
Tayana Romulus (Francis Lewis High School)
Ysabel Grace Simon (Stony Brook University)
Aasta Tuatis (Bard High School Early College Manhattan)
Kristen Wang (Staten Island Technical High School)
Matthew Yan (Stony Brook University) 
Award-Winning Essays
High School Division 1st Place Best Essay Award and Consul General of Japan Special Award
"Finding Myself on Mount Fuji" by Nathaniel Goodyear (Fiorello H. LaGuardia High School of Music & Art and Performing Arts)
            I try to find my hand in the darkness as water rushes around me. My headlamp only illuminates the rain falling inches away from my face. Gravel sloshes beneath my feet, and as I drag one foot past the other I wonder, "How did I get myself into this mess?" Trying to think about anything is hard when your hands are freezing off 3,500 meters on a mountain, but I relaxed myself and thought back to the beginning of my journey, the first day freshman year of high school.
I walked sheepishly into my class and tried to get situated in my new very uncomfortable desk. The bell rang and our teacher got up to greet us with, "Ohayo Gozaimasu!" From that moment, I became infatuated with Japanese life. As an outsider, one thing that always perplexed me was faith in Japan. I grew up Christian, going to church every Sunday, but I never felt a connection to something bigger than myself. So when I started learning about Shintoism, I wondered how a whole nation could be so devoted to a religion. I watched videos of people going to shrines and ringing the bell, clapping and praying. I wondered what they were thinking and how these people could be so sure of the thing they were praying to.
In Shintoism, nature is where the spirits find their home, and because of that, we must protect nature and its beauty. I find this idea very appealing. Nature is fleeting in this world, and Shintoism's devotion to keeping it alive is something you don't see in many people's everyday life.
Last summer, I had the opportunity to go to Japan, and one of the first things I wanted to do when we got there was go to a Jinja. I thought maybe I could have that same experience of spirituality that the people in the videos I watched had. However, when I got to the beautifully ornamented shrine, I didn't have any type of connection to something bigger than me at all. I just felt awkward. I told myself that maybe my brain isn't wired in a way that allows me to believe in spirits or gods, and went on with my day. One of the last things we had planned to do on our trip was climbing Mount Fuji.
Our plan was to walk up to the eighth station, sleep, and then wake up in time to make it to the top for sunrise. The first part of the hike wasn't that bad and the views were jaw dropping. We made it to the station where we were sleeping that night with confidence that we were up to the task for the next hike. After a terrible night's sleep, we woke at 2 in the morning and looked out the window. It was pouring and the wind was blowing so hard the rain looked as if it was moving sideways. Still, we decided to leave the hut and brave the elements.
We started walking, and soon after we got away from the lights of the hut, I realized there was a chance I could die on this mountain. I felt very lonely and started to lose hope of ever being able to make it to the top, but I pushed on. I came over a ridge and saw thousands of lights in the distance. Other hikers walking up the mountain. On the same pilgrimage as me.
I got in line with my fellow hikers and started walking up steep rocks that were slippery from the rain. It kept getting colder and colder as my clothes got more and more soaked. It felt like the mountain itself was fighting against me, so I decided to talk to it. I pleaded with it, "Please, mountain, I don't care how hard the rest of my journey to the top is, just please stop the rain on the way down." Ironically, when we got to the top it was too foggy to see the sunrise, so we decided to make our way down, and just as we did, the clouds parted. The sun shone on my face for the first time in what felt like an eternity. Then I realized. The mountain had listened to me. A wave of emotion came over me as I thought about every other pilgrim on the same mission as me. I finally felt that connection to something bigger I had been yearning for our whole trip.
© JCSB 2020 
High School Division 2nd Place Best Essay Award
"Saori Weaving: Lessons in Life" by Rebecca Smith (The Brearley School)
            It all started with a single thread. Loop of the Loom, a Japanese Saori weaving studio, is a clean, well-lit, converted living room in a basement apartment with a varnished wood floor and white walls decorated with a rainbow of yarn rolls. Several hand looms are set up in the middle of the room. Soft music plays in the background.
            On the first day, Yukako, the owner, showed me to a seat at one of the looms. She demonstrated how to thread the bobbin and operate the loom. Then, without any further guidance, she left me to weave. After several minutes of moving the yarn across the loom from one end to the other, I stopped when I saw that some loops were sticking out of the sides of my fabric—little weaving mistakes. I asked Yukako to help me undo them.
            She smiled. "No, it looks beautiful; keep going. The first principle of Saori weaving is to consider the differences between humans and machines."
            I didn't think it looked beautiful; the thread loops, uneven edges, and thread skips spoiled it. Why wouldn't she help me fix those little mistakes? Teachers always helped me correct my work. I went back to my loom and kept weaving for two days. Using my hands to create something by starting with a single thread was relaxing and rewarding. Finally, I had woven enough fabric to make a tapestry. This time, I agreed with Yukako: my tapestry was beautiful, even with the mistakes, which recorded my learning to weave, a process that I enjoyed and admired.
It was not until three years later, when I started rehearsals for the New York City Opera's production of Pagliacci, that I finally began to understand more clearly what Yukako meant: the many hours we spent rehearsing the same songs—and making little mistakes—were no longer frustrating; they were enjoyable. The mistakes measured our growth and gave us a deeper appreciation for the music. The rehearsal process culminated in four performances that were exhilarating and beautiful. The music still pulses through me.
Eventually, I started viewing other aspects of my life from the Saori perspective. When I studied Advanced Calculus last year, I didn't focus on how challenging the course would be; instead, I used the problems to explore the logic and complexity of calculus. I made many little mistakes, but the growth I experienced from those mistakes ultimately made calculus come naturally to me—and I gained a deeper understanding of mathematics.
I also approached attaining fluency in French from the Saori perspective. Instead of focusing on speaking and writing perfectly, I studied by exploring the preciseness of French vocabulary and the complexity of French grammar—while making many little mistakes during the learning process. These mistakes gave me a more intimate appreciation of the beauty of the French language: the high level of expressiveness that can be achieved through its vocabulary and grammar. French became part of me—I often think in French.
Saori weaving taught me that if I focus on avoiding and correcting little mistakes, my achievement may turn out technically correct, but it will lack depth—and so will my learning and experience. Although I strive for excellence in the long-term, I appreciate the little mistakes during the learning process: they lead me to a more complete understanding of what I seek to accomplish. I think I'll keep weaving.
© JCSB 2020  
High School Division 3rd Place Best Essay Award
"My Name: A Culmination of Poetry, Art, and History" by Jenny Huang (Stuyvesant High School)
"So what is your Chinese name?"
I stiffened. I wasn't used to people asking me for my Chinese name, a name I casted aside a long time ago in exchange for an American name. Yet, this was my best friend asking. She confided in me the origin of her native name, so I felt obligated to do the same.
"Huang Xing-Bei" I muttered under my breath.
"Cool! What does it mean? Can you write it in Chinese?" She asked eagerly.
"Umm. I don't really know what it means, but I can try to write it," I smiled sheepishly, and attempted the once-familiar characters. However, my grip wavered by the third character. There was no way that I forgot how to write my name in Chinese when I once memorized over hundreds of Chinese characters. Yet the reality was that I had forgotten, and perhaps, chose to reject these characters. I distanced myself from my roots, and from the mocking gibberish my language is reduced to when others behold these characters with their condescending gaze. In giving up my Chinese name, I chose to forgo a part of my identity.
It was quite unexpected when I encountered these characters again, not in a traditional Chinese classroom, but in my freshman Japanese class, in the form of Kanji. While Kanji was easy initially because I have some familiarity with its Chinese counterparts, my troubles quickly escalated in my second year of Japanese. Once I mastered the easier Kanji, harder characters metamorphosed into a new nightmare. Kanji, I quickly learned, not only possessed more strokes than the Chinese simplified characters, but also have multiple pronunciations, namely kunyomi and onyomi. These pronunciations, along with the trailing hiragana that completes the meaning of the word, became the bane of my existence in class. My test papers were marred with bright red ink for the hundredth time reminding me that no, 中本さん is not chuhon-san, but rather, nakamoto-san, and no, nagai (長い) means long, and naga (長) by itself doesn't make sense. My head ached when I glance at the word 教室, which retained the same strokes as its Chinese counterparts, but its o nyomi is kyoushitsu, not Jiaoshi, despite having been derived from the Chinese reading. Every mark on my Kanji quiz, illustrating the correct strokes for the more complex characters reminded me not only of how much of a failure I was to my ancestors, but also how low my grades could plummet in Japanese.
Kanji was an abomination. It was hard to write, tedious, and its various pronunciations are difficult to memorize. It was impractical to recognize hundreds of Kanji to read a few sentences when you only needed to memorize the 26 letters of the English alphabet to read everything ever written in English. I regarded Kanji characters like how my non-Asian American peers regarded them: terrifyingly and alarmingly foreign.
All that was bound to change by the second lesson on Kanji in my third year of Japanese. Our class delved deeper into the system of Kanji. We learned that Kanji is organized by its 部首 (bushu) or radicals that hints at the meaning of the character. Kanji with the さんずいへん部首 (sanzuihen), such as 海 (umi), the Kanji for the ocean, are often related to water. The ごんべん部首 (gonben)—言—is found in characters related to language.
Understanding that Kanji is not a compilation of arbitrary characters, but rather an organized system, did assuage my fears. Yet, it is the meaning imbued within these characters that gave rise to my admiration and reconciliation.
There is no English word for 森 (mori) that envisions a forest dense with trees (木).
There is no English word for 愛 (ai) that tells of a love that comes from the heart (心).
And there will never be an American name like 星蓓 (Xing-Bei), which promises a future shining as bright as the stars and foretells the beauty of budding blossoms after enduring winter's hardships.
Kanji and Chinese characters are culminations of East Asian history, poetry, and art. Its aestheticism not only lies within its form, but also within the story told through every 部首 and Kanji embedded within Kanji. These characters together give the words their meaning, just like how names of Kanji truly begin defining a person's unique identity.
Kanji no longer feels so foreign, and when ignorant individuals scowl at the daunting characters of my name, I will beam with pride, knowing that they do not have a name that tells a history of resilience and beauty.
Work Cited:
Peterson, Hiromi, et al. Adventures in Japanese 3: Text Book. Cheng & Tsui, 2017.
© JCSB 2020  
College Division Best Essay Award
"The Walking of Mountains" by Sailesh Srinivas (Stony Brook University)
" If you doubt mountains' walking, you do not know your own walking" (Dogen 98).
Sinking into my cushion, drowning out the bellowing voices from the next room, I puzzled over this idea. Perhaps the flowing, poetic words of Dogen in the Mountains and Waters Sutra were just that - poetic – maybe metaphorical? My curiosity peaked as I read on and saw that it was no metaphor, but Dogen was indeed describing the walking of mountains. Fantastic images of technicolor, grinning mountains strutting around riddled my mind; knowing this was not what Dogen had intended at all, I decided to sleep on the idea. The next day, Sensei entered the classroom and it was clear that she noticed the many perplexed eyes gazing back at her. She presented a new, seemingly unanswerable question: "How do you know where you were 30 minutes ago?" The room was silent. Sensei glanced from person to person as we put our confused thoughts into words, but no one could hit the mark. Finding its way to the chalkboard, Uji was the answer.
"Time is being. Being is time. This is the only real moment." Staccato sentences juxtaposed Sensei's gentle voice but resonated that the past and the future exist only because of this very moment of our being. Thus, we are only able to know where we were 30 minutes ago because we exist in the present. To further understand the concept of time, Sensei had a student walk across the room. The student's eyes chuckled with curiosity as he strolled by. Sensei explained that each step represents a transformation in our very being, often in ways that we cannot see. Each little moment is uncertain and holds the potential to bring subtle or immense change. For a moment, I was led down a trail to a distant memory of a pudgy, rosy-cheeked boy on the eve of high school graduation. "Mom, why do things have to change?" Friends drifting apart, people growing older, and loved ones moving, all built up to this poignant question that bubbled its way back to the surface and lingered longingly.
Continuing, Sensei began to clear the clouds of confusion that these mountains rested on when she explained that we are no different from the mountain. The mountain is always walking just as we do. Each moment transforms its physical form. Monks studying a mountain initially gaze upon the trees, hear the sweet euphonies of the birds' chirping, and feel the temperate whisper of the wind. But they are then asked to destroy the mountain. All they see before them is an illusion and every moment this form is changing. However, there is an unchanging essence resting beneath its physical form – its Buddha nature. Buddha nature is described as emptiness, without ego, and connects all beings as one.
Though things change, they are never gone. The past walks with us and the future waits to be written. Each moment of breath is a gift, waiting to be unwrapped. It is the nature of form to change as it is an illusion, but Zen teaches us that the real or Buddha nature, lies within our hearts, the center of our being. As human beings, the heart holds all of our potential to become actualized and free from ego - Buddha.
The practice of Zen begins with the statement: "I am Buddha." At first glance, this seems counter-intuitive and for a long time, Dogen sought the answer as to why practice was necessary if he was already Buddha. "I am Buddha," but I am not Buddha. Ego and our own ideas corrupt the heart, restricting us from seeing past form. The monks who were able to destroy the mountain were then told to bring it back and upon doing so, all they could see was the Buddha nature emanating from the form. For Buddha, all form emanates emptiness and things no longer seem to change because all are the same at their core.
My preconceptions limited me from seeing that mountains do walk; change happens because of the impermanent nature of form. Dogen and Sensei taught us that day to open our perspectives beyond ego. Seeing with the eyes of the heart, through Buddha nature, we realize that although form is non-constant, the center of our being, connecting us to the mountain, is unwavering.
To the boy questioning change and to the perplexed Japanese Buddhism student - let's take a walk.
Works Cited:
Dogen, Eihei. Moon in a Dewdrop: Writings of Zen Master Dogen. Translated by Kazuaki Tanahashi, North Point Press, 1995.
© JCSB 2020  
Uchida Memorial Award
   " The Wise Hawk's Claws " by Lynca Saito (Stuyvesant High School)
A hawk circulates around its prey, waiting for the most suitable timing to hunt it down. He's hiding his claws until the very moment he swoops down to catch the prey, suddenly revealing his sharp claws.
"Nou-Aru-Taka-Wa-Tsume-Wo-Kakusu 能ある鷹は爪を隠す" - a famous Japanese idiom. Literally, it says "A smart hawk hides its claws," while it means something similar to "Who knows most, speaks least." The true ones with knowledge and talent do not try to show them off, but instead prove their worth at the right moment.
I've been told this idiom ever since I was a small child from my mother. She explained the meaning and how it can be useful in my life. However, I questioned why I would always have to hide my good grades or accomplishments from my friends, when they were bragging about theirs.
There was an unforgettable day that the idiom brought me a nightmare. In 8th grade, all of my friends were sharing their high school admission results. Some cried because of their undesirable offers. Others were shouting in joy. Meanwhile, I reacted as neither, though I had gotten into my top-choice school. As they rejoiced over their achievements, I just stood there, my acceptance letter in hand. I was happy, but when my mother's words crossed my mind, I was unable to share my results with everyone else. Most of my friends pitied me, thinking that I got a bad result. I was frustrated and annoyed to be seen as a failure because of the motto. I could've high-fived my friends like the others, but the "hawk's claws" stopped me from doing so.
That summer, I went to Japan and trial-enrolled into a Japanese middle school.
Seeing that nothing good came out of following the idiom, I decided to disobey it. If only negativity comes from hiding your claws, might as well show them. Attempting to make friends and fit in, I did everything. When a classmate asked me to help their English studies, I did. I performed my piano when someone requested. I didn't try to show off, but I didn't try to hide my capabilities either.
Unlike what I had expected, disobeying those words didn't work. Just because I was an American, my classmates looked at me like I was some huge show-off. Obviously, I wasn't; I was just being me – but everybody thought I was boasting. The students, who had been "friendly" in the beginning because I was a peculiar "existence," were now giving me the cold shoulder for being the "nail" in "Deru-Kui-Wa-Utareru 出る杭は打たれる." Exposing my claws harmed me.
In the US, trying to be humble didn't work. In Japan, trying to simply be "me" didn't work. The hawk with his hidden claws only brought misfortune and confusion. I didn't know what to do with my claws. I not only hated the phrase now, but I was having an identical crisis.
Becoming a high schooler, and now in a more competitive, difficult environment than ever, I realized that I needed to grab on to everything possible, and appeal as much as I can to keep up with my good grades. I needed to have my claws out and ready to catch prey constantly, but there really was no need or time for me to start bragging. Doing so helped me focus on my own studies more.
Following such ways, something interesting happened: my classmates began relying on me more. Seeing my class attitude, they realized that I was like any other student, until the right time came, and I showed my true potential. As a result, I made more friends and my grades even got better. I finally felt as though I had recognized the true definition of the idiom. What was important was that I didn't need to think about my claws – whether to show them or hide them – but instead let them go with the natural flow.
"Nou-Aru-Taka-Wa-Tsume-Wo-Kakusu." I was first confused and even disliked the words because I was too immature to understand the concept, but I've learned that if you correctly consider the expression, culture, and TPO, the idiom can be very powerful. Thanks to my bitter experience in Japan, the words are now my "Zayuu-no-Mei 座右の銘." In that sense, I am somewhat grateful to my Japanese classmates. With both identities as an American and Japanese, knowing the cultures of both sides, I am now able to use the idiom to my advantage, and to help myself grow.
© JCSB 2020   
Special Award (A)
"The Nakasendo Trail: A Pathway to Natural Understanding" by Hannah Mirando (Hunter College High School)
            My family and I pull off the highway and onto a small road that borders the verdant woods. As our footsteps carry us down the path, we are transported away from the modern world and thrust into a time centuries ago during the Edo period. The Nakasendo Trail was a route built for travelers which connected the cities of Tokyo and Kyoto. Nicknamed the "samurai" or "princess" trail, it was commonly used for women of high class or nobles who were interested in avoiding the harsher ocean route. Now, hikers across Japan come and traverse the path in an attempt to recreate the historic journey.
            As we walk, a sense of peace settles in the air, a feeling as delicate as the iridescent blue butterflies that float by our heads. My brother stops occasionally to pluck the pearly black fragments of obsidian out of the ground, enthralled by these volcanic treasures. I take a deep breath, and feel utterly whole, as if I'm connected to the bubbling stream nearby and the mossy stones beneath my feet. For once, nature seems less distant.
            I am an undergraduate student at Cornell University, studying environmental science. In many ways, my professors and peers are ahead of their time in terms of sustainable practices and new environmental technologies. We frequently discuss the troubling issues that our generation will face as human-based development continues to harm our Earth. However, I often struggle to agree with some of the bright minds I find myself among. The human relationship with nature is viewed as overwhelmingly separate, and terribly one-sided. People are regularly characterized as an enemy of nature, as if we are soiling the purity of Mother Earth. Thus, I find myself grappling with a tough intrapersonal conflict. Many of those around me condemn anthropocentrism, claiming that humans are nothing but a plague to the great wonders of nature. Yet, in suggesting that people and nature are divided at all, isn't this anthropocentric in itself? In an attempt to curb our negative impact on the environment, my peers seem to have contributed to a damaging paradigm.
Recently, I've found solace in Japanese philosophy, and the way that it addresses people and the environment. Embedded in the culture is a spiritual connection to natural elements, both biotic and abiotic. Accordingly, a mountain is in fact, a being: akin to a flower, a cricket, or a person. The threads of this notion run deep in Japanese traditions and trickle into everyday life. A cherry blossom tree which has lived to be 2,000 years old is celebrated and protected. My own great-grandmother would hang a token on her fireplace to ask the fire spirit to protect her home. There is a recognition that people are surrounded by a world bursting with life; life not in the sense of a beating heart or a chromosome, but in the sense that there is a spirit--an undeniable energy--embedded in everything the earth has set forth. With this recognition comes a humbling understanding that people hold no power over nature, because they are a part of nature. As members of the natural world, we have a responsibility to be stewards of the environment, not masters of it.
My exposure to Japanese culture has strongly influenced the way that I regard the environmental problems that plague us. I feel more grounded in my beliefs knowing that many Japanese people continue to maintain a healthy relationship with nature. As I continue down my career path, which will combine topics in conservation and education, I will keep these elements of Japanese philosophy in the forefront of my mind. By integrating thoughts of respect, stewardship, and reciprocity into modern science, I think that conservation efforts can be shaped differently, benefiting both people and nature.
            As I pause for a second to watch a few birds chattering in the canopy, my family walks ahead and I'm left alone on the Nakasendo for just a moment. I look back at the green trail that stretches behind me and can't help but imagine travelers making their way, centuries before me. Like them, I have also been swept into a great journey, though mine has been one of  reflection and contemplation. It has taken time for me to form my own understanding of our relationship with nature, and I know that it will likely continue to evolve. For now, I look ahead and take pleasure in the fact that there is much more green trailway left ahead of me.
Special Award (B)
"Bridging Our Similarities and Differences" by Yiting Su (Brooklyn Technical High School)
Ashitaka gallops through the leafy branches of the forest on his elk, bow in hand, whipping his face back to glare unapologetically at the demon boar. In this battle between the gods of a forest and the humans consuming its resources, Ashitaka evokes no fear —  only a tenacious sense of justice to protect his village. 
"Why are you watching those childish Japanese cartoons again?" My mother's displeasure and bitterness struck me as she recognized Princess Mononoke, my favorite Studio Ghibli movie. "How many times have we told you that Japanese people are violent? Those cartoons will get to your head," she chided in Chinese. "Just take a look at history."
            My family's history with Japan travel back to the Nanjing Massacre in 1937. In history class, I was horrified upon realizing that my great-grandparents' once unbelievable stories of dead bodies littering classrooms and girls raped by Japanese soldiers were true. This historical rivalry and enmity fostered a mutual animosity between Japanese and Chinese people generations later.
My parents' warnings only fueled my curiosity towards Japanese culture more as I was drawn to Japan's prominent pop culture. From my childhood watching Princess Mononoke, Fairy Tail and Naruto, I carried the lessons of persevering through my hardships with the power of collaboration. The enriching animated stories taught me to pursue my dreams and explore my passions. The world I had discovered was a stark contrast from what my parents had warned me of. I explored KANA-BOON and Kenshi Yonezu, fantasized over the state-of-the-art toilets, and dreamt of magical kotatsu and gachapon machines. In my free time, I pursued Japanese independently using DuoLingo and textbooks from the library. I desperately wanted to prove my parents wrong and show them how modern Japan was far from the world their ancestors had known.
To my surprise, the opportunity to do so came sooner than I expected. Last summer, I was awarded a full scholarship to study abroad in Tokyo for four weeks. My initial experience was far from the idyllic cosmopolitan life I had imagined. Immersed in a completely unfamiliar culture, I struggled to understand Japanese customs.
While standing in line to try on clothes, the sales clerk gestured and offered me a transparent fiber sheet. Perplexed, I hesitated before apologizing, "Gomennasai, wakarimasen." The clerk then demonstrated by enclosing his face in the sheet. Flabbergasted, my mind erupted like a volcano burning with self-conscious and troubled thoughts. Was I, a foreigner, too filthy to don their clothes without obscuring my face? 
To my relief, my Japanese friend later explained that people wearing makeup are given face covers to protect the store's clothes. I laughed at my naiveté, surprised by the immense amount of respect that Japanese people extended towards clothing. As my understanding grew, I could see how Japanese culture wove mutual respect into each honorific, phrase and custom.
During my homestay, my host mother, Kumiko-san, and I prepared meals together. While she taught me how to fry and steam traditional gyoza, we also prepared my family's recipe of Chinese pork-and-chive jiaozi. On another occasion, I donned a beautiful floral yukata for the omatsuri. After showing Kumiko-san pictures of my family's Chinese qipao, I remarked on the similarities and differences between both types of traditional clothing . As my host family and I found common grounds in food and clothing, we bonded and enjoyed each other's company. 
When my mother saw my photos of the jiaozi, she was speechless. The people she had perceived as arrogant and violent were just the opposite; they welcomed a new culture and warmly embraced me into their family. When I arrived back in America, my parents gradually opened up to the idea of dining at Japanese restaurants. As I demonstrated to my parents how to clap their hands and announce Itadakimasu before eating and Gochisousama deshita after eating, the routine illustrated how Japanese people demonstrate respect to the chefs and food. After my parents eventually realized how Japanese people embrace kindness, courtesy and respect towards each other, they thanked my host family. 
            In Japan, I found not only a welcoming community, but an opportunity to restore the cordial relationship between my family and Japan. By reshaping my parents' negative perceptions of Japanese people, I took my first step in creating a movement that encourages people to learn and care about others. When we are willing to learn about different types of people, we send a message of love, compassion and hope and ask the world to open their hearts.
© JCSB 2020