Skip Navigation
Southampton
Online news and event calendars for the Hamptons 
The Independent
Dan's Hamptons.com
Town of Southampton official website

---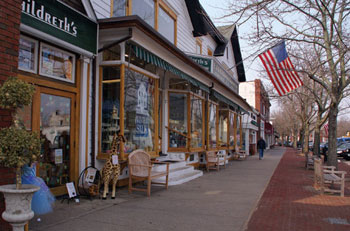 Beaches & Parks
Beachgoers must buy parking permits, available at town beaches daily beginning June 25.
Seasonal fee is $20 for residents, $10 for resident seniors older than 60 and $150 for nonresidents. Nonresident daily parking permit $15 (limited number). Some town beaches (noted below) are restricted to resident permit holders. Call (631) 728-8585.
Emma Rose Elliston Park
Millstone Road off North Sea Road, North Sea.
Access: For Southampton residents only.
Beachfront: 150 feet on Big Fresh Pond. 
Access: Lifeguards, picnic tables, rest rooms.
Flying Point Beach
on Flying Point Road, Water Mill. 
Access: Open only to seasonal permit holders, including nonresident permit holders.
Beachfront: 250 feet on ocean.
Lifeguards: On weekends.
Facilities: Showers, rest rooms, mobile food stand, volleyball courts.
Museums & Galleries
Chrysalis
2 Main St.
(631) 287-1883
Hours: 10 a.m. to 6 p.m. Monday -Saturday (until 9 p.m. Sat. during summer); 11 a.m.-5 p.m. Sunday 

Michael Perez Gallery
49 Jobs Lane
(631) 287-1003
Features: Modern Pop Art painting of Michael Perez. 
Hours: 11 a.m. to 5 p.m. Monday - Wednesday, 11 a.m. to 7 p.m. Thursday - Saturday, noon to 4 p.m. Sunday.; Call for off-season hours. 
Web site:  www.michaelperezgallery.com 

The Parrish
25 Jobs Lane
(631) 283-2118
In Southampton Village, the museum offers workshops, children's art classes and changing exhibits.
Hours: 11 a.m. to 5 p.m. Monday -Saturday, 1-5 p.m. Sunday, June 1-Sept. 15. Closed Tuesday and Wednesday, Sept. 15-May. 
Fee: $5, $3 seniors and students, free ages younger than 18. 

Southampton Historical Museum, Rogers Mansion
17 Meeting House Lane
(631) 283-2494
Hours: 11 a.m. to 5 p.m. Tuesday - Saturday, 1-5 p.m. Sunday, May-December, noon-5 p.m. Thursday - Saturday, January through April; other times by appointment. 
Fee: $4 adults, $3 seniors, $2 students. 
Central building is an 1843 sea captain's home, with period rooms and changing exhibits on Southampton history. On site: 1-room schoolhouse, paint store, blacksmith shop, other commercial buildings. Nugent Carriage Barn houses farm tools and a gallery on whaling history. 

Old Halsey House
South Main Street
(631) 283-2494
Built by Thomas Halsey circa 1660, it is the oldest house in Southampton; has 17th and 18th century furniture.

Shinnecock Nation Cultural Center and Museum, Shinnecock Reservation
Montauk Highway and West Gate Road
(631) 287-4923
Museum depicts 10,000 years of Shinnecock history. "A Walk with the People" exhibit has murals and sculpted totems by Shinnecock artist David Bunn Martine, a replica wigwam, an ancient birchbark canoe, mounted animals, tools, jewelry, beadwork, weavings, photos of ancestors. "My Spirit Dances Forever" has Algonquian bronze sculptures donated by Frederick DeMatteis.
Web site:  www.shinnecock-museum.com