How to Apply to Stony Brook as a Transfer
Before submitting an application, be sure to review our list of academic offerings. Health Sciences program applicants must follow special application procedures.
Step 1: Apply Online via The SUNY Application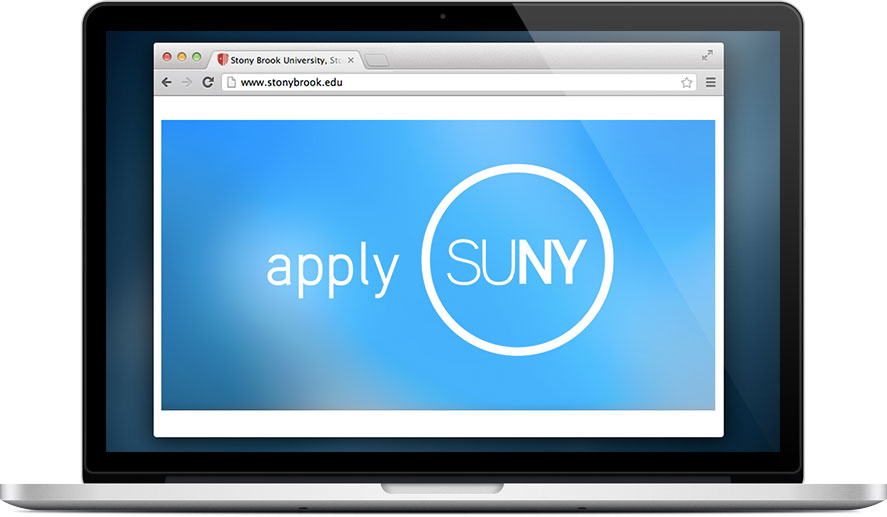 | | |
| --- | --- |
| Summary | The SUNY Application allows you to apply to several SUNY campuses with one application |
| Application Fee | $50 |
| Notes | The State University of New York waives the $50 application fee for up to four college choices for students graduating from SUNY or CUNY two-year colleges who apply directly to State University four-year colleges for baccalaureate programs. If you are a transfer student seeking the fee waiver, you must complete the "My Transfer Colleges" section of the application. |
Apply Now
Step 2: Send Us Your Academic Credentials
Be sure to include your full name, date of birth, and home address on all correspondence. It is each applicant's responsibility to ensure that all application credentials are received.
Have your transcript(s) sent from every college/university you have attended.
If you have completed less than 24 credits from a college or university at the time of application, have your final high school transcript and SAT or ACT scores sent directly from the testing agency.

SAT Code: 2548
ACT Code: 2952
All items must be mailed to:
Stony Brook University
Office of Undergraduate Admissions
118 Administration Building
Stony Brook, NY 11794-1901
U.S.A.
Transfer students with more than 56 credits must indicate a major on their application to be eligible for financial aid. It is each applicant's responsibility to ensure that all application credentials are received and that a final college transcript is sent to the Undergraduate Admissions Office prior to orientation. Applicants who expect to be degree recipients (A.A. or A.S.) should present evidence of receipt of the degree prior to orientation for advising purposes.
Priority Deadlines
Applications received after these dates will be reviewed on a space-available basis.
| Entry Term | Priority Deadline | Credentials Deadline | Notification Schedule |
| --- | --- | --- | --- |
| Fall 2020 | March 1 | March 1 | Beginning Late-March |
| Spring 2020 | November 1 | November 1 | Beginning Mid-November |
Additional Application Requirements
There are additional application requirements for the following programs and applicants:
The State University of New York (SUNY) policy prohibits Stony Brook admission applications from inquiring into an applicant's prior criminal history. After acceptance, the College shall inquire if the student previously has been convicted of a felony if such individual seeks campus housing or participation in clinical or field experiences, internships or study abroad programs. The information required to be disclosed under SUNY policy regarding such felony convictions shall be reviewed by a standing campus committee consistent with the legal standards articulated in New York State Corrections Law. Students who have previously been convicted of a felony are advised that their prior criminal history may impede their ability to complete the requirements of certain academic programs and/or to meet licensure requirements for certain professions. Students who have concerns about such matters are advised to contact the dean's office of their intended academic program.