Skip Navigation
About Project REACH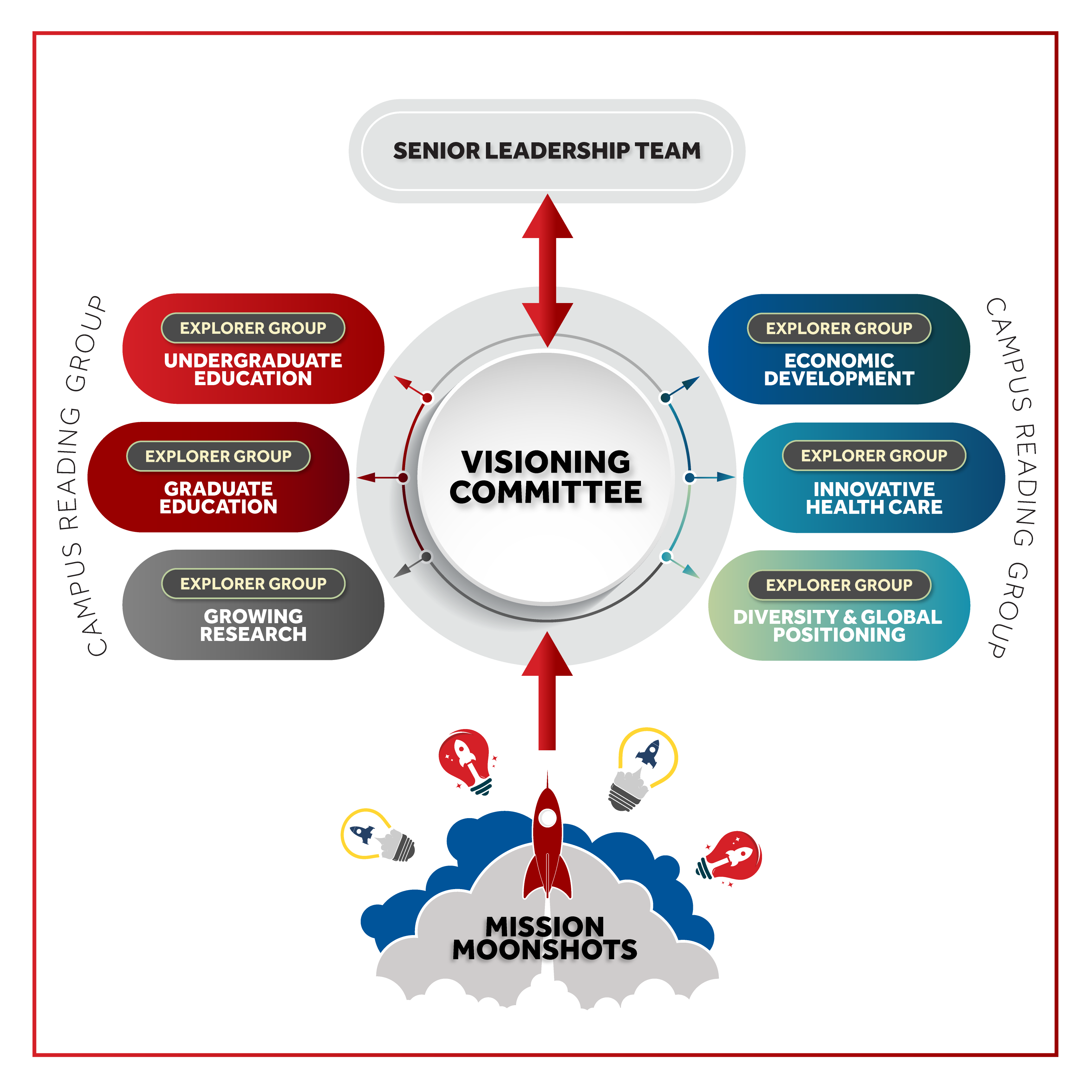 Built upon prior initiatives such as Accelerating Research and the Strategic Budget Initiative, Project REACH, short for Reimagine • Accelerate Change, is a collaborative undertaking designed to source from every corner of our community, to create a shared vision for the future of our great university, and to chart our path forward.
The strength and the success of Project REACH will be in its diversity of thought, perspective and experience.  We encourage and will actively seek out faculty, staff, and students from every corner of campus to serve on various committees, groups, and teams. 
Our charge will be to "look up and out," beyond what is immediately apparent or what we may have discussed in the past to truly creative ideas and innovative solutions powered by our collaboration.
Regardless of your expertise, experience, or passion — we have a role for you, a way to engage meaningfully in this project.


Leading Our Mission: The Vision Committee — the nexus of campus-wide collaboration — will coordinate campus-wide engagement and explore what it means to be Stony Brook and the cultural implications of "One Campus."
The Vision Committee will achieve this through:
Spearheading community outreach and ideation through community workshops, surveys, campus conversations

Creating visioning and value statements to guide our planning efforts in a way that aligns with SBU's mission

Leveraging community feedback to identify areas of focus and opportunity
Campus Engagement
Guiding Our Journey: Campus Reading Groups will provide our compass. These groups will research and focus on innovative approaches in higher education and beyond to help guide us as we learn together, build a shared vocabulary, and focus on truly transformative ideas for Stony Brook.
Reading Groups will be led by faculty, staff, and students who have a passion for or want to contribute to a certain topic or theme of Project REACH.  More information about Reading Groups will be available in Spring 2022.
Understanding our History: Understanding data to inform our future.  We will also provide opportunities for the campus to attend webinars followed by discussion groups to learn more about our historical trends and how those compare with our AAU public peers.

Deepening Our Understanding: Explorer Groups, which will be composed of faculty, staff, and students, will conduct deep dives into potential areas of opportunity and innovation across our five-part mission. Each group will have a specific focus derived from your Moonshots — to research, investigate and, of course, explore. Following thorough explorations of the ideas in their missions, these groups will develop proposals for potential pilots to the Visioning Committee for funding consideration.

Providing Strategic Direction:The Senior Leadership Team (SLT)will conduct a competitive analysis of AAU public peers, identifying Stony Brook's advantages and challenges.  With particular attention given to increasing student success, focusing on research and innovation, ensuring financial sustainability, creating One Stony Brook, and committing to Diversity, Equity and Inclusion as a foundational philosophy; the SLT will be building upon the core principles of our Stony Brook mission in preparation for our planning work together:
to provide comprehensive undergraduate, graduate, and professional education of the highest quality;

to carry out research and intellectual endeavors of the highest international standards that advance knowledge and have immediate or long-range practical significance;

to provide leadership for economic growth, technology, and culture for neighboring communities and the wider geographic region;

to provide state-of-the-art innovative health care, while serving as a resource to a regional health care network and to the traditionally underserved;

to fulfill these objectives while celebrating diversity and positioning the University in the global community.
Finally, the SLT will monitor the progress of this collaborative effort through the development of critical milestones and formation of relevant Key Performance Indicators (KPIs) while identifying and removing barriers to the project's success.