Quantum Beats
When atoms are excited to a single state they emit radiation that decays exponentially with a time constant characteristic of their excited state lifetime. When atoms are excited to a superposition of states, the exponential decay may be modulated. The components of the superposition have different energies, and the modulation reflects this difference in the form of beats between the frequencies of the emitted light from the decaying states.
There are many different ways of populating superposition states of atoms, and the one used in our experiments employs a pulsed dye laser whose spectral width spans the energy range of the states to be superposed. The emitted fluorescence may be recorded at a variable delay after the laser pulse and/or as a function of applied dc magnetic field. If the detector response time is faster than the modulation period, the entire decay signal may be recorded, but in either case, a decaying, modulated exponential is observed as shown in the figure.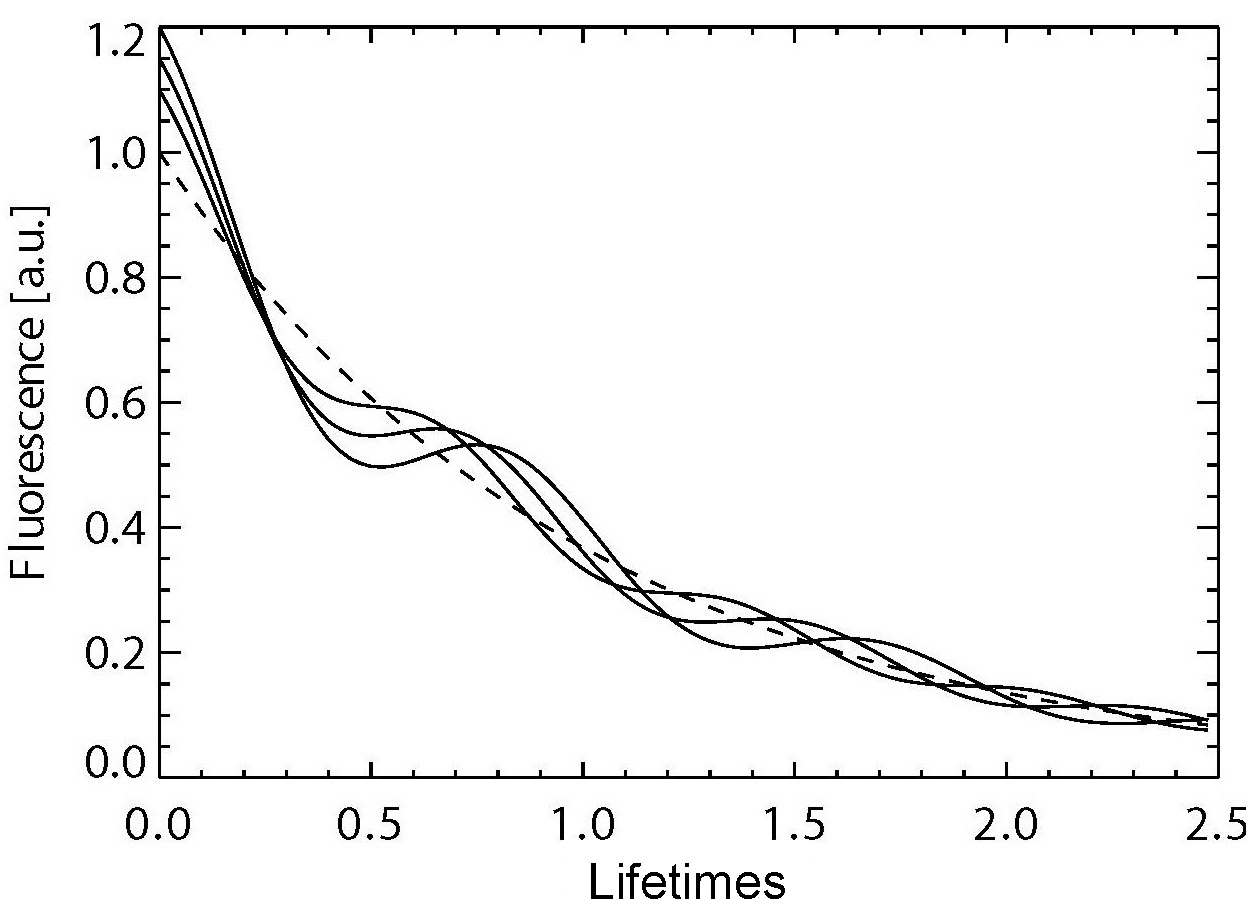 A typical experiment uses a tunable, pulsed laser to excite a superposition of multiple atomic states. If these are degenerate magnetic sublevels the beat frequency is zero, but if they are split by an applied magnetic field, the beat frequencies are given by their Zeeman splittings. If two levels that are far apart are brought closer together by an applied magnetic field, their "crossing" may be detected the same way.
The phase of the oscillations of each state that combine to make the beat depends on the details of the experimental geometry and light polarization. When the oscillation reduces the light emitted in one direction, it increases in another direction. So dc detection in a fixed direction reveals a dip or peak when the levels become degenerate. When this occurs at zero field it's called the Hanle effect.
By taking all measurements at a delay time longer than the natural lifetime of the excited states, the observed signal can be somewhat narrower than that from measurements taken immediately after excitation. However, the signal-to-noise ratio is is considerably decreased (read more).