Adiabatic Rapid Passage
Optical forces on atoms by single frequency light have been incredibly useful tools in the last quarter century. Physicists have been able to manipulate atoms and form previously undiscovered states of matter with these forces. However, the traditional optical forces often suffer from one flaw, their reliance on spontaneous emission by the atom. This property of the atom limits the magnitude of the force one can impart to the atom, which atoms these forces can address, and how robust these forces are to variations in the experimental parameters.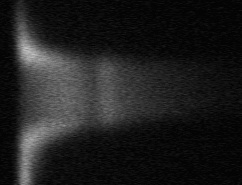 Adiabatic Rapid Passage (ARP) is a coherent process that does not rely on spontaneous emission but rather on stimulated emission. Stimulated emission is controlled by the properties of the laser, not the atom. Choosing your laser parameters correctly can generate much greater and much more robust optical forces on atoms. By using pulsed, frequency swept, laser light it has been shown experimentally that forces an order of magnitude greater than the traditional optical forces can be achieved. These forces were observed by measuring the deflection of an atomic beam by the laser as shown on the right.
These experiments were done by using the 1083 nm transition of metastable He. The shaping of the light field is all done by Electro-Optical Modulators (EOM). These EOM's allow a single frequency continuous wave laser to be transformed into a frequency modulated, amplitude modulated light field. The only requirement of this modulation is that it be much faster than the spontaneous emission rate which is not very hard.
These forces have been studied mostly by changing two important laser parameters, the intensity of the light and the amplitude of the frequency modulation. In doing this, one can observe the dependence on the force as a function of those two variables and create a force map (shown below). Large forces can be seen at many different values of these parameters and have some agreement with theoretical predictions.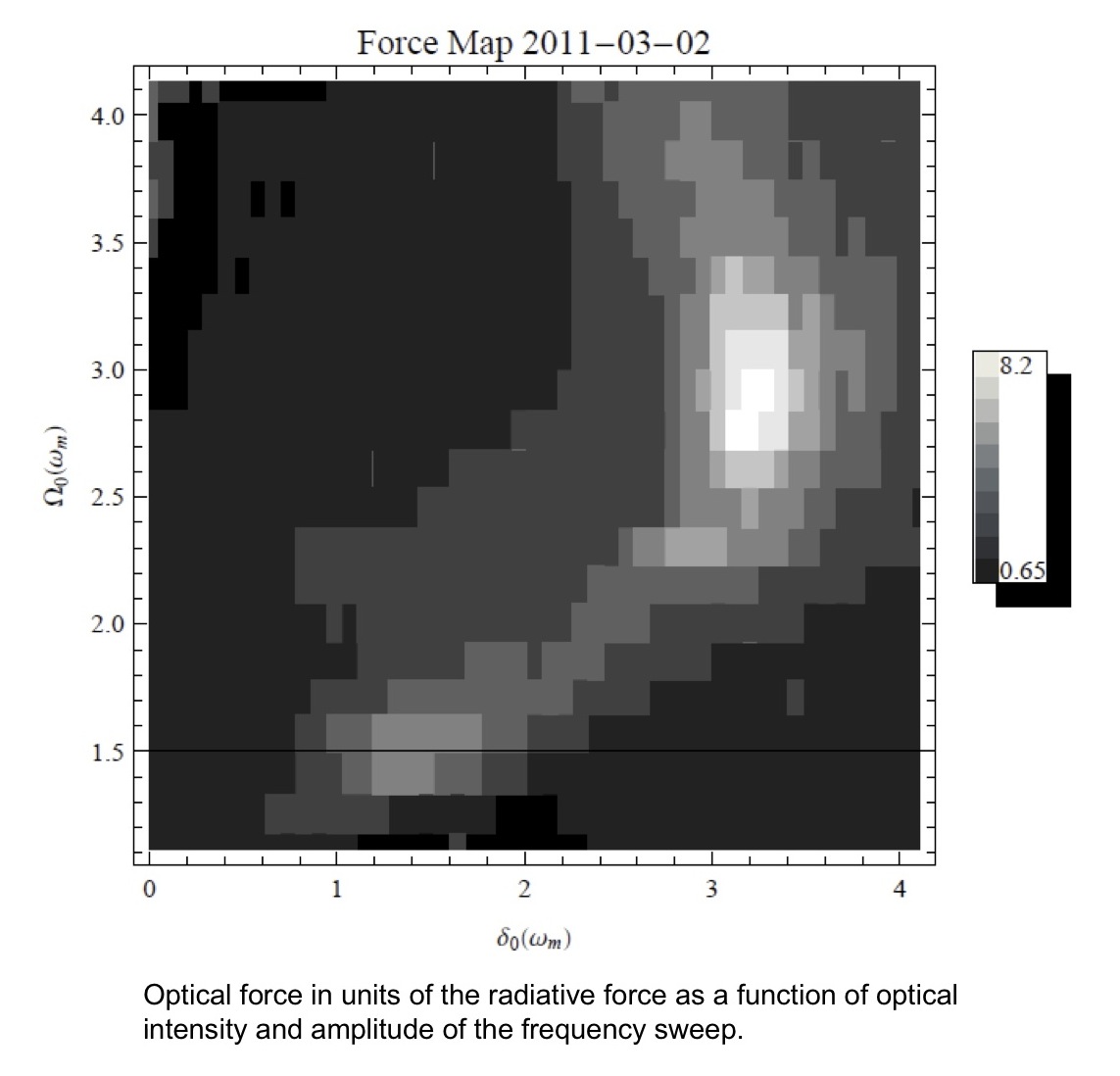 The next property of ARP to be explored experimentally is the transverse velocity dependence of the force. Traditional optical forces usually only work for atoms very near a certain velocity whose range is limited by the properties of the atom due to the Doppler Shift. Theoretically, ARP can produce optical forces on atoms with a much greater velocity range whose range is only limited by the properties of the light field.
The ARP experiment is currently operated by PhD student Brian Arnold.