Neutral Atom Lithography
Following successful experiments using the bichromatic force to collimate and create a very bright metastable helium beam it became possible to perform neutral atom lithography. The large internal energy of the metastable helium atoms can be used for resist-based lithography in a method very similar to standard UV lithography. Using neutral atoms for lithography is interesting due to the ability to pattern using the dipole force created by optical fields. The motion of the atoms is controlled using a standing wave of laser light that acts like an array of lenses on the atoms.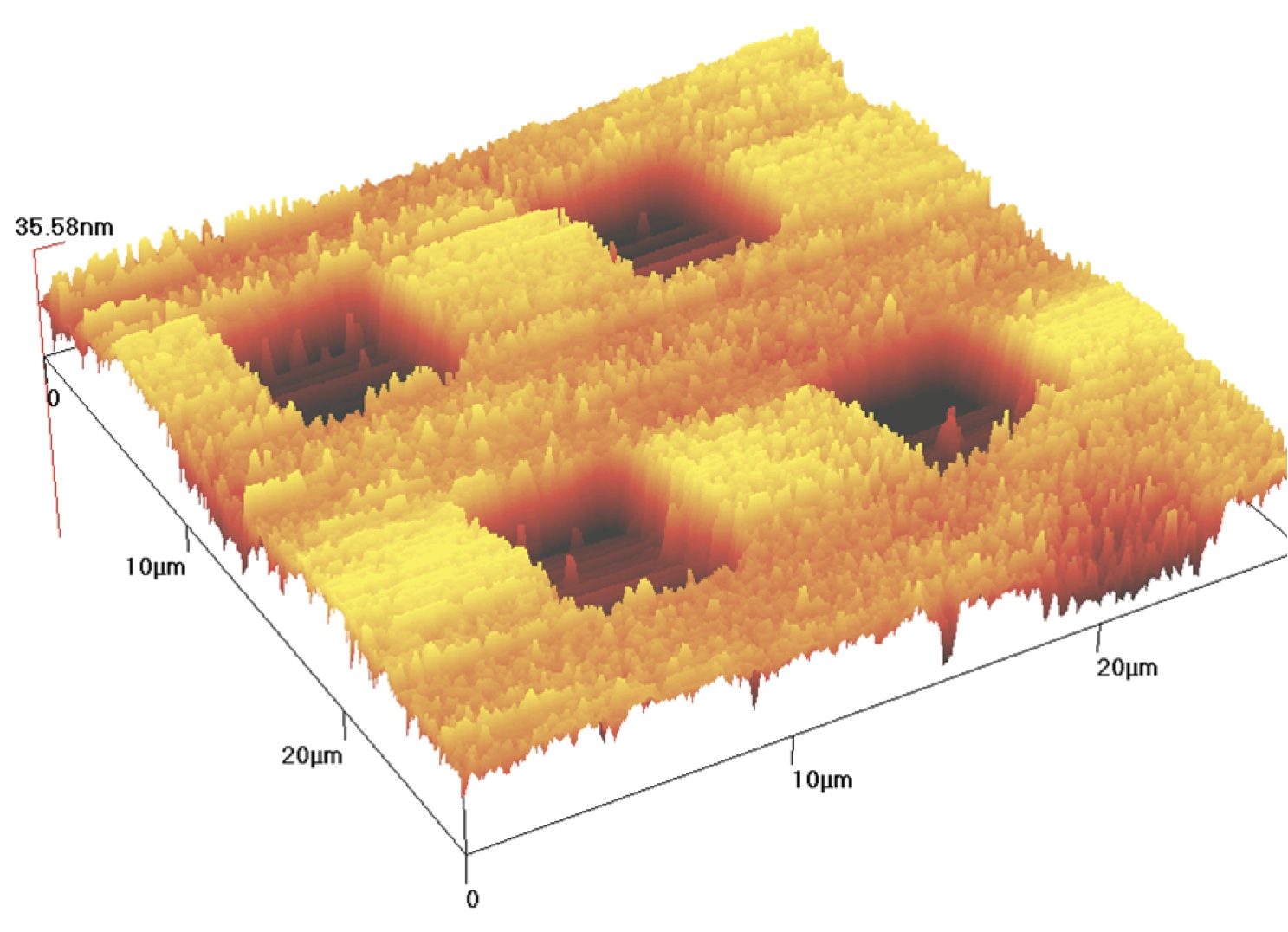 The first experiments used a physical mask to pattern boxes into a gold substrate. These experiments determined the best parameters for reliable patterning, and provided insight on the ultimate size limit of the lithography process. An atomic force microscope (AFM) image of the patterned gold surface can be seen to the left. The boxes etched into the gold are about seven microns wide and spaced about fifteen microns apart.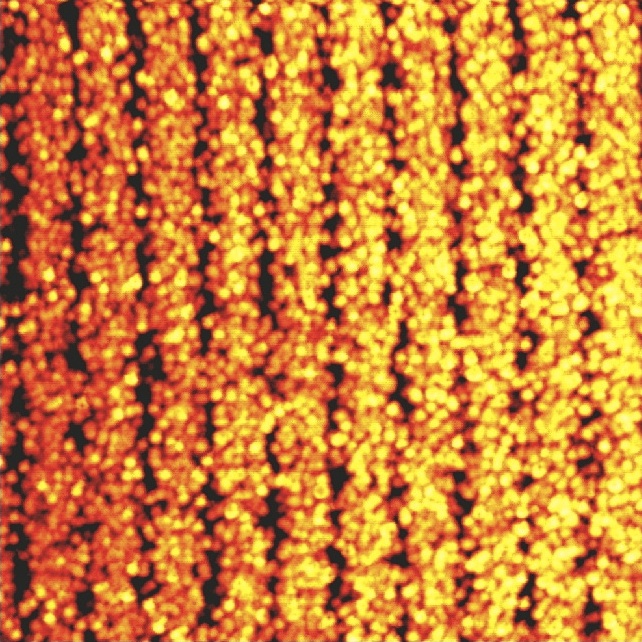 Next an optical mask was created using a laser at the 1083nm transition wavelength of metastable helium. Using different intensities in the standing wave allowed the helium atoms to either be focused or channelled into the nodes of the standing wave. This was the first successful demonstration of patterning using metastable helium in focusing regime and was published in the Journal of Applied Physics. Results from patterning in the channeling regime agreed well with work that had previously been published by other groups. An AFM image of the 541nm spaced lines produced by the optical mask can be seen on the left.
The most recent work has used the 389nm transition wavelength in metastable helium to produce structures spaced 194nm apart. These are currently the smallest spaced structures created with metastable helium. A scanning electron microscope (SEM) image of one of the first samples to be patterned with this UV optical mask can be seen on the right, however it is noticeable that the grain structure of the gold is on the scale of the pattern being created. This has led to investigations into different substrates and etching processes. Below is an SEM image of boxes recently created in palladium using a recently developed processing and etching procedure.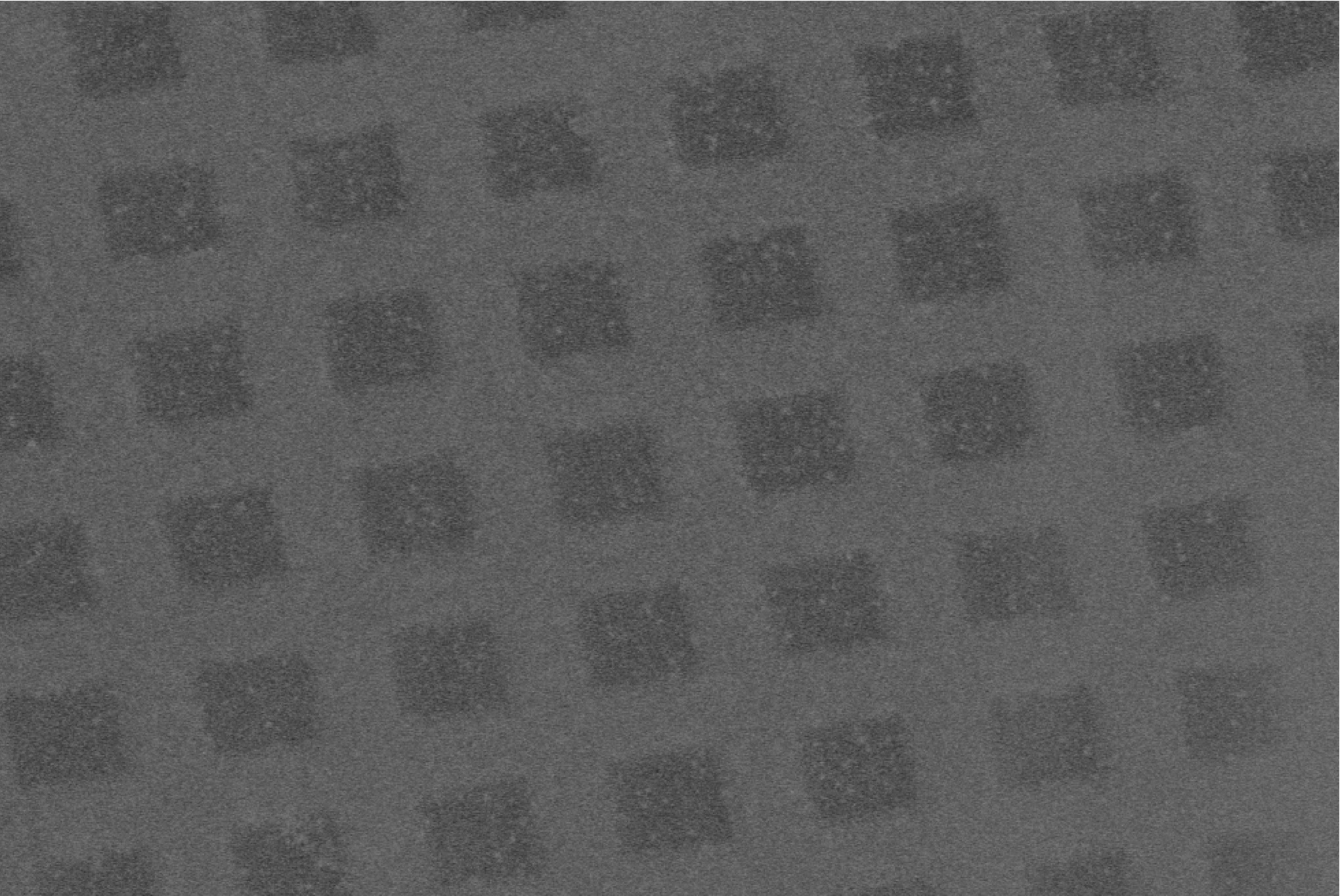 The neutral atom lithography experiments were run by Claire Allred, Jason Reeves, and Chris Corder.