Skip Navigation
For Students
Everything you need to know as a Teacher Candidate about completing your program and stepping into a classroom as the teacher! 
For Cooperating Teachers
A breakdown of the role and responsibilities and best practices for our trusted CTs, and a note on how we say thanks, too. 
For University Supervisors
Clear, supportive guidelines and expectations of the University Supervisor on best practices for engagement with the cooperating teachers and teacher candidates. 
Spotlight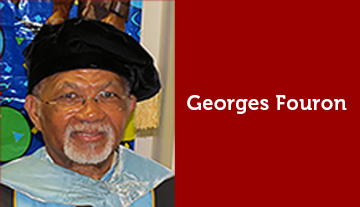 Professor Georges Fouron Receives Award for Teaching Excellence
The esteemed professor has received the 2020-2021 COVID Teaching Hero Award   from the University's Center for Excellence in Learning and Teaching. The award " recognizes faculty who demonstrated exceptional resilience, flexibility, and empathy in teaching during the pandemic while maintaining academic rigor and teaching effectiveness."