Skip Navigation
Veterans Success Stories
---
Christian Dupree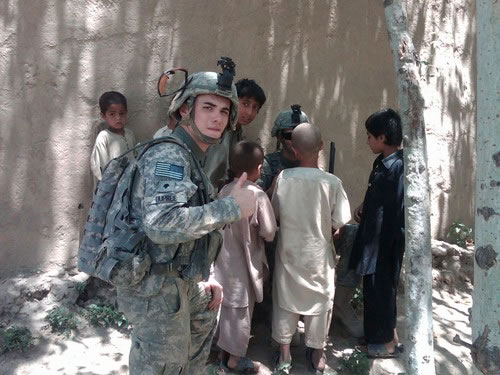 Walking through a village in Afghanistan, ran into a group of children.  They were key factors in defining just why we were there, they needed assistance and we were glad to help even if it was as little as giving them some candy, toys, or school supplies.
"During the period of August 28, 2008 - December 21, 2011, I served in the U.S. Army as an Infantryman.  My time in service was filled with many trials and tribulations, which has built strongly the character and the professionalism that is pivotal not only for a successful enlistment, but also for a successful transition into an educational environment.

Basic training was conducted in Ft.  Benning, Georgia, the 'Home of the Infantry,' where soldiers were met with early mornings, strenuous physical training, and endless weapons training (with squad tactics.)  Discipline, motivation, and a 'Never Quit' attitude are some of the key ingredients that define a successful solider, and Ft.  Benning accepts nothing less than that standard.

Arriving at Ft. Drum on New Year's Eve, 2008, the 'Real Army' lifestyle was warmly embraced in minus 20 degree weather.  At Ft. Drum, I was fortunate enough to excel in many areas of training.  I was sent to a Team Leaders Course within the first four months of my assignment to Alpha Company, 1/87.  After this course, our unit spent the next 6 months constantly training on squad tactics, platoon movements, and weapon proficiency.

After Joint Readiness Training Excercise (JRTC) in Ft. Polk Louisiana, I was declared a Team Leader, which helped instill a strong sense of pride in my work, as well as strong duty of professionalism.  While being in charge of men and equipment, I conducted monthly counseling's, ensuring the soldiers were performing to their peak abilities, while noting their quality of performance in our standard routine.

Accountability of yourself, your soldiers, and most importantly your equipment is imperative to succeed in the Military of any branch.  The Army branded me with a special sense of pride that can only be earned by those whom choose to take a path less traveled.  From bitter cold north-country training to fuming firefights in Afghanistan, I am blessed to have had such a rollercoaster of a ride in the Army because I have proven myself, to myself, which is only the least of what I can say about my time in the service.

When best friends live and train together for months on end, the day before deployment, in my view, was a happy day."