Skip Navigation
Crystal Fleming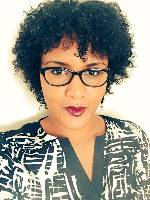 Associate Professor
Ph.D. 2011, Harvard
Crystal.Fleming@stonybrook.edu

(On leave until spring 2018)
Areas of Interest
Critical   Race  Theory, Global White Supremacy, Temporality, Collective Memory, Social Movements, Mindfulness and Spirituality
Bio
My research spans the fields of critical race theory, cultural sociology, social movements and collective memory.  I am interested in the impact of racial domination on group identities, knowledge production and social representations as well as the strategies and practices people mobilize to challenge and transcend oppression.

My book Resurrecting Slavery: Racial Legacies and White Supremacy in France (2017, Temple University Press) uses critical race theory to examine how and why French activists are bringing the slavery past back to life.  At the heart of the book is a puzzle: How does a nation that officially frames itself as blind to race make sense of its racist and racial past?  To answer this question, I draw upon two years of qualitative fieldwork in the Paris region to assess how a variety of stakeholders -- white French politicians, black and multiracial activists and members of the French Caribbean public -- interpret transatlantic slavery and contemporary race politics in France. Using over 100 in-depth interviews, participant observation at cultural events and content analysis of political speeches, the book focuses on the emotional templates, conceptual frameworks, and racial logics deployed by the French to grapple with the slavery past. I draw particular attention to the role of ethnic and racial movements in challenging white supremacy, epistemologies of ignorance and historical revisionism.

My current projects extend my work on  Resurrecting Slavery by further illustrating the dynamics of global white supremacy and anti-blackness. A new line of research bridges my interests in racial temporality and intersectionality by examining the experiences of non-white minorities with mindfulness and contemplative practice.
Recent Publications
2017. Fleming, Crystal M. Resurrecting Slavery: Racial Legacies and White Supremacy in France. Philadelphia: Temple University Press.
2017. Proulx, J., Croff, R., Oken, B., Aldwin, C., Fleming, Bergen-Cico D., and Thao LeMisbah Noorani "Considerations for Research and Development of Culturally Relevant Mindfulness Interventions in American Minority Communities." Mindfulness: (1-10)
2016. Gonzalez, Adam, Locicero, B., Mahaffey, B.,   Fleming, C.,  Harris, J. and Vujanovic, A. "Internalized HIV-Stigma and Mindfulness: Associations with PTSD Symptom Severity in Trauma-Exposed Adults with HIV/AIDS. Behavior Modification."   Behavior Modification.  40(1-2): 144-163.   (Invited)
2015.   Fleming, Crystal M.  and Morris, A. "Theorizing Ethnic and Racial Movements in the Global Age: Lessons from the Civil Rights Movement."   Sociology of Race and Ethnicity.  1(1): 105-126. 
2012. "White Cruelty or Republican Sins? Competing Frames of Stigma Reversal in French Commemorations of Slavery", Ethnic and Racial Studies (35:3), pp. 448-505.
2012. "Varieties of Responses to Stigmatization: Macro, Meso, and Micro Dimensions." (with Michèle Lamont and Jessica Welburn). Du Bois Review: Social Science Research on Race. 9(1): 43-49.
2012 "African Americans Respond to Stigmatization: The Meanings and Salience of Confronting, Deflecting Conflict, Educating the Ignorant and "Managing The Self.." (with Michèle Lamont and Jessica Welburn). Ethnic and Racial Studies 35(3): 400-417.2011.
2011 "The Educational Experiences of Caribbeans in France", pp. 79-98  in Kassie Freeman, Ethan Johnson and Kelvin Shawn Sealey (Eds.), Education in the Black Diaspora. London and New York: Routledge.
2011. "Academic Conferences and the Making of Philosophical Knowledge" (with Neil Gross), in Camic, Charles, Neil Gross and Michèle Lamont (Eds.)   Social Knowledge in the Making,  Chicago: University of Chicago Press.
2007. "Black Cultural Capitalists: African American Elites and the Organization of the Arts in Early Twentieth-Century Boston" (with Lorraine Roses),   Poetics   (356), pp. 368-387.
2005. "Everyday Anti-Racism: Competence and Religion in the Cultural Repertoire of the African-American Elite and Working Class" (with Michèle Lamont),   The Du Bois Review: Social Science Research on Race  (2:1), pp. 29-43.