Skip Navigation
Frank C. Trotta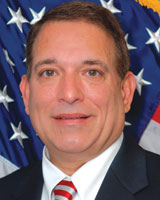 Frank C. Trotta a lifelong resident of the Village of Bellport is a graduate of Valley Forge Military Academy. He received a B.A. in Business Administration and Political Science from Long Island University in 1975 and an M.P.A. in 1985. He and his wife Marie have two grown children, Christina and Frank III.
Starting in 1973 Mr. Trotta served as an elected official in the Village of Bellport. For six years he served as a village trustee and then was elected in 1983  to the office of mayor, which he held for 25 years before retiring in 2008 as Bellport's longest serving Mayor.
From 1989 to the present Mr. Trotta has been the founder, owner, and CEO of several businesses including Prime Time Travel Club, one of the largest tour operators on Long Island. Trotta Cruise & Vacation is a full-service travel agency and Cruisetoanywhere.com.is an online cruise booking site.
Mr. Trotta also publishes two newspapers – 50 Plus LifeStyles and Fire News. 50 Plus LifeStyles is a regional newspaper designed for boomers and beyond in Nassau and Suffolk and the five boroughs of New York City.  Fire News covers issues of concern to fire and EMS departments throughout Long Island. Two other editions serve the states of New York and New Jersey. Fire News is recognized as one of the most respected Fire Rescue and EMS publications in the United States.
Mr. Trotta served as Chairman of The Board of Zoning Appeals for the Town of Brookhaven from 1997 to 2003 and as Director of the Suffolk County Office for the Aging from 1986 to 1998. Most recently he served a five-year term as a Trustee of Suffolk County Community College. Additionally he was an instructor at Briarcliff College in Patchogue and a mentor at SUNY Empire State College in Stony Brook.
Mr. Trotta has been involved in local and community activities throughout his life and has served on many boards, including the Alzheimer's Association, Long Island Chapter, Foster Grandparents of Suffolk County, Suffolk County Red Cross, Community Mediation Center, and Ms. New York Senior America Pageant. He is past president of the North American Mature Publications Association and the Suffolk County Village Officials Association. He has also been on the advisory boards of Brookhaven Memorial Hospital and the Suffolk County Office for the Aging. He is an honorary member of the Bellport Fire Department and the South Country Ambulance Co.
Trotta has been the recipient of numerous honors and awards such as Man of the Year from the Brookhaven Memorial Hospital Hospice Program, Outstanding Service Award from The Good Fellows Club of Suffolk County, Humanitarian of the Year Award from the Alzheimer's Association, Good Deed Award from the Suffolk County Boy Scout Council, Distinguished Alumnus Award from Southampton College of Long Island University and Outstanding Service Award from the NYS Coalition for the Aging. He was awarded a Lifetime Membership by the Bellport Chamber of Commerce.