Skip Navigation

Father Alexander Karloutsos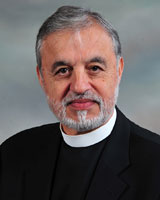 Father Alexander Karloutsos is the Assistant to Archbishop Demetrios of America, Spiritual Advisor to the Order of Saint Andrew Archons of the Ecumenical Patriarchate in America and to Faith: An Endowment for Orthodoxy & Hellenism.  He serves as Special Assistant to the Archbishop working as liaison with heads of churches, the White House, the Congress, state and local officials, Greek American organizations, political action, religious freedom and human rights groups.  He is also the pastor of Kimisis Tis Theotokou Greek Orthodox Church of the Hamptons and serves as the Orthodox Chaplain for the Port Authority of New York and New Jersey. He was previously Executive Director of Leadership 100, serving from 1986 to 1992 and 1999 to 2004, and was appointed by Archbishop Iakovos as the first Vicar of Public Affairs of the Greek Orthodox Archdiocese of America in 1985, holding that position simultaneously until 1992 when he was appointed Special Assistant to His All Holiness Ecumenical Patriarch Bartholomew at the Ecumenical Patriarchate of Constantinople.
Father Alexander was graduated magna cum laude from Hellenic College in Brookline, Massachusetts in 1966. He received a Master of Theology degree, also magna cum laude, from the Holy Cross School of Theology there in 1969. He also received a Certificate in Ecumenical Theology from the University of Geneva in 1970. He was ordained a deacon and a priest in September of 1970; respectively by Archbishop Eugenios of Crete and Archbishop Iakovos of America and was elevated by Archbishop Iakovos to Protopresbyter in February of 1984. His All Holiness Ecumenical Patriarch Bartholomew named Father Alexander Protopresbyter of the Ecumenical Patriarchate in 1994, the highest honor a married clergyman can receive in the Orthodox Christian Church.
Father Alexander first served as an assistant priest at SS. Constantine and Helen in Chicago in 1970 where he was active in youth ministries. He was appointed Archdiocesan Director of Youth Ministry in 1974, moving to the Archdiocesan headquarters in New York.  In 1978, he was appointed Archdiocesan Director of the Office of Church and Society where he served until 1980 when he assumed the directorship of the newly established Department of Communications.
Father Alexander is married to Xanthi Karavellas Karloutsos.  They have three children, happily married, and nine grandchildren, Alexander, Konstantine, Xanthi, Luca, Konstantina, Demetrios, Steven, Leo and Michael.