Skip Navigation
Linda Armyn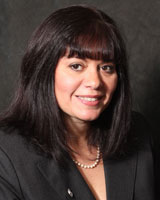 Linda Armyn is Senior Vice President of Corporate Affairs at Bethpage Federal Credit Union, where she began her tenure in 2001. In her current role, she leads Corporate Communications, Public Relations, Business Development, Community Development and Government Relations.  During Linda's years at Bethpage, assets have grown from $1.1 billion to $9+ billion. With Bethpage's CEO and its leadership team, she has spearheaded strategic efforts to make Bethpage the premier community financial institution on Long Island, the largest credit union in New York State and 13 th in the nation. She played an integral role in two mergers that led to Bethpage's expanded charter in 2016 and becoming Northwell Health's Credit Union in 2017.  
With a focus on collaboration and innovation, Linda has developed some of Bethpage's most popular community outreach initiatives and branding campaigns, including the noted Bethpage Cares program. This successful philanthropic effort invests more than $2 million annually to communities of modest means. Another Bethpage program developed under Linda's leadership that has had tremendous impact is Volunteer Income Tax Assistance (VITA), which has seen Bethpage volunteers prepare over $24 million in returns for low income Long Islanders since 2003. In 2019, Linda and the Bethpage team collaborated with Suffolk County and Zagster to bring a Bike Share program, known as Bethpage Ride, to Suffolk County for the first time.  In 2020, Armyn introduced the Bethpage Difference Makers Program to foster youth volunteerism in the community.
Of the many significant branding initiatives developed and managed by Linda, including the naming of Bethpage Federal Credit Union Ballpark (home to the Long Island Ducks), the most visible is the annual Bethpage Federal Credit Union Air Show at Jones Beach. By developing a partnership with the NYS Office of Parks, Recreation & Historical Preservation, Linda helped brand Bethpage as the Title sponsor of Long Island's largest public event that is free to all who attend. The Bethpage Federal Credit Union Air Show at Jones Beach attracts nearly 400,000 attendees annually each Memorial Day weekend since 2004.
Linda is active professionally within her industry as a member of the Credit Union National Association (CUNA) Political Grass Roots Network and MAPs Advisory committee, NYCUA Government Affairs Committee and the National Association of Federal Credit Unions (NAFCU) legislative committee. On Long Island, she serves as a board member for the YMCA LI, Cradle of Aviation, Mentor NY and Child Care Council of Suffolk.  In 2014, she was appointed by Governor Cuomo as a member of the Stony Brook University Presidents Council and in 2016, to the NY Regional Economic Development Council for Long Island (REDCLI) and currently serves on both. Through the REDC-LI she serves on the Downtown Revitalization committee.
Linda and Bethpage was recognized by the Credit Union Times as the 2015 trailblazer for political action in the credit union industry.  Linda was honored for her work by local organizations, including the YMCA of LI, American Heart Association, Education and Assistance Corporation (EAC), Long Island Business News for the NY Icon, 2018  & 2109 City and State LI 50 most influential, 40/40 and Top 50 Women awards, the Long Island Chapter of the Association of Fund Raising Professionals, and by the Long Island Press Power List as the 2017 Business Entrepreneur winner as well as one of its 2016, 2017, 2018 & 2019 50 Most Influential Long Islanders.  She is a graduate of the University of Maryland, College Park, and earned an MS in Corporate Communications through Northeastern University. Linda resides in Melville with her husband and their two sons.