Skip Navigation
Michael F. Smith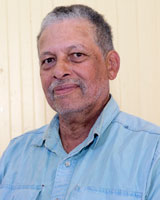 Reverend Michael F. Smith was born in Southampton Hospital and raised on the Shinnecock Indian Reservation in Southampton, New York. He attended the Southampton public school system and graduated from Southampton High School in 1967. He attended SUNY College at Potsdam for three semesters and transferred to SUNY College at Old Westbury where he received a B.A. in Liberal Studies in 1971. Reverend Smith then attended the American Indian Summer Law Program at the University of New Mexico in the summer of 1971, followed by one semester at Hofstra University School of Law in 1971-1972. He received a Masters in Divinity from Princeton Theological Seminary in 1979.
While at Old Westbury Reverend Smith worked part-time for the Family Service League of Nassau in Freeport, NY. After graduating from Old Westbury he was employed by the NYS Division for Youth as a solo teacher at the Brentwood Short-Term Adolescent Rehabilitation and Treatment Center (S.T.A.R.T.), which is a juvenile facility for girls. He also worked for A Better Chance, Inc., a college-prep program for minority youth, based at Dartmouth College in Hanover, NH, where he directed the Native American component.
Upon graduation from Princeton Seminary he became the Associate Synod Executive for Indian Ministries with the Synod of the South-west located in Phoenix, AZ. Reverend Smith returned to Shinnecock Presbyterian Church in 1985 where he continues to be pastor.
        
Reverend Smith is currently a member of the Board of Directors of Southampton Hospital, the Long Island Council of Alcohol and Drug Dependencies (LICADD), and the Peconic Sustainability Institute. He has been married for 41 years, has 4 children and 5 grandchildren.