Skip Navigation

Celebrate Global Accessibility Awareness Day with Stony Brook University
Global Accessibility Awareness day is an annual event focused on providing accessibility and equity for persons with disabilities. Since the day itself falls during commencement, OEA is Celebrating Accessibility through the month of May.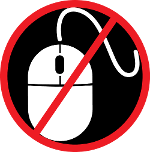 Join in the Celebration by Taking the No Mouse Challenge!
Some people with disabilities use assistive technology in place of the mouse, while other people with disabilities rely on the keyboard to navigate. The No Mouse Challenge is a quick way to discover whether your content is navigable for many users. Join OEA, and take 10 minutes of your day, set your mouse aside and lets become more accessible together. More information is available on http://nomouse.org/
How Do I Participate?  Three Easy Steps
Step 1:  Find a website you are familiar with. This can be a personal site, department homepage, or even a shopping site you frequently use.
Step 2:  Make sure that your mouse is out of reach, (for example behind your monitor).
Step 3:  Now engage in your typical activity using just the keyboard.
The following shortcuts will help get you started:
Press Tab to move to the next link, form element or button.
Press Shift+Tab to move to the previous link, form element, or button.
Press Enter or space bar to activate the current link or button.
Use arrow keys, Escape, or other keys if doing so would seem to make sense.
As you browse around ask yourself these two questions:
Can I interact with all features/do what I came here to do?
Can I see where I am within the page/tell what I am interacting with?
What's Next?
Browse the resources available on OEA's Accessibility site and commit to doing your part to make Stony Brook more accessible.
Want to Learn more? Enroll in Stony Brook University's free accessibility training!
Additional Resources
Keyboard shortcuts
Microsoft Windows system shortcuts
How do people with disabilities use the web?  Video series from the W3C
NoMouse.org is a project of The DO-IT Center at the University of Washington, and is licensed under a Creative Commons Attribution-NonCommercial-ShareAlike 4.0 International License.