Skip Navigation
Alertus Desktop Notification System
The Alertus Desktop Notification System is an application that will aid our efforts to continue to keep the campus community informed about emergency situations.  Alertus Desktop notifications will immediately display a full screen pop-up alert when the system is activated and is intended for use Windows/Mac desktops and laptops.  This pop-up alert will be used in high level emergencies that require immediate action on the part of the campus community and will contain a message with information and/or instructions.


What does Alertus look like?
Alertus will need a connection to a Stony Brook University network to receive notifications. When an activation is sent it will look similar to the image below. To close the notification, simply click the 'Acknowledge' button. Below is an example of the notification that will appear when Alertus is activated:




When working, the yellow/clear Alertus icon should be visible in the tray (Highlighted in Green Box). Right clicking the icon will allow you to view active and recent alerts as seen below.  If the Alertus icon is red, then it is not able to connect to the server, and thus not able to receive alerts.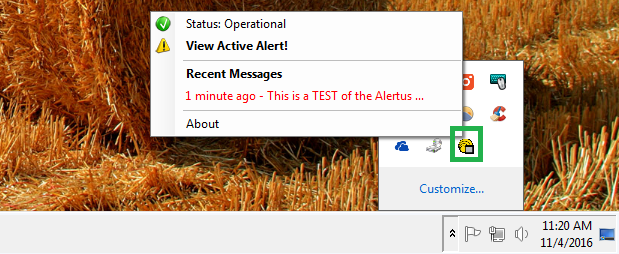 How can I install Alertus and what are the requirements?
Alertus is currently being automatically deployed to West Campus SINC sites and DoIT Customer Support & Engagement/Client Support managed machines.

The software is available for download for personal computers used on the Stony Brook University network with the following operating systems: Windows 7, 8, 10 as well as Mac OS X 10.9 and above. For Windows installations, .NET framework 4.0 or above is required. Please note that the Alertus App is not available for iOS, Android, and Windows Mobile Devices. Anyone looking to receive mobile alerts should sign up for SB Alerts in SOLAR.

Alertus must be on a Stony Brook University network to receive the alerts.

Windows Alertus Installer
Mac Alertus Installer


Who can I contact for assistance?
Questions related to this service can be directed to the Emergency Management at emergency_operations_center@stonybrook.edu. If you encounter a technical issue related to the software please submit a ticket with the Support Team at https://it.stonybrook.edu/services/itsm or call 2-9800.