Skip Navigation
People
Judith Brown Clarke, Ph.D.
Vice President for Equity and Inclusion,
Chief Diversity Officer
Dr. Judith Brown Clarke is the Vice President for Equity & Inclusion and Chief Diversity Officer for Stony Brook University and Health System. She reports directly to the University President and sits on the university's senior leadership teams, including the President's Cabinet, University Council, Vice Presidents Council and Campus Climate. 
She possesses over seventeen years of experience working on senior management teams shaping strategic plans for diversity and establishing infrastructures for inclusive excellence and equity sustainability. She has a strong portfolio in grant funding and has demonstrated effective collection, analysis, problem solving and predictive analytical processes using benchmarked metrics that directly align with the institution's goals.
Clarke is currently an American Association of State Colleges and Universities (AASCU) 2022 Millennium Leadership Initiative Fellow, Chair of the Association of American Universities (AAU) CDO Steering Committee, Co-Chair for the United State Anti-Doping Agency (USADA), Harvard Advanced Leadership Senior Fellow, and an external advisory committee member for three NSF-funded Science and Technology Centers (STC) - Center for Cellular Construction (CCC), Center for Oldest Ice Exploration (COLDEX) and Bio-Computation Evolution in Action Network (BEACON).
Formerly, Clarke was a member of the External Advisory Committee for W.K. Kellogg Biological Research Station, Director's Research Advisory Committee for MSU National Superconducting Cyclotron Laboratory, International Advisory Committee for the Joint Institute for Nuclear Astrophysics, and External Advisory Committee member for Nevada's EPSCoR Grant for the Study of Solar, Wind and Water Power.
Clarke has experienced great athletic success, she is a 4-time national collegiate champion, 12-time Big Ten Champion, 3-time Pan American Games gold medalist, 1984 Olympic Silver Medalist, and 1987 Sports Illustrated Woman of the Year.
---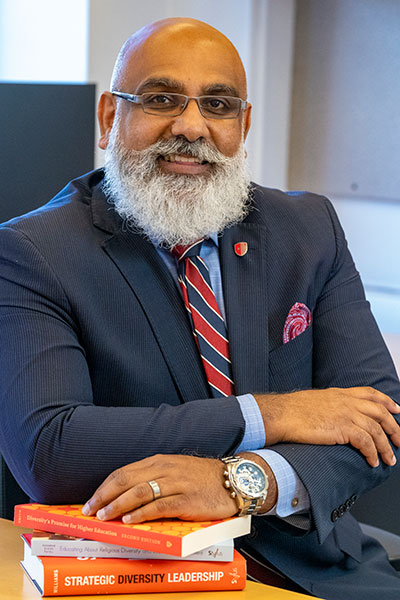 Usama M. Shaikh, Ed.D
Assistant Chief Diversity Officer
Dr. Usama M. Shaikh is the Assistant Chief Diversity Officer for Stony Brook University in the Office of Diversity, Inclusion and Intercultural Initiatives. He possesses over 22 years in Student Affairs and in offices of Diversity, Equity and Inclusion. Most recently,  Dr. Shaikh served as the inaugural Vice President for Diversity, Equity, Inclusion, and Title IX Officer for SUNY Old Westbury, where he was responsible for developing the Office for Diversity, Equity and Inclusion and for coordinating efforts to establish "Diversity" and "Inclusive Excellence" as core values.
Dr. Shaikh has significant experience in developing cross-divisional collaboration and initiatives through an inclusive student-centered approach, trust building, and being mission driven. These efforts have resulted in SUNY Old Westbury first earning - and then retaining - the Higher Education Excellence in Diversity Award over the past four consecutive years. Dr. Shaikh's professional contributions have resulted in him being recognized by the SUNY Residence Life and Housing Administration with the 2016 Beth Purk Distinguished Service Award and was recognized by the Long Island Business News as a 2020 Diversity in Business Honoree. 
As an immigrant, first-generation student, Dr. Shaikh earned his Bachelor's degree in History from Binghamton University, a Master's degree in College Student Personnel from The Pennsylvania State University and a doctorate in Educational Leadership, Administration, and Policy from Fordham University.
Staff
Chi-Yong Won
Assistant
Email: chi-yong.won@stonybrook.edu
310 Administration Building
Stony Brook, NY 11794-0701