Skip Navigation
WELCOME to Center for Thermal Spray Research (CTSR) 
The Center for Thermal Spray Research (CTSR) at Stony Brook University was established in 1996 through the NSF Materials Research Science and Engineering Centers program. Since its inception, the CTSR has been at the heart of a number of exciting fundamental sciences and applied engineering initiatives to enhance the scientific base of thermal spray (TS) coating technology. 
Research Highlights
Thermal Swing coatings for increased efficiency in internal combustion engines have been highly sought after by automotive researchers in the last half decade. Despite numerous theoretical investigations into ideal combinations of material properties for optimal performance in this application, little experimental work has been performed directed at producing such coatings. Work at CTSR has broadly investigated the feasibility of manufacturing thermal swing coatings through spray processes, with the effects of microstructure and  deliberate process variation in key materials explored. 

Recent Articles
Dynamic interactions of ingested molten silicate particles with air plasma sprayed thermal barrier coatings
Edward  Gildersleeve,   Sanjay  Sampath  
Thermal Swing Evaluation of Thermal Barrier Coatings for Diesel Engines
John Saputo, Gregory Smith, Hwasoo Lee, Sanjay Sampath, Eric Gingrich, Michael Tess
Segmentation crack formation dynamics during air plasma spraying of zirconia
Shalaka Shinde, Edward  Gildersleeve, Curtis Johnson ,          Sanjay  Sampath
Role of bond coat processing methods on the durability of plasma sprayed thermal barrier system s
Edward Gildersleeve,  Vaishak Viswanathan ,  Michael Lance ,  Allen  Haynes ,  Bruce Pint ,  Sanjay  Sampath
Consortium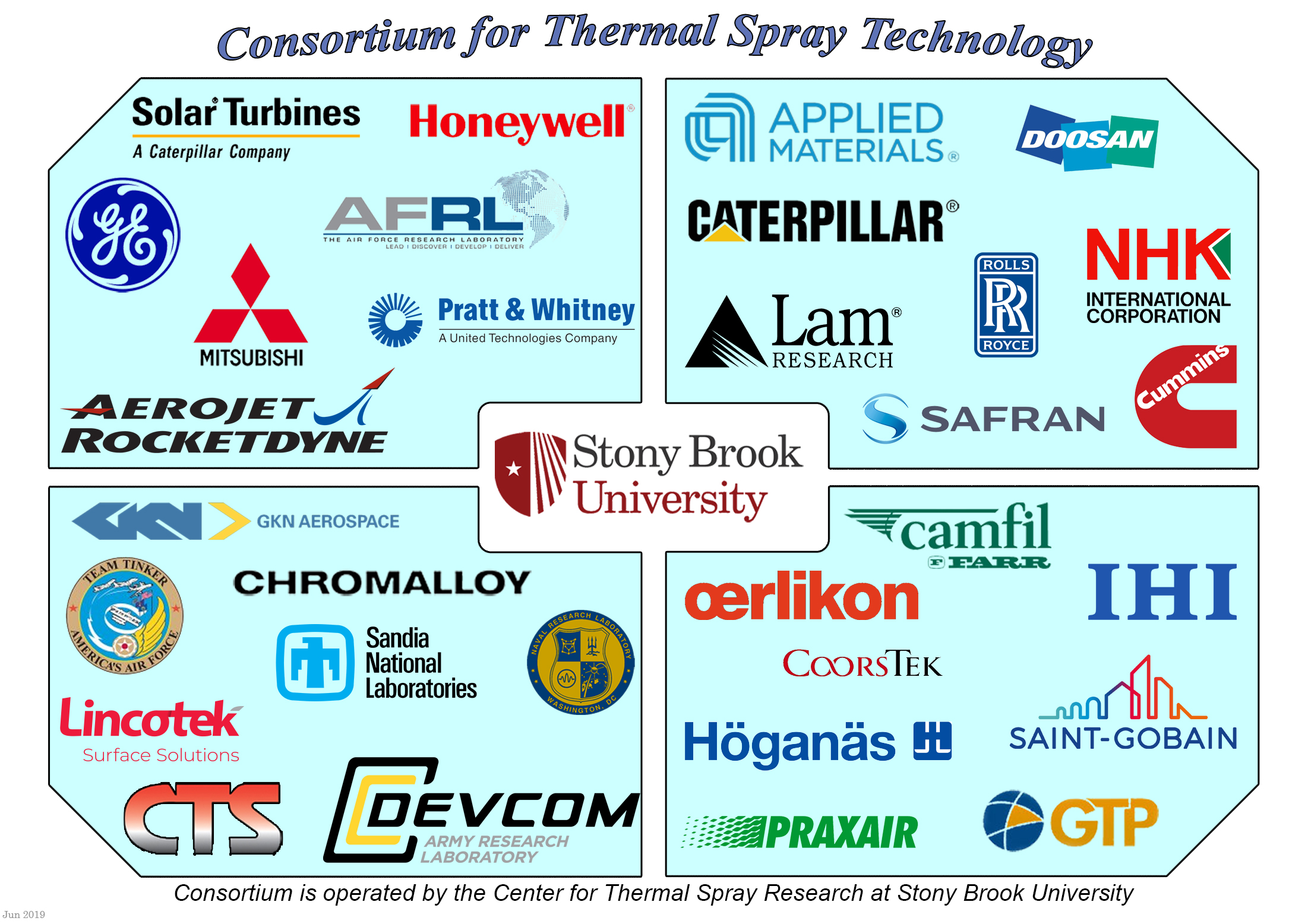 Partcipants from the member companies have full access to the recordings of the CTSR's 2020 Consortium meeting 
The sessions include discussions on- 
Overview of Thermal Properties of TS Coatings
MultiLayer Manufacturing & Design of TS Coatings
Contemporary Overview of the Tensile Adhesion Test 
Formation Dynamics of Abradable TS Coatings
Geometry Effects on TS Coatings
We will be resuming the Virtual meetings shortly !
Featured Videos and Tutorials
Check out the session titled   ' Thermal Spray as an Additive and Layered Manufacturing Technology for Applications in Energy Systems'
by Prof. Sampath as a part of the   Surface Engineering of Advanced Materials (SEAM) Webinar Series 2020 .