Skip Navigation
WELCOME to Center for Thermal Spray Research (CTSR) 
The Center for Thermal Spray Research (CTSR) at Stony Brook University was established in 1996 through the NSF Materials Research Science and Engineering Centers program. Since its inception, the CTSR has been at the heart of a number of exciting fundamental sciences and applied engineering initiatives to enhance the scientific base of thermal spray (TS) coating technology. 
Research Highlights
CTSR Completes 25 Successful years!
The roots of the thermal spray program at Stony Brook date back to the mid-1970s, when then graduate student, the late Volker Wilms, suggested to his advisor Prof. Herman that plasma spray technology would be a great way to rapidly quench oxides to explore metastability. This led to establishment of the "glove box" plasma spray equipment in the basement of the engineering building shown below.

Recent Articles
Evaluating steam oxidation kinetics of environmental barrier coatings
K Kane, E Garcia, P Stack, M Lance,
C Parker, S Sampath, B Pint
Factors governing segmentation crack characteristics in air plasma sprayed ceramics
S Shinde,  S Sampath 
Delamination Failure on High-Output Diesel Engine Thermal Barrier Coatings
G Koutsakis, J Saputo, E Gingrich,  
M Tess, S Sampath, JB Ghandhi
Interplay between cracking and delamination in incrementally deposited plasma sprayed coatings
S Shinde,  S Sampath 
Consortium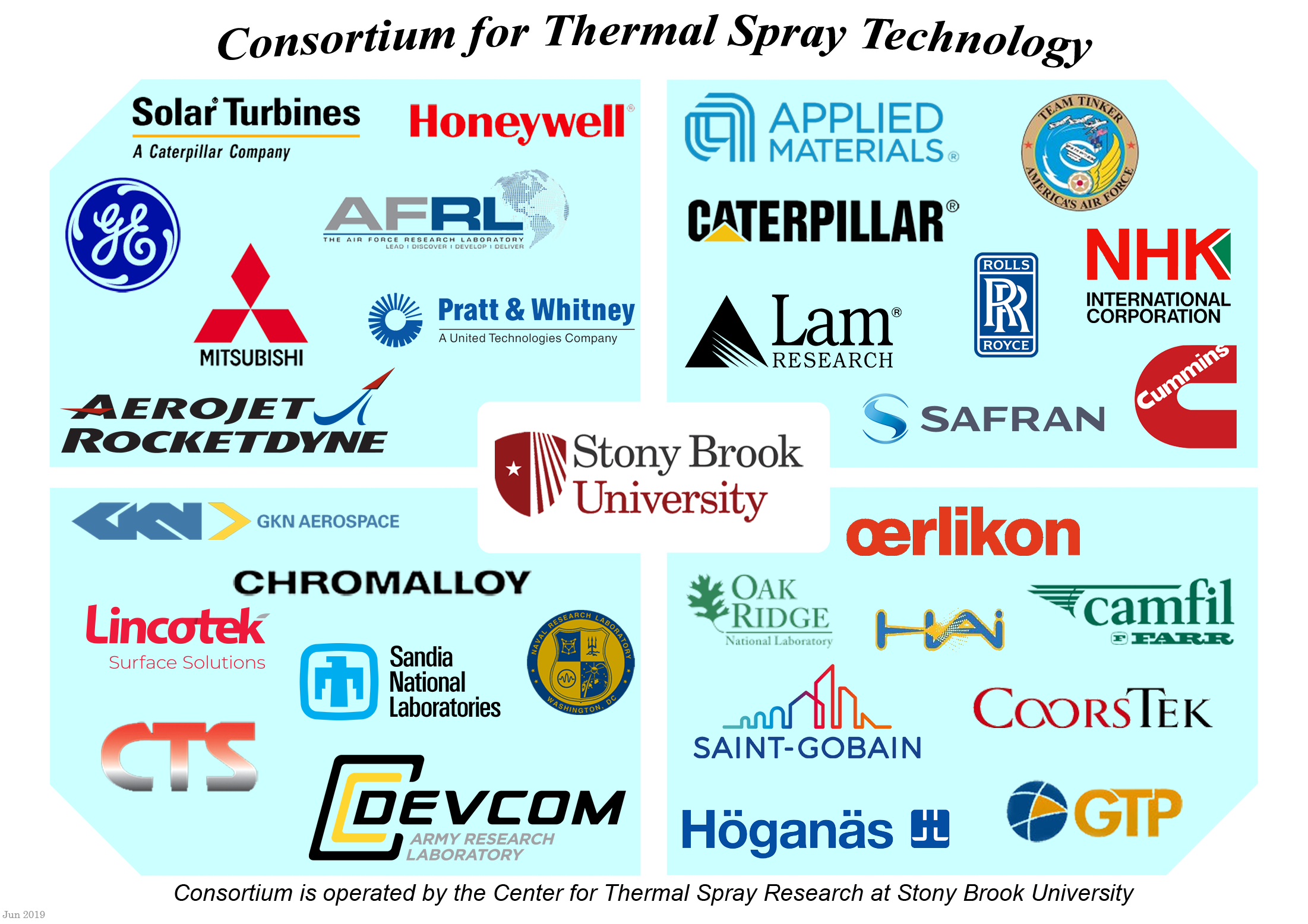 Partcipants from the member companies have full access to the recordings of the CTSR's 2020 Consortium meeting 
The sessions include discussions on- 
Overview of Thermal Properties of TS Coatings
MultiLayer Manufacturing & Design of TS Coatings
Contemporary Overview of the Tensile Adhesion Test 
Formation Dynamics of Abradable TS Coatings
Geometry Effects on TS Coatings
We will be resuming the Virtual meetings shortly !
Featured Videos and Tutorials
Check out the session titled  'Thermal Spray as an Additive and Layered Manufacturing Technology for Applications in Energy Systems'
by Prof. Sampath as a part of the  Surface Engineering of Advanced Materials (SEAM) Webinar Series 2020.