Skip Navigation
Researcher of the Month
January 2023


Matthew  Venezia
Major: Biology, Class of 2023
Research Mentor:  Dr. Saket Navlakha, Cold Spring Harbor Laboratory (current) ;  Dr. Vitaly Citovsky, Biochemistry & Cell Biology (previous)
---
"It's not, Oh, I know how to pipette. I know how to use a centrifuge now. That's not what I took away from research. It's more: I know how to plan out my time. I know how to craft a schedule for a week- long experiment. I know how to dedicate myself … at the end of the day it'll eventually work because you put it in the effort, and you put in the time, and eventually you do it right. And when it works it's super rewarding."- Matthew Venezia, Class of '23
Matthew Venezia (class of 2023) is a senior majoring in biology with a minor in writing and rhetoric whose deep and substantive interest in plant biology and biotechnology was sparked early on as a participant in Cold Spring Harbor Laboratory's Partners for the Future Program for talented Long Island high school students.
In his freshman year at Stony Brook, Matthew started interning with the Grow More Foundation, a non-profit organization seeking to use plant science to address global issues of food insecurity. In his ensuing roles as Head Intern and Research Associate, Matthew worked on everything from scientific communication of plant biotechnology concepts, to doing and overseeing laboratory work on gene editing. In September 2021, Matthew first-authored and published a review paper together with the organization's founder, Dr. KM Creasey Krainer, on CRISPR-based gene editing in crops in Frontiers in Plant Biology: 
On campus, Matthew also became involved from August 2020 to May 2022 in undergraduate research, joining the laboratory of Dr. Vitaly Citovsky (Biochemistry & Cell Biology) to study the mechanism of movement of viruses in plants; and building on his laboratory techniques in PCR and qPCR. He also interned in the Jackson Lab at Cold Spring Harbor in Summer 2021 where he honed his laboratory and field skills while studying genes and signals that regulate plant growth and architecture.
In early 2022, Matthew was selected for the prestigious Cold Spring Harbor Laboratory summer Undergraduate Research Program where he had the opportunity to work in the Navlakha lab to study the development of mathematical optimization patterns in plant leaves. He presented a talk entitled "Elucidating the Developmental Process of Voronoi Patterning in Leaves of Pilea peperomioides" at the end of the program and was subsequently offered and accepted a position in the lab to continue his project. Matthew discovered that the summer experience at CSHL was extremely beneficial; it not only expanded his skills in coding and modeling and doing computational work, but exposed him to a wider range of potential career paths in the plant biotech field. Following graduation from Stony Brook, Matthew plans to continue to build skills in coding and gain more experience in the plant biotech field before pursuing further graduate training.
On campus, Matthew has served as a contributing writer for The Statesman from July 2020 to the present. His hobbies include drumming for a band called Funk Island Sound; writing a personal blog on biology/biotech concepts; and playing and watching basketball. Matthew is a graduate of Lynbrook High School in Lynbrook, NY. Below are excerpts of his interview with Karen Kernan, URECA Director. 
---

The Interview:
Karen: What has been your primary research focus in the varied experiences you've had as an undergraduate?
Matthew :  My main research interest is plant biology. I've studied everything from plant virology to plant structural biology, to plant biotech. And throughout college, I've been trying to gain experience in different sectors of the field of plant biology.  
A lot of the projects that I focused on have either direct or indirect applications toward agriculture. I worked for almost three years with the Grow More Foundation, which is a non-profit at the Long Island high-tech incubator near Stony Brook that is centered around plant biotechnology. There I wrote a review paper on the applications of CRISPR to different crops that got published. On campus, I worked in Dr. Vitaly Citovsky's lab on plant virology, studying the movement of viruses throughout plant cells through the plasmodesmata. And finally, at Cold Spring Harbor Laboratory, I study plant structural biology, and how plant leaves optimize their structures to have the optimum efficiency of transportation of resources throughout the leaf, and fitting those to mathematical models and mathematical equations. This last project was a very different experience from my others, and it's the one that I'm currently spending pretty much all of my time on now, because they ended up hiring me after the summer program ended. I love working there, and I'm finding it to be a lot more engaging to me than any other research I've done.
That's wonderful! Can you tell me how you got interested in this field generally, and what sparked your interest?  
Yes, in my senior year of high school, I participated in the CSHL Partners for the Future program, which is a program for high school students to do some hands-on laboratory research at Cold Spring Harbor Laboratory. I had interviews with representatives from a C. elegans lab, neuroscience labs, and a plant lab, and I decided on the plant lab. And I ended up really enjoying being in the field, as well as being in the lab, and actually spent quite a bit of time working in a cornfield during senior year of high school on an application of CRISPR to maize to improve the technique's efficiency. It really got me interested in biology, and the importance of learning about agriculture which just impacts everything bottom up. That's where the food chain starts. So everything that you study with plants is going to have an effect at a higher trophic level, whether you're doing ecological research, or whether it's specific towards agriculture. 
That work kind of prepared me for my internship at the Grow More Foundation which I started at the same time as college, and where I eventually had the opportunity to work on a publication on gene editing in crops. I also did a little more work with the Jackson lab—where I worked as an undergraduate lab intern during the summer of 2021.
And then, at Stony Brook, you also joined a lab here in Biochemistry?
Yes, I started in the Citovsky lab in my sophomore year and worked there for two years. And I learned a lot from that experience as well. There was a lot of independent work. I learned to manage my time, and I learned the tips and tricks of how to get the most out of your lab equipment –basically running PCRs and rerunning PCRs and troubleshooting.  A lot of lab work really is troubleshooting, and the most important skill I got out of working in the Citovsky lab was learning to be patient with my work.
I'd like to hear about your recent summer experience at Cold Spring Harbor.  What was your focus?
So, I applied to the program, and was placed in the Navlakha Lab, and it was a completely new experience for me, a new take on plant biology. My project involved working with the leaves of
Pilea peperomioides, and trying to characterize the visual pattern on the leaf which correlates directly to this mathematical pattern called a Voronoi diagram.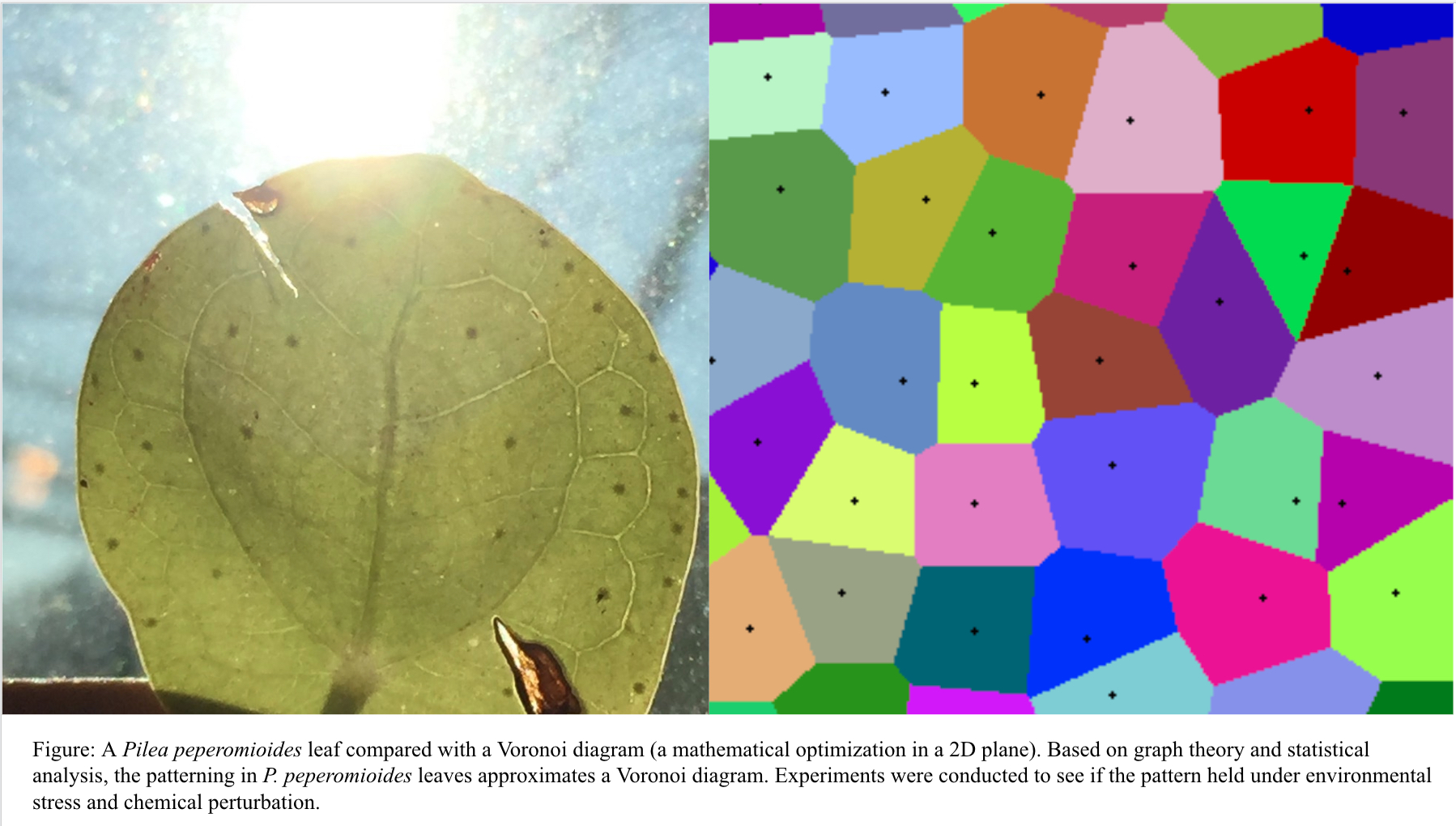 Voronoi patterns are mathematical diagrams in which a set of points is distributed on a 2D surface. Around each of these points, also called Voronoi centers, is an area called a Voronoi cell, the entirety of which is the area closest to the point within it and no other point in the diagram. …So my role was to better characterize the development of this pattern in the leaf as well as to understand whether or not auxin (an important plant hormone) plays a role in its development. I did a lot of scanning electron microscopy, imaging and characterizing developmental series, and it was a really exploratory project, as well as something completely new for me.
I went in not knowing how to code, not really knowing a lot of mathematics. But the idea of the program is to take you a little bit out of your comfort zone and learn. I was able to contribute my experience of plant biology, but they taught me so much about mathematical modeling, graph theory, coding, and I got a lot of exposure to some innovative methodologies.
That sounds like a wonderful experience.
Yes, it was a great program. There were eighteen of us undergraduates, and we lived together on CSHL's campus. There were people from all over the world -- Italy, the United Kingdom, a couple of people from California and Texas. It was really great just to interact with like-minded students who are all at the same stage, trying to figure out what they want do beyond undergraduate education. We read papers together until midnight, asking each other questions. We also had coding workshops together. We all learned data analysis through Python. Everyone was really dedicated to the science, but we also spent time outside of the lab, going kayaking, going to the beach. The program was structured so that you get the full experience of being a grad student compressed into two months, and you get a lot put on you. You learn a lot of content. You have seminars, some about science, some about careers and work-life balance. We had a panelist who had worked at Google talk to us about life outside academia, a talk that was well timed. And overall, I'd say that it's a really well put together program. It's been running a long, long time. And I got a lot out of it.
At the end of the summer, I got to present slides in Grace Auditorium, and it was really great communication experience. Talking about your own project is really rewarding, and a lot of fun. I always love answering questions, and I was lucky enough to get a bunch so hopefully it means that people were engaged. At the same time, it was also amazing to listen to all the other undergraduate researchers who are insanely smart people doing these extremely cool things in all different areas of biology.
I understand that you're completing a minor in writing and rhetoric, and that you write for The Statesman. How important are those skills of writing and communication for doing science?
I think that communication is by far the most important part of science. Because if you can't communicate what you did, how is it going to impact the world at all?  I've really learned a lot not only from my classes, but from the review paper that I wrote. There are always different levels of jargon, but I tried to make the paper as understandable as possible to a general audience, and I think that was helped in part because of my minor in writing and rhetoric, and the experience that I've gotten here through the Statesman as well.  Communication is just so fundamental and so important in science. I think anyone who is looking to go into a career of science or going for a PhD should take at least one or two upper division writing classes here because they're so important.  
That paper sounds like an immense project to take on.
Yes, I would be commuting on the train, back and forth, and working on it all the time. I think I cited ~ one hundred and forty papers. And I must have read close to three hundred papers in preparation. But the experience really taught me how to get what I need out of a paper, and how to consult the literature. Little tricks—like having alerts on Google scholar or PubMed to send you new publications with keywords in them—were useful, because as I was writing the paper there were new papers being published because the field is moving so fast.
We also got to work with a scientific graphic designer for the figures. I attempted to sketch them in pencil, and they would look so bad, and then she would turn them into beautiful figures.  It was also a novel experience dealing with reviewers, because I had never been involved personally with the peer review process before. I would help draft responses, and there was one reviewer who would say it looks great and needed only one or two minor grammatical changes. And then the second reviewer would say, "Change everything!"
What advice would you give to students about undergraduate research?
My main comment is; actually do something that you're interested in. Don't email professors saying, I want research to look good for ...something else. Actually go into it and try to see if you like it. Because it's a hard field, and it requires a lot of dedication. If you go in with the right mindset, it can really be rewarding, even if it ends up being not what you choose for the rest of your life. You still gain a lot of transferable job skills. It's not, "Oh, I know how to pipette. I know how to use a centrifuge now." That's not what I took away from research. It's more: I know how to plan out my time. I know how to craft a schedule for a week-long experiment. I know how to dedicate myself to something. There are times where I've wanted to rip my hair out, but at the end of the day it'll eventually work because you put it in the effort, and you put in the time, and eventually you do it right. And when it works it's super rewarding. And you will end up with a much more nuanced understanding of what you do and don't want to do for the future, long and short term.
Research is worth a try to see if you like it or not. And if you don't like it, that's okay.
Just take it as another thing to try, another viable career opportunity to learn in college rather than as a stepping stone or something that you're using to get to another goal. I think you have to be honest with yourself: Is this for me? And that's a difficult thing. A lot of the times you're pushed to "Go do this, go do that," and it's listening to yourself and making sure, at the end of the day, that you are doing what will spark joy for the next however many years for you. If you don't want to study a protein path for twenty years or more, don't go be a researcher. If you do like it, that's amazing. Go, do it.
How did the summer program experience at CSHL influence your long-term plans? 
It made me rethink my plans for the future. My original plan was to go directly into grad school. But now that I see that there are more options within biology, biotech and science in general than I had even imagined. Getting more experience with modeling and coding which have a lot of potential applications for plant biotech makes sense to me. And I want to take some time to figure out what is best for me, rather than go straight into pursuing a PhD. I know that I definitely want to be involved in biotechnology and science and research to some degree. But I'm not one hundred percent sure about jumping into a PhD program right after graduation.
Taking the time to actually reflect and come to the realization that maybe the PhD path may not be exactly what I want to do in science, and deciding that I was going to take the time to actually figure out exactly what I want for myself--that was probably the hardest thing I've done. But at the end of the day, it's also the thing I'm most proud of myself for: realizing that
I want to do what's best for me, and that I want to be deliberate about whatever it is that I end up wanting to do within the field.
You've had a chance first-hand to experience how different labs operate. What do you value about the lab environment?
Something I really like about doing science is being part of a community. Science is extremely collaborative, and interactive, and social. You're part of a group of people that is extremely dedicated to understanding some small part about the world. You're all fairly like-minded in that sense. That you have a curiosity for something, and you're working towards a goal of understanding something, and especially within a lab that also shares that mindset, there's this amazing atmosphere. I guess I'm partial, but I think any form of science is the coolest thing ever.