Skip Navigation
Researcher of the Month
July 2020
Sara Kurdi
Majors: Physics, Applied Math and Statistics, Class of 2022
Research Mentor:  Dr. Thomas Hemmick, Department of Physics & Astronomy 
---
Sara Kurdi, a WISE physics and applied math and statistics double-major, has worked under the mentorship of Prof. Thomas Hemmick ( Dept. of Physics & Astronomy) since November of her freshman year. She readily admits that she chose  Stony Brook University "so that I could do research!" And for Sara, being involved in research has been integral in helping to learn and understand physics more deeply than through coursework alone:  "it's really cool to see that these aren't things you just read about in a textbook. It was something that I was learning in my classes as I was seeing it happen in the lab."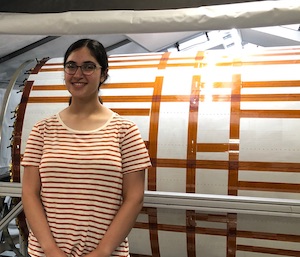 Sara's main focus in the Hemmick research group is the Time Projection Chamber (TPC) project, part of the sPHENIX detector collaboration that aims to improve our understanding of the structure and nature of quark-gluon plasma (QGP). She has assisted in the construction and assembly of electrical and mechanical systems, designed printed circuit boards using EAGLE software for Central Membrane of the TPC, and simulated events using C++ and ROOT for calibration with laser system.  Her research, in summers 2019 and 2020, as well as during the intervening academic year, was supported through PSEG and the PSEG-funded Explorations in STEM program (co-administered by the Career Center and URECA; PI: Dr. Monica Bugallo, Faculty Director of Women in Science and Engineering (WISE), and Associate Dean for Diversity and Outreach in the College of Engineering and Applied Sciences (CEAS). Sara has presented posters on her work on the TPC project at the Summer Symposium (2019), and the virtual 2020 URECA poster symposium. Her long-term goal is to pursue graduate Ph.D. studies in physics.
On campus, Sara is involved as a Peer Tutor for the Academic Success and Tutoring Center; and is a member of the Society of Physics Students and the Stony Brook Art Club. She has twice received the Outstanding Academic Achievement Award, awarded to students who achieve 4.0 semesters. Sara is a graduate of Newfield High School, Selden, NY; and her hobbies include drawing, baking and hiking. Below are excerpts of her interview with Karen Kernan, URECA Director. 
---

The Interview:
Karen.  Tell me about your research.
Sara: My project involves the construction of a Time Projection Chamber (TPC), a particle track detector for the sPHENIX collaboration with BNL. The goal of the sPHENIX collaboration is to examine the phase transition of quark-gluon plasma (QGP) by measuring upsilon particles, among other physics observables. We are interested in learning about QGP because it is the earliest known state of nuclear matter of the universe. The TPC helps the sPHENIX experiment achieve this goal by detecting tracks of high-energy particles that are formed from ion-ion collisions, providing high momentum resolution to distinguish the three upsilon states. Tracking provides insight on how the movement and interactions of the collision byproducts bring about the properties of QGP. 
Many of us are working remotely this summer, because of COVID-19.  How are things working out so far for you?
So previously, I was mainly focused on hardware tasks. There's been a lot of engineering in terms of how to make parts that will help us put things together, how to make parts that actually go into the final product. …My current role in the project is the design of the central membrane and the pattern of aluminum stripes on its surface. The central membrane is a printed circuit board and honeycomb sandwich structure that serves as a cathode in the middle of the TPC's volume, but the pattern is for calibration purposes. With the use of a laser system, we can illuminate the surface to release electrons by the photoelectric effect. By measuring where these electrons arrive at the readout plane, we can determine the amount that they are deflected and use that to correct the shapes of the particle tracks for the effect of spacecharge. This summer, I am primarily working on simulating these events with C++ and ROOT to study the distortion model for the central membrane. This information will assist the analysis of data from the TPC to correct for distortions. 
So your work this summer--even though it is being supervised and done remotely--is still useful?
Oh, definitely! I have a lot to do, writing the software that simulates these events with the laser system. …it's very detailed. And even though we're working remotely, there are a lot of meetings about the project.
What's the general research environment of your group?
We have a fairly big group.  And we're all very connected. There's a really nice dynamic among all involved--the professors, the BNL scientists and engineers, post docs, PhD students and undergrads-- where we can all just work together. You can always ask anyone for help if you need it.
Did you have previous research experience before joining the group as an undergraduate researcher?
None. But when I was a freshman, I had an amazing WISE peer-mentor, Marisa Petrusky, who encouraged us to get involved with research, and who assured us not to be intimidated. And I honestly chose Stony Brook so that I could do research. I know it's a very accessible thing to undergrads here.
So even though I didn't have any research experience before college, I took her encouragement and advice to reach out to some professors, and to just try to learn from research as I go. In my freshman year, I had Professor Hemmick for introductory physics courses.  I read some papers and then I went up to him in office hours and expressed my interest. And he said, "I'd love for you to join us and to learn more ….."  So that's how I started.
That's great that you got involved early.
Even though I didn't have that much knowledge starting out, it has been really great because being involved in research has really helped me understand physics better. I hadn't even taken modern physics or electricity/magnetism before I started with this research group. But as I was learning those things and working in the lab, I would also have classes where we would have a lab about how particles decay into other particles and how the tracks of the decay products can be measured. And then I would go to my lab meetings and I would hear about that again. And it would again and again reinforce: this is something that actually happens. It sounds kind of silly to say it like that, of course, …but it's really cool to see that these aren't things you just read about in a textbook.  It was something that I was learning in my classes as I was seeing it in use in the lab. And it was cool to have those discussions with my mentors in the lab, and to really understand the reasoning behind the things we do there.
What's the most challenging thing about being involved in research for you?
I would say learning different programming languages as I'm using them… that's a challenge. But, that's also the best way to learn programming languages. You can learn all the syntax and rules in a class, but you don't really fully get fluent with the language until you're using it very often and trying different things with it. When I was designing the central membrane, I was using EAGLE, a CAD software that uses files written in XML. And I'd never had experience with XML. I was still learning C++ in a class at the time. So …it was a challenge, a really learn as you go kind of thing in that regard.
I know you participated in the PSEG-Explorations in STEM program last summer. What are the benefits of being in a formal summer research program?
I definitely enjoyed the fact that it pushed me to really try to learn how to communicate about science. The program provided a really good opportunity to work on networking, scientific communication, and presenting a poster. Just working on the poster for the summer symposium at the end forced me to really try to focus down on how to say these things and understand them before I say them. So that was the biggest benefit for me. Before, I was doing the work in the lab but sometimes not fully knowing why I was doing what I was doing. But during that summer, I tried to keep a journal of all the things I learned in the meetings and things I wanted to include in my poster. It made me want to ask more questions, and work on how to say what I was doing in my research.
What are your long-term plans?
I'm planning to go to grad school, for a PhD. My ultimate goal is to be a professor in physics, I feel like it's the perfect job for me because it combines both aspects of teaching and research, which I really like.
Did you know you wanted to do physics early on?
I took my first physics class in 10th grade and I really enjoyed that class. My high school teacher was amazing. He would do a lot of fun activities so that we could really see things happen instead of seeing physics as just another class where we read and do problems from a textbook. We had a lot of demonstrations, and we also had Physics Olympics, a class competition where we would design an experiment or a contraption that would do a certain task. It was a fun way to introduce us to the physical principles we were learning about. So that really had me interested in understanding how to make things work and how things work in the first place. That's what got me interested in physics. Plus, I've always really liked math. And I felt that physics combined science and math in my favorite ways.
What advice would you give to other undergrads about research?
I'd say, don't wait for opportunities to come for you. Look around. Ask around about getting involved in research. And present your work! It really is the best way to learn … You might not feel like you have a full sense of the project until you have to do a poster about it or talk about it. So look for those opportunities. You learn by teaching others.
What do you enjoy most about the research environment?
How accessible it is to just ask questions. Professor Hemmick is a great teacher. There are times when we would be working on something, and I would ask, "so what does this do exactly?"  And he would launch into a full explanation, not just about the physics, but about the goals of the task and how it relates to the whole project. And I especially like that we can always have those conversations in the lab about what are we doing and why. I feel like it really helps me fully appreciate all the work that's going into the research.
And that kind of sets the tone for the entire group—from other undergrads to PhD students and postdocs. We all want to learn from each other in that environment. And I love that!