Skip Navigation
Stony Brook Reaches EO 88 Goal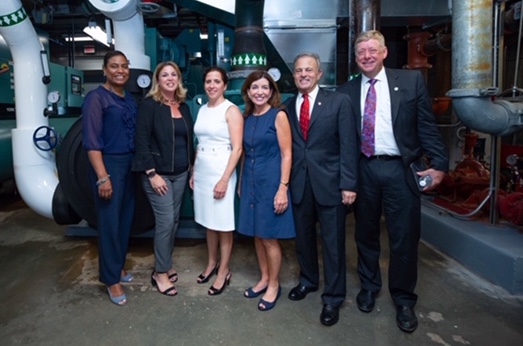 Sustainability Staff
STONY BROOK, NY (April 28, 2020) - Stony Brook University (SBU) has achieved its goal of a 20 percent reduction in energy use intensity (EUI) by reaching its mark on April 1, 2019, a year in advance of the program's April 1, 2020 target date. The energy reduction target was part of plans outlined in NYS Executive Order 88 that mandates a 20 percent improvement in the energy performance of state government buildings by April 2020, using the state fiscal year 2010-11 as a baseline.
Governor Andrew Cuomo issued Executive Order 88 in December 2012 as part of his Build Smart NY program. The plan calls for an overall reduction in average EUI of state-owned and operated buildings. Average EUI is classified as the average source energy use per square foot, with source energy representing all the energy used in delivering energy to a site, including power generation, transmission and distribution losses.
Stony Brook's commitment to investing in energy master plans to improve its energy performance has been vital to the university achieving a 20.84 percent reduction by April 1, 2019. Results published by SUNY Energy and NYPA for fiscal year 2018-19 show SBU are currently leading SUNY's 4 University Centers and Upstate Medical in energy performance improvement.
| State Entity | Campus EUI Reduction |
| --- | --- |
| Stony Brook University | 20.84% |
| University at Albany | 15.42% |
| Binghamton University | 13.46% |
| Upstate Medical | 11.5% |
| University of Buffalo | 7.37% |
  (Results published by SUNY Energy and NYPA as of 3/31/19)
Stony Brook can attribute much of its success to the commitment to improving energy performance from the University's Senior Leadership, as well as buy-in from important campus groups such as the Department of Energy Management, University Hospital, Campus Residences and the Office of Campus Planning, Design, and Construction.
"Reaching our goal of a 20 percent reduction in EUI a year ahead of schedule can only be done with the support of our entire campus," said Dean Tufts, Vice President for Facilities & Services. "These results, including our status as the leading institution among the SUNY University Centers, show how we all can make a profound impact and serve as a model for other campuses moving forward."
Since releasing its NYS Energy Plan in 2015, New York State has passed the Climate Leadership Community Protection Act and issued Executive Order 166, as well provided the New Efficiency: New York comprehensive strategy document outlining additional and more aggressive emission and energy reduction goals. The following goals are to be achieved over the next ten years:
40% emissions reductions from 1990 levels by 2030.
23% reduction in energy use from 2012 levels by 2030.
70% of the state's electricity to come from renewable energy by 2030.
100% plan to convert all lighting to LED by 2025.
"In order to achieve these goals we will need the continued support from everyone – students, faculty and staff," said Michael Martino, Director of Utilities for SBU's Department of Campus Operations & Maintenance. "We know that if our entire campus community is invested in a common goal we can reach it by working together."
 Stony Brook University will look to build off of the momentum of its EO 88 accomplishments as it focuses on challenging new goals for the coming years.