Skip Navigation
SBU Celebrates Tree Campus Designation With South Campus Planting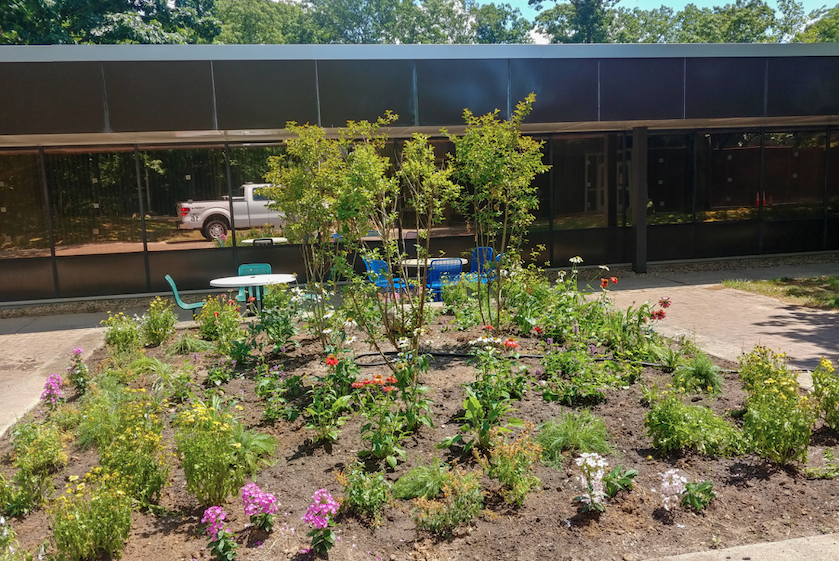 Stony Brook University celebrated its 7 th year as a Tree Campus USA designee by once again holding an Arbor Day Planting on campus. Students, faculty and staff were invited to help plant three Lagerstroemia indica, or Crape Myrtles, in an effort to further beautify the school's environment. SBU proved once again why it has been designated as a Tree Campus USA recipient each year since 2014.
The Arbor Day event was held by the SBU Grounds Department and included the planting of the 3 Crape Myrtles and a butterfly garden in SBU's South Campus. This annual Arbor Day event is intended to raise campus wide awareness of the mission of Arbor Day and to promote a greener community.
As a campus with such a wealth of natural features, Stony Brook has always been aware of the positive benefits that healthy ecological surroundings offer and it is the intent of Stony Brook University to preserve as much of that environment as possible. This dedication was recognized by the National Arbor Day Foundation when the university was first designated as a "Tree Campus USA" in 2013.
Stony Brook University earned its recognition through the implementation of five core standards that promote the health of the trees and student involvement to improve their forests. The university met these five core standards by establishing a Campus Tree Advisory Committee, developing a Campus Tree Care plan, allotting annual expenditures to fund the tree care plan and involving community members in the observance of Arbor Day.
These successes, however, could not be possible without the sustainable facilities on campus that allow the university to grow plants and saplings locally. One integral component of this program is the ability to own and operate a greenhouse, which allows for a continuous cycle and aggressive planting program. The greenhouse's new saplings and trees are then planted with composted topsoil from South P Lot and the Roth Quad kitchen composter and are irrigated with rain water that is collected from the Research & Development Park Greenhouse roof. This entire process stands as a clear example of the University's collective efforts to increase sustainability, decrease its carbon footprint, and beautify the campus environment.