Skip Navigation
Stony Brook Plans for Continued Planting Success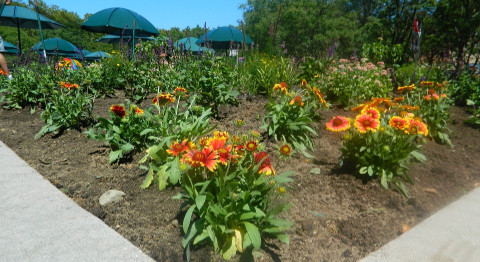 Winter efforts were once again ramped up in the Research & Development Park Greenhouse as campus beautification plans were set for this spring at Stony Brook University. SBU staff worked to ensure a productive spring of plantings to mark the greenhouse's 10th year at the University.
Located in the center of Stony Brook University's Research & Development Park, the greenhouse has been used to cultivate a variety of plants that have been integrated into the landscaping on campus since 2009. The nursery remained in operation through the winter months to grow the plants to be utilized in 2019, most notably during commencement in May.
According to Alaina Claeson, SBU's Horticulturist and Landscape Coordinator, the campus will be beautified with a number of plants, including petunias, begonias, marigolds, canna, geranium, dusty miller, gomphrena, and celosia.
These efforts are a part of Stony Brook University's extensive planting program that has led the University to be designated as a Tree Campus USA by the Arbor Day Foundation each year since 2014. 
In the near future, students will again be able to be a part of these planting efforts with the continuation of Stony Brook University's series of Growing Red Days. This program, which has already seen great success in its three years of its existence, consists of designated days where all students, faculty and staff are invited to help in a specific planting and beautifying project on campus.
The efforts of Stony Brook University's Office of Sustainability and the Grounds staff are continuing the tradition of dedicated beautification efforts that have worked to enhance the campus in the past.
For more information on the University's planting program, please contact:
Stony Brook University
Office of Sustainability
E-Mail: sustainability@stonybrook.edu