Skip Navigation
Atmospheric Sciences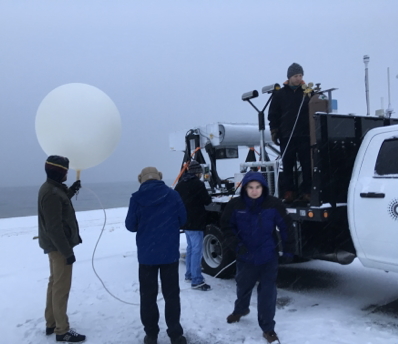 Our graduate program allows students to develop skills in analytical, numerical, laboratory, and field work techniques by conducting independent research on important topics such as extreme weather, air quality, cloud processes, ocean-atmosphere interactions, climate change, remote sensing, and forecasting.  Our faculty and graduate students are engaged in a broad range of research projects that advance our scientific understanding and are important to society. 
Faculty members in the Division of Atmospheric Sciences  have active research projects. These projects are funded by the National Science Foundation (NSF), the U.S. Department of Energy (DOE), the National Aeronautics and Space Administration (NASA), the National Oceanic and Atmospheric Administration (NOAA), the U.S. Navy, and other sources.
The M.S. and Ph.D. programs in atmospheric science follow SoMAS's unified flexible curriculum in Marine, Atmospheric, and Sustainability Sciences. A typical course of study for an M.S. student in atmospheric science provides rigorous training in atmospheric dynamics, physics (thermodynamics, radiative transfer, microphysics) and chemistry, as well as their application in one of the areas of weather forecasting, remote sensing (satellite and radar), numerical modeling, air quality, cloud formation, tropical meteorology, and climate change. The program prepares students to gain strong communicative, analytical and computer skills for positions in research, education, weather forecasting, management, and environmental protection.
Atmospheric science Ph.D. students build on the academic foundation described above to become effective and independent problem solvers investigating cutting edge atmospheric science problems. Students are free to emphasize their own interests in atmospheric science but are expected to acquire a broad base of interdisciplinary knowledge that prepares them for future complex scientific and societal challenges. Our graduates are prepared for postdoctoral appointments and faculty appointments as well as positions directing research at government or industrial laboratories, and managerial positions at not-for-profit and government agencies.
Our Faculty invite you to join us for a graduate degree at SoMAS!
---
TYPICAL Curriculum
All SoMAS students take the core courses described under M.S. and Ph.D. Programs. 

Atmospheric science students typically choose MAR 541 and MAR 542 (Foundations of Atmospheric Sciences I & II) as two of their foundation courses. Ph.D. students often choose an oceanography or dynamics course (MAR 501, 503, 506, 508, 545, or 547) as their third foundation course.

Ph.D. students take an additional 15 credits (9 credits for M.S. students) of specialty courses. Typical advanced courses for atmospheric science students are

MAR 505 General Circulation of the Atmosphere

MAR 544 Atmospheric Radiation

MAR 570 Methods of Multivariate Statistics

MAR 572 Geophysical Simulation

MAR 593 Atmospheric Physics

MAR 594 Atmospheric Dynamics

MAR 596 Atmospheric Chemistry

MAR 598 Synoptic and Mesoscale Meteorology

Additional electives suitable for atmospheric science students include

MAR 528 Ocean-Atmosphere Interactions

MAR 529 Isotope Geochemistry

MAR 538 Methods of Univariate Statistics

MAR 545 Paleoceanography and Paleoclimatology

MAR 547 Geophysical Fluid Dynamics I

MAR 548 Geophysical Fluid Dynamics II

MAR 558 Remote Sensing

MAR 564 Atmospheric Structure and Analysis

MAR 565 Tropical Meteorology

MAR 582 Advanced Atmospheric Dynamics

MAR 583 Doppler Weather Radar

MAR 599 Atmospheric Boundary Layer Processes 

Atmospheric science students are strongly encouraged to participate in two semesters of MAR 595 (Graduate Seminar in Atmospheric Sciences)
---
Advising
SoMAS graduate students complete a thesis working closely with one or more of SoMAS's excellent faculty. By the end of their second semester of study, all students must choose an advisor who will guide their research, approve course selections, and oversee their efforts toward degree completion.
Prospective Students
To find a SoMAS faculty member whose research interests match yours, visit our faculty and research pages.
Financial Support
Virtually all graduate students within the Institute are supported by teaching assistantships, research assistantships, and fellowships throughout their years at the Institute. The assistantships and fellowships carry full tuition payment in addition to a stipend. Some students receive additional support from special fellowships.  For more information, please visit the Financial Support page.
Careers
The graduate training in atmospheric science at Stony Brook is rigorous. Our students are equipped with sufficient knowledge, analytical, and data analysis skills for them to work in challenging careers after graduation. The Atmospheric Sciences Division is also well connected to other major research institutions around the world and is a leading participant in the research community. This gives our students an advantage in finding jobs.
All graduate students from the Institute have been satisfactorily employed after graduation. Many of them work in leading government research centers and universities. These include the NASA centers, the National Laboratories of the DOE, the NOAA centers, the National Center for Atmospheric Research, etc. Some of our graduates find faculty positions at colleges or universities and some work in private industry including consulting firms, insurance and computer software industry, etc.
To Apply
For additional information, students can contact Prof. Brian Colle, Coordinator of Graduate Studies in Atmospheric Sciences at brian.colle@stonybrook.edu or Prof. Jackie Collier, SoMAS Graduate Program Director at somas_gpd@stonybrook.edu. Students are also welcome to visit the school and schedule meetings with faculty members.
Please visit our Graduate Student Admissions page for application details.