Skip Navigation
SBU Postdoc Spotlight 2019 

SBU Postdoc Spotlight is a celebration of the research performed by Stony Brook's postdoctoral scholars.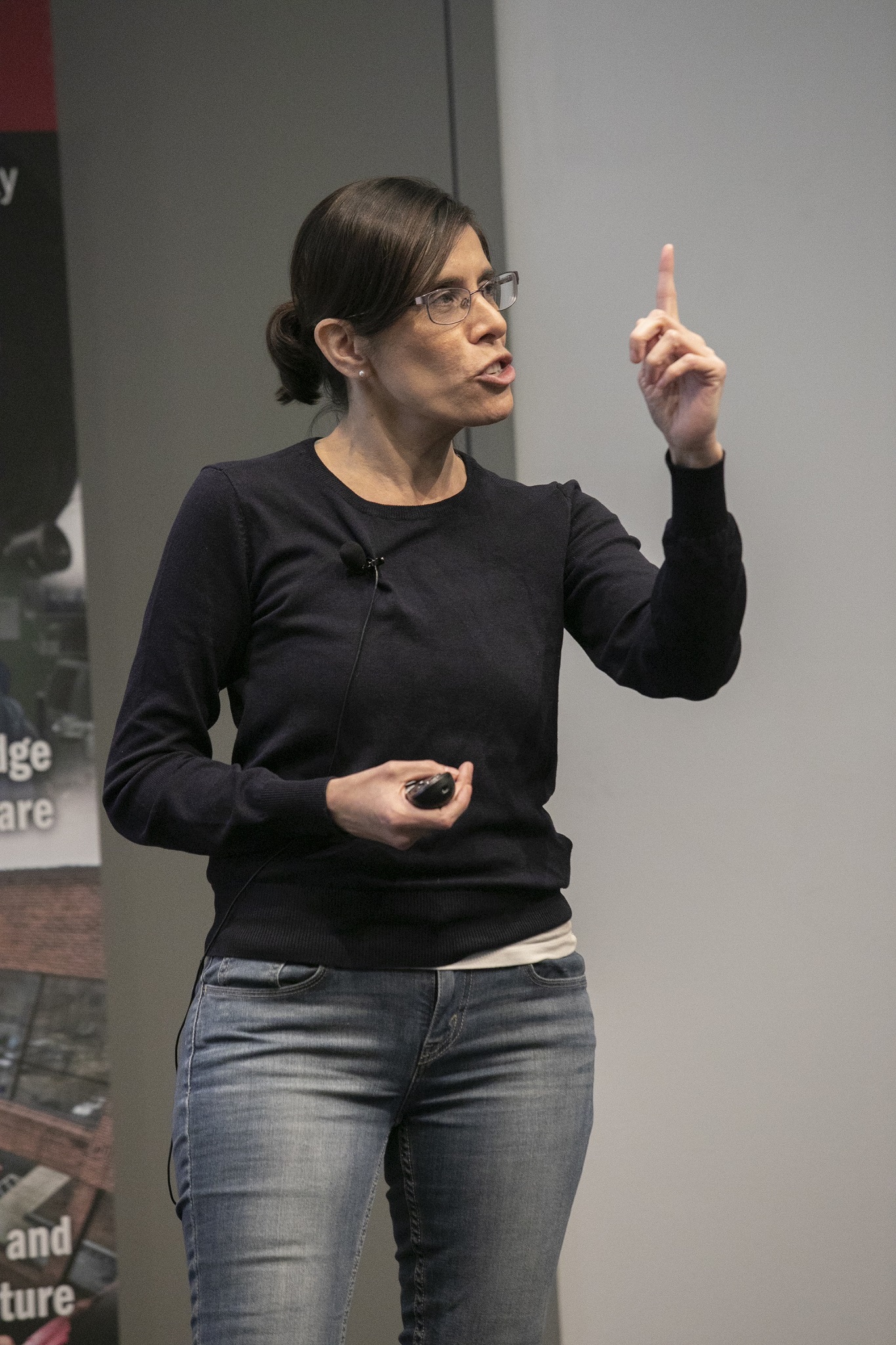 Location:  Wang Center Lecture Hall 2
Date:    Thursday, November 14, 2019
Spotlight Talks: 4:00 pm—5:30 pm 

Reception & Award Presentation: 5:30 pm—6:30 pm 
This event is free and open to the public.
Awards are generously sponsored by the Office of the Vice President of Research.
Cutting-edge research at SBU presented for a general audience. Spotlight talks are five minutes long and are designed like a TED talk to be accessible to specialists and non-specialists alike. The Postdoc Spotlight is a great opportunity to see some of the latest discoveries and exciting research taking place at Stony Brook.
Postdoc speakers receive specialized coaching in providing a broad and engaging talk for non-specialists. 
Speakers work with the  Alan Alda Center for Communicating Science . The internationally recognized center works to enhance understanding of science by helping to train the next generation of scientists to communicate more effectively with the public, the media and others outside their own specialty. Selection as a speaker is a unique professional development opportunity that helps prepare our postdocs to become the innovators and leaders of tomorrow. Sign up today!
Prizes given for the best talk. A panel of judges evaluate the talks for how well they achieve the Spotlight's goals of sharing the excitement of our postdocs' discoveries in a way that is accessible to a non-specialist.
Spotlight presentations will be followed by a reception.  Take the opportunity to network with your colleagues and learn more about their work. 
2019 BEST TALK WINNERS:   
Congratulations  to all our speakers for their hard work, and especially, our best talk winners from the 2019 SBU    Postdoc Spotlight! This year we had our first tie for second place! A very good problem to have. Special thanks to OVPR for upping the prizes to accommodate our two second place winners.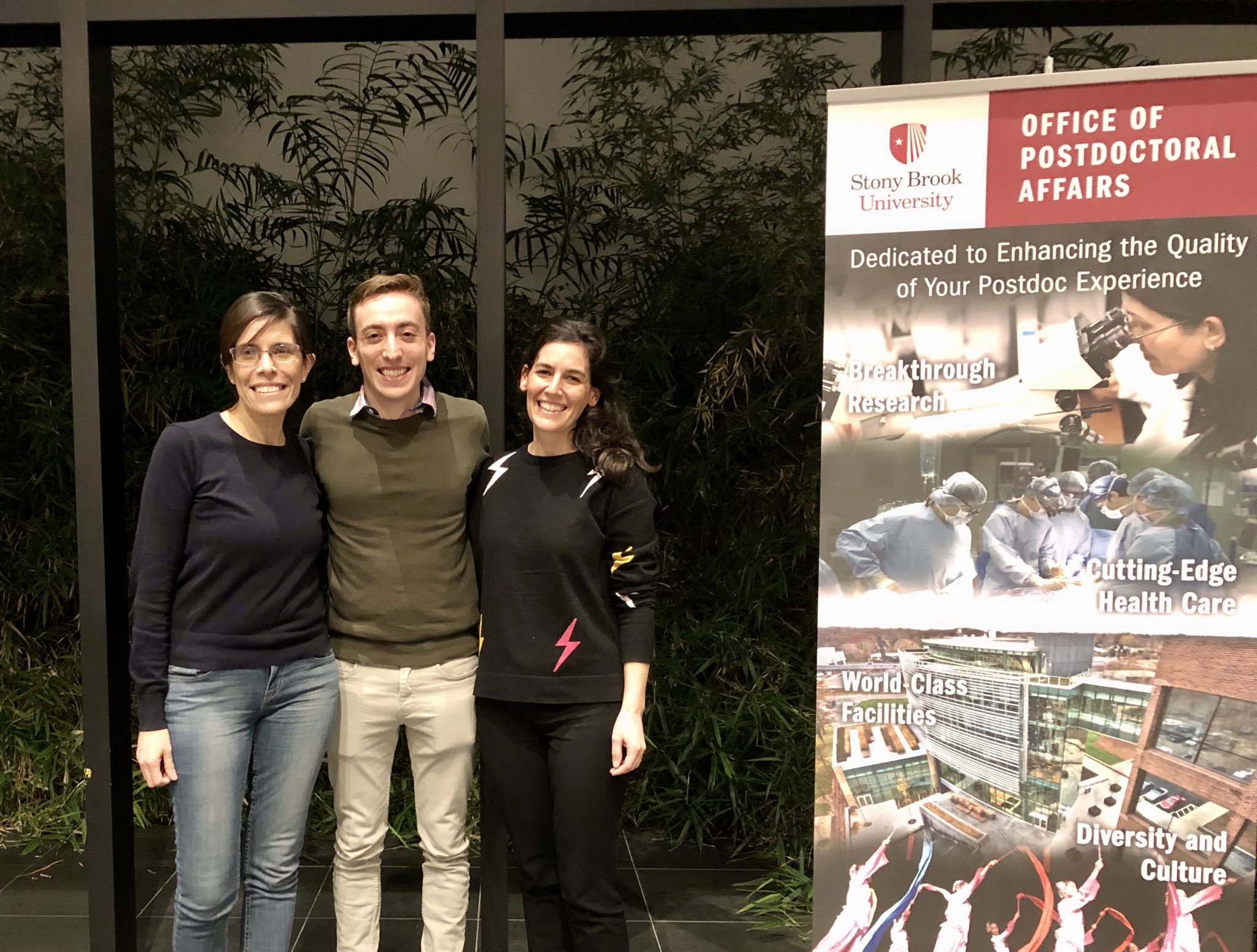 1st Place Paola Cepeda (left),
Graduate School & Linguistics 
2nd Place (tie) Kevin Sackel (center),
Mathematics & Simons Center

2nd Place (tie) Hillary Schiff (right),
Neurobiology & Behavior
4:00pm-4:15pm
Welcome & Overview
Wang Lecture Hall 2
 
Kathleen Flint Ehm, Director for Graduate and Postdoctoral Professional Development
4:15pm-5:30pm
Spotlight Presentations 
Moderator: Cristina Lazzarini, Postdoc, Microbiology

Wang Lecture Hall 2
 
Postdoc Speakers: 
Mariano Guardia Clausi, Radiation Oncology,
"A Game-Changer in Brain Cancer Treatment"

Paola Cepeda, Graduate School and Linguistics, 


"Untying the (K)not: Understanding Negation"



Somanon Bhattacharya,

Infectious Diseases

,
"Old But Deadly – A Tale Of Elderly Yeast"

Yingchao Su, Biomedical Engineering, 
"Never Go Back to the Hospital"

Gurtej Singh, Surgery,
"Plastic Surgery – We're Cutting Edge"

Stalin Vilcarromero, Infectious Diseases,
"The Real Threat for the Hispanic Workers in Suburban Areas of Long Island: Social Barriers and Lyme Disease"

Christina Joselevitch, Neurobiology and Behavior,
"How Do Brain Cells Talk?"

Hillary Schiff,  Neurobiology and Behavior,
"You Are What You Ate"

Kevin Sackel, Mathematics and Simons Center,
" Putting the Pieces Together"

Yedukondalu Neelam, Geosciences,
"What is the Earth's Inner Core Made Up Of?"

Diane Kim, Psychiatry and Behavioral Health,
"Towards Understanding Suicide"

Kasturi Banerjee, Infectious Diseases,
"Protect the Sick from Getting Sicker!"


5:30pm-6:30pm

Reception and Award Presentation

Wang Chapel
SPEAKER INFORMATION
Speaker Sign Up Deadline:  Wednesday, October 9, 2019 (Selected speakers will be notified shortly thereafter)
Speaker Coaching Dates:   (All speakers must commit to both Sessions 1 & 2) *
Coaching Date 1, Plenary: Oct 16, 2019, 2:30-5:00pm 
Coaching Date 2, Small-Group Coaching: CHOOSE: Oct 30, 11:30am-1:30pm OR Oct 31, 1:00-3:00pm OR Nov 1, 12:30-2:30pm
Optional Coaching Date 3, Small-Group Coaching:  Nov 7, 2-4pm -- This is a supplementary opportunity for speakers to get additional feedback the week before the event. You may want to pencil it in.
Presentation Guidelines: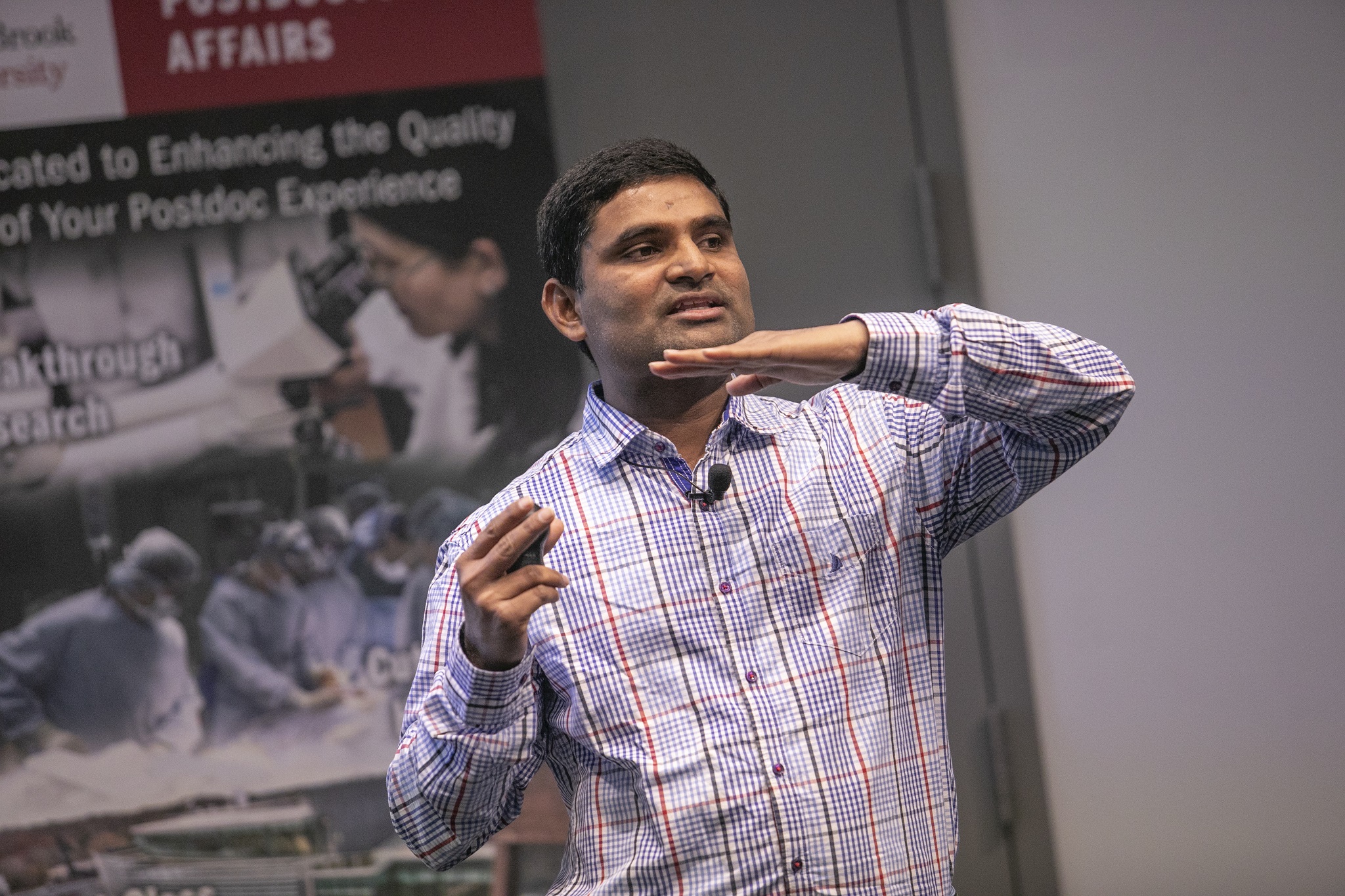 Only SBU Postdocs are eligible to give a Spotlight talk. Talks will be approximately five minutes long. Speakers should craft a talk that distills the heart of their research for a general audience who may not be specialists in the style of a TED talk. Speakers will receive individualized coaching on their presentation from experts at the Alan Alda Center for Communicating Science.
All speakers must commit to participating in the two required coaching sessions, Coaching 1 on Oct 16 * AND one of the dates for Coaching 2 (Oct 30, Oct 31 or Nov 1).
The first session will provide an overview of best practices for honing one's message for a general audience and representing that message with effective visualizations. In the second session, speakers will receive coaching on their individual talks in small groups.  Speakers are required to attend BOTH the first session and one of the small-group, individualized coaching sessions. * See coaching dates and times above .
Postdocs must affirm that their postdoctoral supervisor supports presentation of their research during speaker sign up. The talks will be recorded and posted online.
How to Sign Up:
Go to the Sign Up form and enter your contact info.
Affirm that your postdoctoral supervisor supports you presenting your work in the Spotlight.
Agree to participate in the two required coaching sessions (

see times above

). *
After submission, you will be contacted shortly after the closing date for sign up about whether you have been selected to speak. At that time, we will request a title from selected speakers. 
Speaker Selection: The number of speakers is limited. Therefore, speakers will be selected to provide a broad slate of presentations designed to reach a general audience bearing no specialized knowledge. Selected speakers will be notified shortly after speaker signup closes.
Judging: The talks will be evaluated by a panel of judges from a range of backgrounds and disciplines for how well the speaker engages a general audience of non-specialists and can convey the excitement and innovation of their research without jargon or distortion. Scoring is out of a total of 30 points determined as follows: 
Clarity (1-10 points):
Did the presentation follow a clear and logical order?
Did the presenter use appropriate terminology for a non-specialist audience?
Were the presentation slides clear and easy to follow?
Content (1-10 points):
Did the presentation explain the significance of the research question?
Did the presenter explain what they did for their research?
Did the presenter describe their findings?
Did the presenter explain the implications of their findings?
Engagement (1-10 points):
Did the presentation slides enhance your understanding of the research presented?
Did the presenter capture and maintain the audience's attention?
Did the speaker make eye contact, appear confident and speak in a clear voice?
Prizes:  The top three talks will be awarded prizes  generously sponsored by the Office of the Vice President for Research. 
1st Prize: $500
2nd Prize: $300
3rd Prize:  $100
QUESTIONS: Contact Kathleen Flint Ehm, Director for Graduate and Postdoctoral Professional Development, at postdocs@stonybrook.edu or 631-632-7531.
*Postdoc speakers who have taken relevant Alda Center coursework may be eligible to opt out of the first coaching session. But you'll be missing out on new material on visuals. Just sayin.