Skip Navigation
Seminar Schedule
March 16
Maria Geffen, University of Pennsylvania
March 23
Michelle Burbea Hoffman, The Chicago Biomedical Consortium
April 6
Abigail Person, University of Colorado Anschutz Medical Campus
April 13
Stella Tsirka, Stony Brook University - Dept of Pharmacological Sciences
April 27
Joseph Castellano, Icahn School of Medicine at Mount Sinai
May 4
Long-Jun Wu, Mayo Clinic, College of Medicine
May 11
Gregg Recanzone, University of California Davis
Center for Neuroscience
May 18
Xin Duan, University of California, San Francisco
May 25
Florian Engert, Harvard University 
News & Announcements
FACULTY OPENINGS - We have two openings for faculty positions in our department!
One opening is in the area of Computational Neuroscience / NeuroAI at the Assistant or Associate professor level. See here for the application link and details! Deadline Dec 15.
The other opening is a SUNY Empire Innovation Program tenured/tenure-track (open rank) position, with candidates studying movement, movement disorders and neurodegeneration relying on animal models and optical approaches especially encouraged to apply! Details and application link here. Deadline Dec 9.
04/10/2023 - Our annual Mind Brain Lecture series welcomes professor Emery N. Brown, M.D., Ph.D. from MIT to speak on "Deciphering the Dynamics of the Unconscious Brain Under General Anesthesia."
03/13/2023 - 03/19/2023 - Brain Awareness Week has returned! This year, we will be visiting a variety of libraries and organizations to educate children, teenagers, and adults on essential neuroscience hot topics. Come check us out at the following locations from March 13th 2023 - March 19th 2023.
Sachem Public Library: 3/13 @6pm on Emotions/mental health & hygiene (Teen Program)

Emma S. Clark Memorial Library: 3/14 @2pm on Neurobiology of Sleep (Adult Program)

The Smithtown Library: 3/14 @5pm on Movement (Children 8-12)

Middle Country Public Library: 3/16 @7:30pm on Memory & emotions (Adult)

Garden Farmer's Market at Daisy Gardens: 3/18 @10-2pm Table with Demonstrations (Open to all!)

Explorium at Port Jefferson: 3/19 @1-4PM Table with Demonstrations (Open to all!)

11/15/2022 - Applications for our Fall 2022 BRITE (Bolstering Research through Inclusion, Talent and Excellence) Postdoctoral Seminar Series are now closed. Congratulations to our selected speakers:

November 10, Angelica Torres-Berrio, Mt. Sinai School of Medicine

November 17, Lindsay Sailer, Cornell University

December 8, Rose Creed, UC San Francisco
10/07/2022 - It's time for our Hartman Symposium for Parkinson's research! Check out the latest research! We feature Keynote Speaker Dr. David Sulzer from Columbia University. You can download the flyer here.
9/20/2022 - We are excited to invite you to the Parkinson's Research Symposium on October 7th featuring Keynote Speaker Dr. David Sulzer from Columbia University.  You can download the flyer here and register for the meeting here:  http://bit.ly/hartmancentersymposium2022
9/16/2022 - Group photo of the Department of Neurobiology and Behavior at our recent retreat at the Old Field Club! Thanks to all our speakers and presenters, and our keynote speaker and former NBB faculty Dr. Joe Fetcho!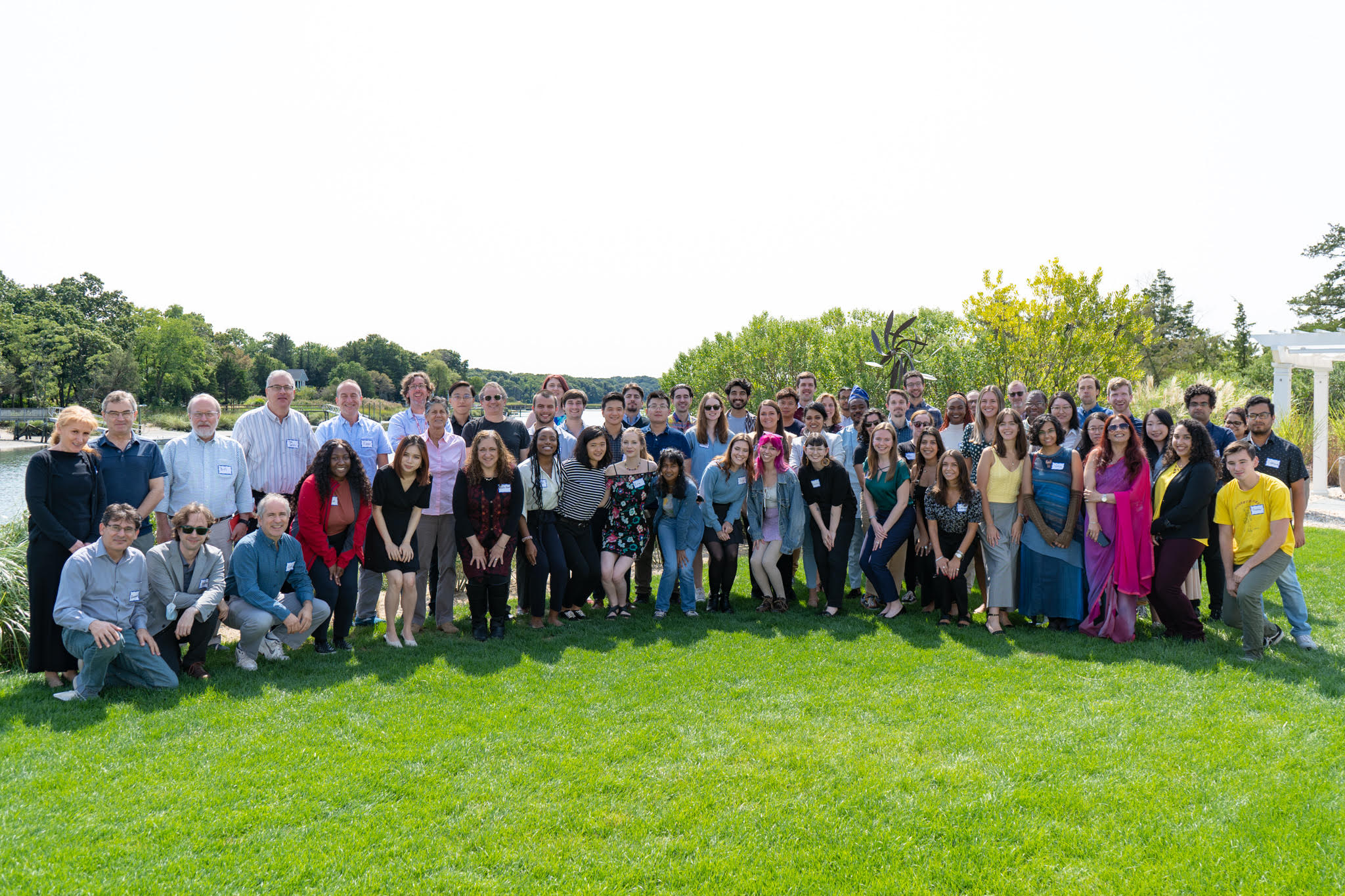 8/10/2022 - After a fantastic series of talks last fall, we are pleased to announce applications are now open for another our Fall 2022 BRITE (Bolstering Research through Inclusion, Talent and Excellence) Postdoctoral Seminar Series! The goal of this initiative is to enhance inclusion in neuroscience research by recognizing the achievements of talented postdoctoral fellows and providing an opportunity to foster their professional development.  Three outstanding applicants will be selected to give a seminar for the Neuroscience community at Stony Brook University in the Fall of 2022 (honorarium and coverage for travel arrangements and expenses included).  Awardees will be selected based on their scientific accomplishments and potential in all fields of neuroscience, and commitment to diversity and inclusion in science; applications due Sept. 19, 2022. Apply now!
5/2022 - Our department is ending the spring semester with another batch of great news!
First, several of our graduate students have won awards: Priscilla Yevoo (Maffei lab) and Allen Chen (Xiong/Ge labs), have been selected for the NIH Outstanding Scholars in Neuroscience Award Program (OSNAP), and Amalia Napoli (Sirotkin lab) was award a SBU Presidential Dissertation Completion Fellowship! 
Next, several papers have been published or accepted:
Hurley N, Srinivas S, Fang J, Sun M, Hong S, Chien CT, Guo A, Khan T, Li M, Cotlet M, Moretti F, Bourret-Courchesne E, Radin D, Tsirka S, Shelly M, Wong S, Investigation of the Photoluminescent Properties, Scintillation Behavior, and Toxicological Profile of Various Magnesium Tungstate Nanoscale Motifs. Royal Society Open Science, In Press.
Wang C, Collins WF 3rd, Initiating daily acute intermittent hypoxia (dAIH) therapy at 1-week after contusion spinal cord injury (SCI) improves lower urinary tract function in rat. Solomon IC. Exp Neurol. 2022 Oct 12;359:114242. doi: 10.1016/j.expneurol.2022.114242. Epub ahead of print. PMID: 36240880.
Allen P.F. Chen, Jeffrey M. Malgady, Lu Chen, Kaiyo W. Shi, Eileen Cheng, Joshua L. Plotkin, Shaoyu Ge, Qiaojie Xiong, Nigrostriatal dopamine pathway regulates auditory discrimination behavior. Nature Communications (2022).
Hanxiao Liu, Mohamed Badawy, Shaoqin Sun, George Cruz, Shaoyu Ge, Qiaojie Xiong, Microglial repopulation alleviates age-related decline of stable wakefulness in mice. Frontiers in Aging Neuroscience (2022).
Guillermo M Alexander, Terry D Heiman-Patterson, Frank Bearoff, Roger B Sher, Laura Hennessy, Shannon Terek, Nicole Caccavo, Gregory A Cox, Vivek M Philip, Elizabeth A Blankenhorn, Identification of quantitative trait loci for survival in the mutant dynactin p150Glued mouse model of motor neuron disease. PLoS One 2022 Sep 15;17(9):e0274615 (2022).
Demetrios Neophytou, Diego Arribas, Robert Levy, Tushar Arora, Il Memming Park, and Hysell V Oviedo, Differences in temporal processing speeds between the right and left auditory cortex reflect the strength of recurrent synaptic connectivity. PLoS Biology (2022).
Josiah Zoodsma, Emma Keegan, Gabrielle R. Moody, Ashwin A. Bhandiwad, Amalia J. Napoli, Harold A. Burgess, Lonnie P. Wollmuth§, and Howard I. Sirotkin, Disruption of grin2B, an ASD-associated gene, produces social deficits in zebrafish. § Molecular Autism (2022) 
Rodrigo Triana Del-Rio, Sayali Ranade, Jahel Guardado, Joseph Ledoux, Eric Klann and Prerana Shrestha. The modulation of stress/threat and social behaviors by oxytocin signaling in the limbic network. Frontiers in Molecular Neuroscience, October 2022

Russo T. and

Riessland M.

,

Age-Related Midbrain Inflammation and Senescence in Parkinson's Disease

Disease. Front. Aging Neurosci. 14:917797 (2022).

Matityahu L, Malgady JM, Schirelman M, Johansson Y, Wilking J, Silberberg G, Goldberg JA and Plotkin J

,

A tonic nicotinic brake controls spike timing in striatal spiny projection neurons

, Elife. 11:e75829 (2022).

Pinizzotto CC, Patwardhan A, Aldarondo D and Kritzer MF

:

Task-specific effects of biological sex and sex hormones on object recognition memories in a 6-hydroxydopamine-lesion model of Parkinson's disease in adult male and female rats

, Hormones and Behavior, in press (2022).
Congratulations to all!
4/2022 - Lots of great news from our students this month! Josue Nassar (Park lab) received the President's Award to Distinguished Doctoral Students, Camelia Zheng (Fontanini lab) received the 2022 AAUW International Fellowship, John Chen's (Fontanini lab) NRSA predoctoral fellowship was recommended for funding, Charlotte Rubin (Sirotkin lab) won first place at the Westchester Science and Engineering Fair (WESEF),  Sarah Schubel (Sirotkin lab) won first place at the Long Island Science and Engineering Fair (LISEF)---both
advancing to the International Science and Engineering Fair (ISEF)---and Gabriella Vaccaro was awarded an Explorations in STEM summer scholarship! Congratulations to all!
4/04/2022 - Happening soon! Join us April 4th at 4 pm in the Staller Center for our annual Mind/Brain Lecture, "Constructing the World of Taste in Your Head," by Professor Donald Katz from Brandeis University. The Mind/Brain Lecture Series is a public event intended for a general audience, and is sponsored by the Swartz Foundation. We're looking forward to seeing you here, but for those who can't make it in person, the event will also be livestreamed at this link. 
3/14-3/20/2022 - It's Brain Awareness week! Be on the lookout for works of brain art hidden around Long Island near Stony Brook, and come join us on March 20th at the Long Island Explorium from 1 - 5pm for some scientific demonstrations and opportunities to chat with neuroscientists!
2/2022 - Congratulations to Dr. Prerana Shrestha, who has been named one of this year's Alfred P. Sloan Research Fellows in Neuroscience! Read more about the award and Stony Brook's other new Sloan fellows here.
2/2022 - Congratulations to Andrea Arreguin (Colognato lab), Noele Certain (Wollmuth lab), and Josh Kogan (Fontanini lab) for winning a 2022 SUNY Graduate Research Empowering and Accelerating Talent (GREAT) award! Read more about this award and the list of winners from other fields here.
2/2022 - High school students Sarah Schubel and Amy Feng, working with Drs. Sirotkin and Park, respectively, have been named among top 300 scholars in the national 2022 Regeneron Science Talent Search (Regeneron STS) competition. Read more here.