Skip Navigation
CALENDAR OF EVENTS 2020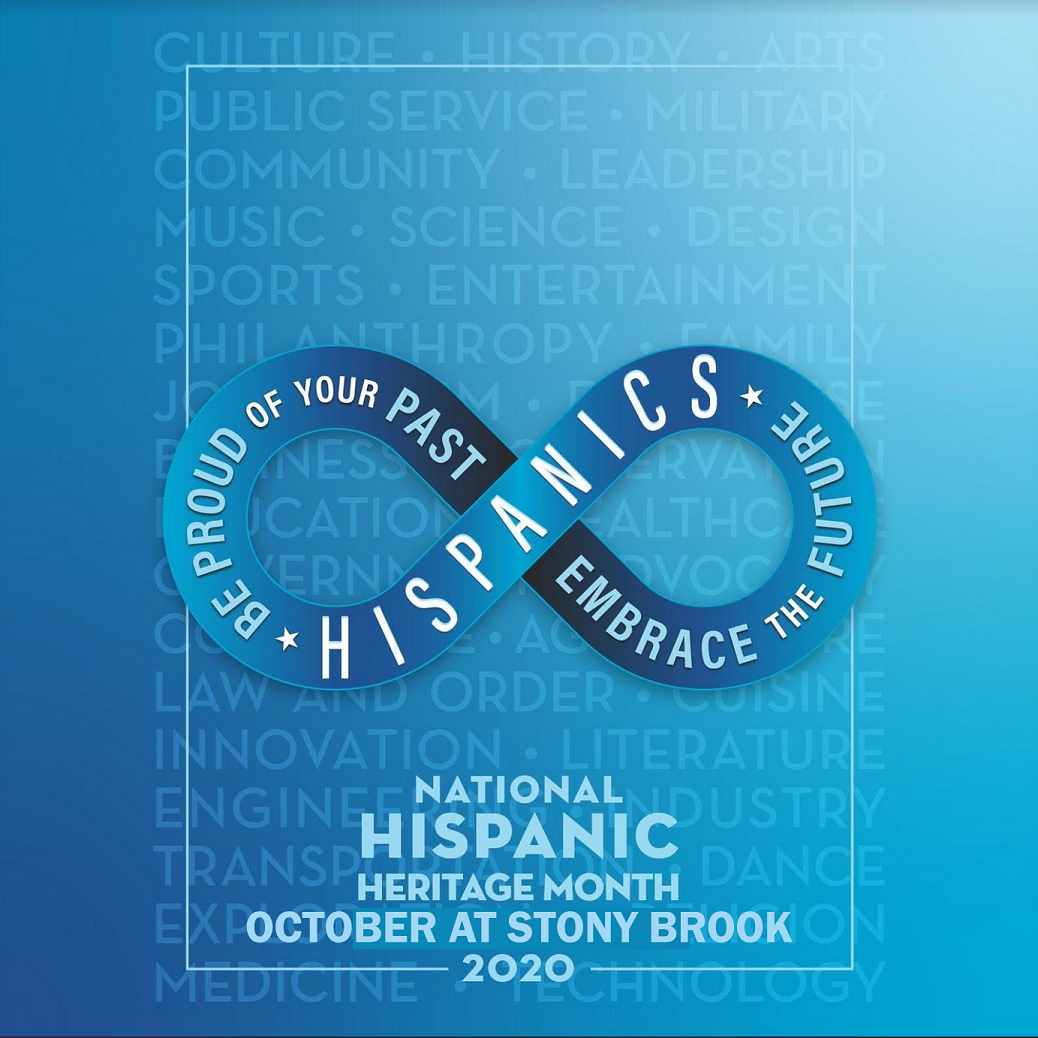 Stony Brook Athletics proudly celebrates their heritage
Stony Brook Athletics will spotlight student-athletes in a video series throughout Hispanic Heritage Month, beginning with men's soccer junior midfielder Jack Valderrabano, junior Matias Prando,  women's basketball senior forward India Pagan, freshman Sofia Chambers and  junior, Antonio Aguilar.  
Register in advance to join this meeting:
https://stonybrook.zoom.us/meeting/register/tJIof--uqTkuHtyGuCSt1xeJVd6IMfRNzLZT

After registering, you will receive a confirmation email containing information about joining the meeting.
Keynote Speakers:
Judith Brown Clarke. Ph.D., Vice President of Equity and Inclusion and Chief Diversity Officer 
Adam Gonzalez, Ph.D.,  Director of Behavioral Health and Founding Director of the Mind-Body Clinical Research Center, Renaissance School of Medicine
A conversation with community members and experts about the history and continued complexity of race, ethnicity and color.
To register: https://tinyurl .com/ColorismReg
Monday, October 12, 2020

@ 6:00 PM

 - A ZOOM CONVERSATION WITH SEBASTIÁN CALFUQUEO ALISTE, MAPUCHE VISUAL ARTIST

A Conversation with Sebastián Calfuqueo Aliste, Mapuche visual artist. They will present about their recent work, contemporary Chilean politics, and the ongoing extractive industries in Wallmapu. Part of the "Pressing Matters" Lecture Series. 
Zoom registration is required for this event. Registration deadline October 11.   Click here to register.

 
Thursday, October 15, 2020
@ 1:00 PM
 

-
Latinx Stories: Voices of Heritage 
Author Panel + Q&A.  Rudy Ruiz  (moderator),  Cecilia Aragon ,  Jennifer Givhan ,  Alex Temblador , and  Sergio Troncoso  each discuss their writing, how being Latinx in the U.S. has shaped their craft, and what they wish readers knew about their work. 
Free with  Zoom registration.
FRIDAY, OCTOBER 16, 2020
@ 8:30 AM - 12:30 PM
 

-
NY S
tate-Wide Manufacturing Day 2020!
NY-MEP  centers will host a virtual manufacturing networking event to connect students, administrators and manufacturers around the state. The focus is to highlight STEM disciplines that lead to manufacturing careers.  
Attendees can register here:  https://newyorkmep.org/manufacturing-day/#
FriDAY, OCTOBER 16, 2020
@ 6:00 - 7:00 PM
 

- 
VOTE AND TAKE ACTION! ( FLYER)
Join CSTEP (Collegiate Science and Technology Entry Program) and the Center for Civic Justice to discuss and learn about voting and taking action in our communities!   "VOTE AND TAKE ACTION!"    Click here to RSVP.
Thursday, October 22, 2020
Game Night
 

with

CSTEP (Collegiate Science and Technology Entry Program)

6:00-7:00 PM
Sponsored by CSTEP

FRIDAY,

October 23, 2020



DEADLINE 
HHM Awards & Scholarships
Apply online!


Check out some of the great menus that will be featured at East Side and West Side dine-in:
Dominican Republic: Lunch on October 6 - Carne Guisada, Arroz con Gandules, Fried Okra, Stewed Eggplant over Rice, Chimichurri Taco and Dominica Pudin de Pan.
Global Night Peru: Dinner on October 7 - Pork Loin Adobe, Roasted Potatoes, Lima Beans, Butifarra, Shoestring Fries with Cilantro Crema, Vegan Lomo Saltado, Ensalada de Pallares, and Mamama's Crema Volteada.
Guest Chef Adrian Carrillo - Mexico: Dinner on October 13 - P ork Pozole, Smoky Chipotle Braised Butternut Squash and Pinto Bean Chili and Roasted Hominy.
Puerto Rico: Lunch on October 20 - Pollo Fricassee with Rice, Tostones, Braised Swiss Chard, Tripleta Sandwich, Pastelon Pizza, Pineapple Rum Cake.
Global Night Spain: Dinner on October 21 - Paella with Mussels, Shrimp & Salmon, Boiled Yuca, Patatas Bravas, Serranito Bocadillo Sandwich, Catalan Ratatouille Samfaina and Churros.
Brazil: Lunch on October 27 -  Tricolor Quinoa w/ Brazilian Beef, Vegetable Feijoada, Brazilian Torta w/ Avocado Pineapple Salsa, Portuguese Pizza, Whole Wheat Penne w/ Brazilian Black Beans & Sweet Potato Stew and Mousse de Maracuja
Guest Chef Fred Long - Mexico: Dinner on October  27 -  Chili Lime Tilapia, Aztec Blend Rice, Street Corn Style Warm Salad, Baked Mushroom, Queso Blanco and Spanish Rice Stuffed Chili Relleno with Chili Spiced Breadcrumb Topping.
Monday, October 26, 2020
Ponte Ready! Celebrating Día de Muertos with La Newyorkina -  El Museo del Barrio - stream via zoom
Dia de Muertos is almost here (November 1)! Join us for a special edition of Ponte Ready with Fanny Gerson, creator of La Newyorkina, who will share with us her recipe of Pan de Muerto, while discussing the history and symbolism of the beloved baked good and share personal anecdotes about Dia de Muertos.  FREE ADMISSION | To RSVP, click here. 
Tuesday, October 27, 2020
Coco with LASO Movie Night -  stream via zoom
at 9:00 PM   
Wednesday, October 28, 2020
@ 7:00 PM

 

-  NOCHE DE ARTE ( POSTER) stream via facebook 
Spoken word poet, actor, singer-songwriter, and community activist Caridad de la Luz, or "La Bruja," will perform and showcase student performances. The event will be streamed through Facebook, click the link to join:  https://www.facebook.com/stonybrookalumni
We are looking to have four (4) student performers to showcase their talent (spoken word, singing, dancing, etc.) during the zoom event. Performing students will receive a prize for participating.  Here is the link to the google form for any interested students:  https://forms.gle/5v52xN3vyNXBdFri9 
Please spread the word!
Co-sponsored by HHM, Latin American Student Organization, the Black & Latino Alumni Network and the Stony Brook Alumni Association.  
MONDAY, November 2

Hispanic Heritage Month Closing Ceremony
More information to be announced!
Join us to celebrate and recognize the achievements and contributions of Faculty, Staff, and Students on our   31st Annual Hispanic Heritage Month (HHM) celebration.   Open to all.