Skip Navigation
Earthstock 2021
Earthstock 2021 will be a mix of in-person and virtual events. See below for ways to participate. For general questions, please contact earthstock@stonybrook.edu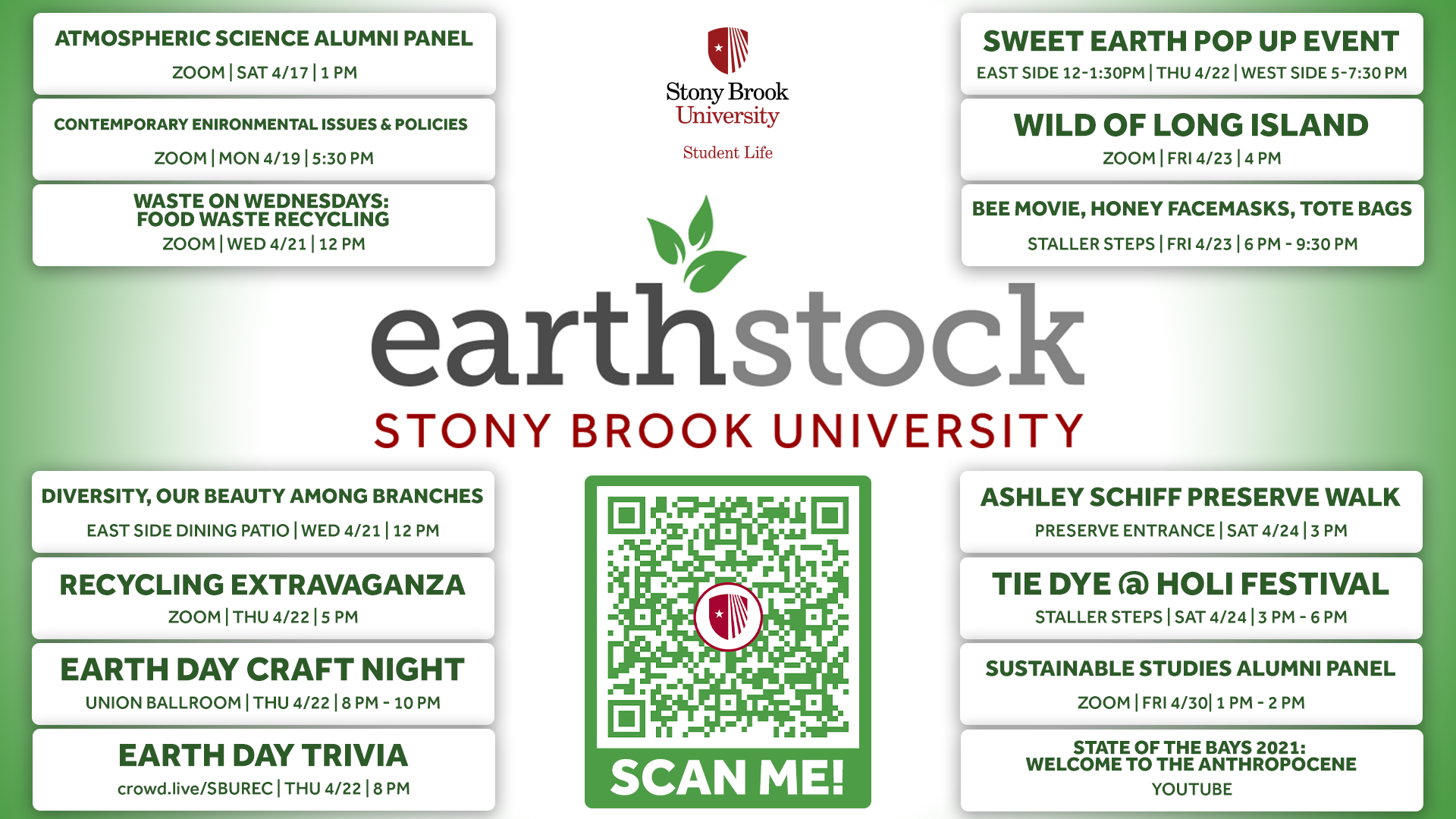 Keynote Lecture: Wild of Long Island
Friday, April 23rd
4pm
Join via Zoom
Learn about the fascinating wildlife that can be found on the land, in the air, and in the waters of Long Island.

Before the presentation begins, Jeff Levinton will present the Eng Scholarship.

Speaker: Christopher Paparo, Southampton Marine Science Manager
Born and raised on Long Island (New York), he has been exploring the wilds of the Island for over 30 years. As the owner of Fish Guy Photos, he is a wildlife photographer, writer and lecturer who enjoys bringing public awareness to the diverse wildlife that calls the island home. My passion for coastal ecology, fishing and the outdoors led him to obtain a BS in Marine Science from LIU/Southampton and he currently manage the Marine Sciences Center at the Southampton campus of Stony Brook University.

An award-winning member of the Outdoor Writers Association of America and the New York State Outdoor Writers Association, he is a freelance writer for several fishing and wildlife related publications. Although his work tends to focus on marine life, everything in the natural world is fair game. Follow his adventures on Facebook, Instagram, Twitter, Vimeo, YouTube and TikTok at @fishguyphotos or by visiting my website at www.fishguyphotos.com

Atmospheric Sciences Alumni Panel
Hosted by the SBU Meteorology Club
Saturday, April 17th
1pm
Join via Zoom 
Meeting ID: 925 9886 7329
Passcode: 120330
The Career Panel is this upcoming Saturday, April 17th at 1pm. Our panelists include:
Michael Cooke (2020) IT/Software Engineer
Kate Rojowsky (2008) Research Scientist
Bryan Greenblatt (2015) NWS Meteorologist
Nicole Casamassina (2017) Hydrological Technicican
Alex Titus (2008) Business and Meteorology
Lee Solomon (2001) Broadcast Meteorologist

Any and all career questions for the panelists are welcome.
State of the Bays, 2021 - Welcome to the Anthropocene
Tuesday, April 20
2pm
Facebook Premiere
Water is at the core of human existence. On Long Island, we rely on groundwater to drink. That same groundwater is the primary source of freshwater, nitrogen, and other contaminants to our coastal ecosystems. We are surrounded by water within which we swim, boat, and recreate.  Recent trends in water quality on Long Island have been troublesome. Toxic chemicals are contaminating drinking water supplies. Nitrogen levels in groundwater have risen by more than 60% in recent decades and coastal ecosystems have suffered. Since the late twentieth century, aerial coverage of critical marine habitats on Long Island such as eelgrass and salt marshes have declined by up to 80% and Long Island's top shellfisheries have declined by up to 90%.  Compounding the effects of nitrogen pollution is climate change. The Anthropocene is defined as the current geological age in which human activity has become the dominant influence on climate and the environment, and 2020 provided the clearest evidence to date that we are now firmly entrenched in this era. Globally, the infectious disease pandemic associated with COVID-19 dominated the human experience, while Planet Earth set another record for the warmest year on record. Locally, outbreaks of brown tide, rust tides, toxic cyanobacterial blooms, invasive seaweeds, hypoxia, and fish kills were documented and are all occurrences are directly and indirectly linked to excessive nitrogen loading. Emerging research suggests climate change is likely to significantly worsen many of these impairments in the near future, meaning significant and immediate actions are needed to mitigate these events. Multiple solutions to water quality impairments are emerging. 'In the water' remediation approaches involving seaweeds and bivalve are showing great promise for locally mitigating nitrogen loads and algal blooms, potentially as part of regenerative and restorative aquaculture. The New York State Clean Water Technology Center at Stony Brook University has identified cost-effective technologies to dramatically reduce nitrogen loads from individual homes and to coastal water bodies.  Implementation of such technologies coupled with 'in the water' solutions will be required to reverse the decadal negative trends in water quality and fisheries.

Can't make the premier? Watch on https://youtu.be/N3LC9e69utk now!
Waste on Wednesday: Food Waste Recycling
Join via Zoom
Wednesday, April 21
12pm - 1pm
Did you know that 40% of all food produced each year in the United States is wasted? For 2015, that was about 489 pounds of food per person or 80 million tons total that we threw away in just a single year. Some sources estimate residential college students generate as much as 147 lbs/person of food waste, just on campus. That means that, in total, college campuses waste up to 22 million pounds of food each year.  57% of this waste is generated before we ever take our groceries home, so what is being done to reduce this? And what about the 43% of food waste we generate at home? Some food waste is unavoidable, but should we mix that with our regular garbage? The EPA recently estimated that food was the largest single category of trash going to landfills or combustion facilities.Come join us for lunch to find out why we throw so much away, what kind of legislation is being proposed and implemented to reduce our food waste in New York State, and what kinds of technologies are out there to manage the food waste we can't avoid.
Tree Planting & Dedication: Diversity, Our Beauty Among the Branches
Wednesday, April 21
12pm - 1pm
RSVP Here
Rooted in celebration of inclusivity, equity, and care for one another and our environment as well as celebrating Earth Day 2021. Complimentary food will be provided.
Rooted in celebration of inclusivity, equity, and care for one another and our environment as well as celebrating Earth Day 2021. Complimentary food will be provided.
Exhibitor Fair
Thursday, April 22
1pm - 3pm
Join us on the academic mall from 12pm - 3pm for a smaller version of our annual exhibitor fair
Earth Day Pop Up Event
Thursday, April 22
East Side Dining 12pm - 1:30pm
West Side Dining 5:30pm - 7pm
The Faculty Student Association and Culinart are excited to welcome Nestlé to campus on April 22. Join us at East Side Dining from 12pm to 1:30pm and at West Side Dining from 5:30pm to 7pm and be one of the first in the country to try the triple play -
Vegan Bacon Cheeseburger
!
Sweet Earth
plant-based products are more than meatless. They're flavor-forward, mindful and 100% plant based. You'll get to sample the three products below and get free swag
(while supplies last)
!
Recycling Extravaganza! 
Thursday, April 22
5pm - 6pm
Join via Zoom 
Meeting ID: 918 1687 4985
Passcode: recycle
Join us via Zoom on Thursday, April 22nd for an hour of talking recycling! In this webinar, we will discuss topics such as the importance of recycling both on and off campus, how to properly recycle, and why it is so important for sustainability. We live in a rapidly changing world reliant on technology, industry, and convenience. While we might not realize it, knowing how to properly dispose of the products and materials we use on a daily basis is key to maintaining a sustainable ecological footprint. Which products can actually be recycled? Which of the three Rs - Reduce, Reuse, Recycle - is most important? What can we do to help keep our world healthy and clean for future generations? In this webinar, we will answer all of these questions, and more!
Earth Day Craft Night
Thursday, April 22
8pm - 10pm
Union Ballroom
Come celebrate Earth Day with us!  Paint a cute suncatcher to hang on your window and make your own little air plant terrarium!  There will also be fun and yummy snacks (: All supplies provided!

Upon arriving to the event, one of our SEA Staff will ask you for your event pass. This can be found in the CORQ app under the drop-down tab once you sign-in to CORQ using your Stony Brook NetID. This is a contactless check-in system. Limited space available, no rsvp required! For more information, visit SB Engaged.
Outdoor Movie & Craft Night
Friday, April 22
6pm - 9:30pm
Staller Steps
Join the Student Engagement and Activities and USG on

 

Friday, April 23rd

 

for an Outdoor Movie and Craft Night! We will be showing the

 

Bee Movie!

Before the movie starts, students will be able to participate in numerous craft projects. We encourage students to bring old, unwanted, and oversized T-Shirts so the Sustainability Team of USG can teach students how to convert them into

 

T-shirt Tote Bags. Don't have any old shirts, no problem, we will also have a supply of

 

Blank Tote Bags

 

for students to customize and take as well! Students will also be able to make

 

face masks and lip scrubs

 

from a variety of raw ingredients offered!

Once the sun sets, grab a snack and watch the Bee Movie on Staller Steps. We will be starting the movie at around 7:45PM. For more information, please visit SB Engaged.
Sustainability Studies Alumni Panel
Friday, April 30
1pm - 2pm
Join via Zoom
Meeting ID: 983 0978 6055
Passcode: 797713
Panelists Include:
Sakhib Ahmed '13 (POL major, SUS minor), sustainability communications coordinator at UVA
Cathy Doodnauth '16 (EHM), environmental analyst at MassDEP
Hogyeum Evan Joo '19 (EHI, GSS minor), finishing M.S. in Sustainability Management at Columbia; starting Ph.D. program in E&E at Rutgers in the Fall
Kevin Luzong '16 (EDP), transit team member at Uber
Michelle Nevins '18 (COS and engineering science double major), in Ph.D. program in Environmental Chemistry at NYU, worked as intern and then technician in the National Renewable Energy Lab
Harrison Wenchell '16 (EDP) transportation planner at Stewart Engineering in Raleigh, NC

 

With the moderator being Sharon Pochron and organized by Kate Aubrecht