Skip Navigation
Day of Event Information
The University's Main Commencement Ceremony will take place on Friday, May 20, 2022 at 11:00 AM at Kenneth P. LaValle Stadium. Graduate, guest, and faculty arrival information can be found below.
For additional  information, please visit the FAQ page for everything you need to know about Commencement.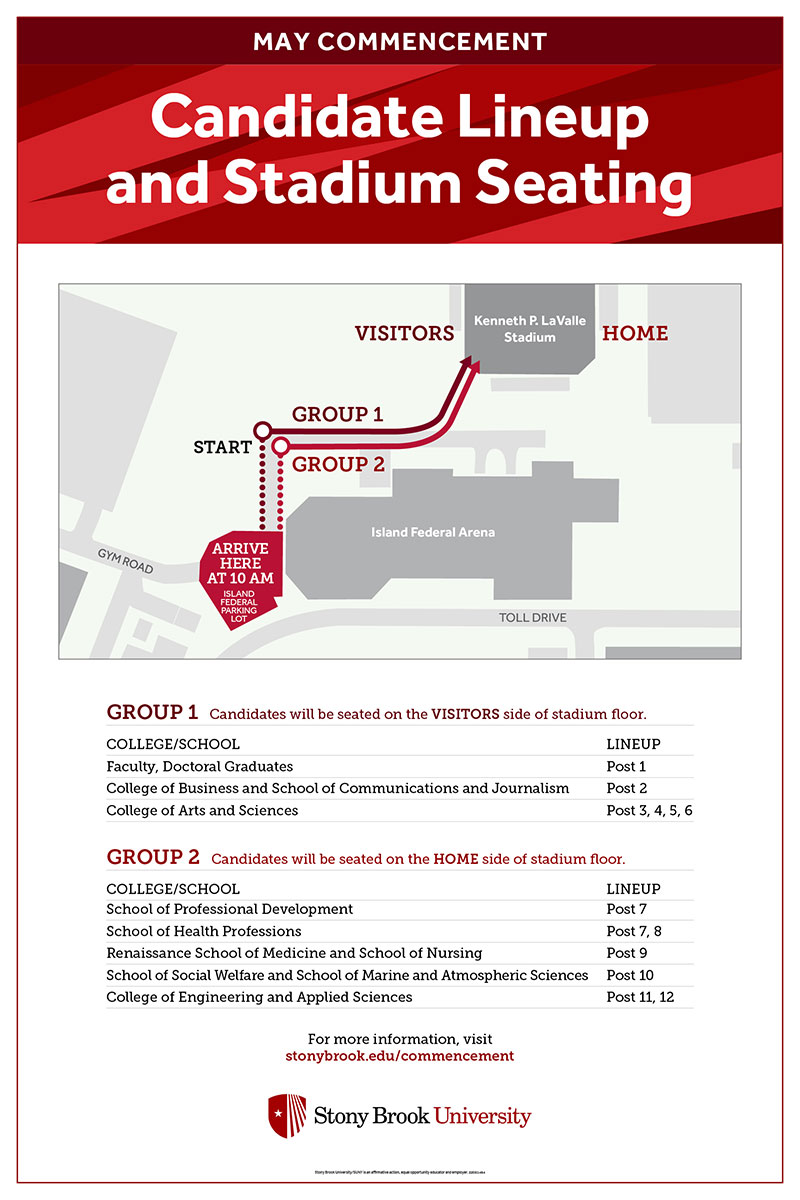 Graduate Arrival Information:
Graduates who have successfully applied to graduate will be able to access 2 guest tickets through the Commencement website beginning May 10. Please note, the buying, selling, or gifting of tickets is strictly prohibited and may result in disciplinary action. Graduates will begin lining up at 10:00 AM at the Indoor Sports Complex Parking lot. Academic attire is required, you can find ordering information on the FAQ page.
Candidates in Group 1 will be seated on the VISITORS side of the stadium floor. Candidates in Group 2 will be seated on the HOME side of the stadium floor. View the diagram.
Guest Arrival Information:
Guests requiring ADA parking are asked to prominently display their parking permit prior to arriving on campus for entry to the accessible parking lot located at LaValle Stadium. All other guests must park in the P Lot, and continuous shuttle service will be provided to the stadium.
To find the campus via GPS, please use the following address: 100 Nicolls Road, Stony Brook, NY.
Gates open at 10:00 AM, one hour prior to the 11:00 AM ceremony. All guests must present their tickets at the gate. Children under the age of 3 do not require a ticket. Seating is on a first come, first serve basis.
The following items are not permitted inside the stadium: outside food/beverage, backpacks, luggage, umbrellas and balloons. 
Guests with smart devices can access closed captioning services for the ceremony at stonybrook.edu/closed captioning. A live webcast will be available for all guests who do not have tickets or cannot attend. The livestream can be found at stonybrook.edu/live as well as on the Commencement website.  
Faculty Arrival Information:
Please note that any faculty interested in walking in the academic procession for the Main Commencement ceremony or serving as a marshal must wear academic attire. Faculty will also meet in the graduate arrival area at the Indoor Sports Complex Parking lot beginning at 10:00 AM. 
Commencement Brunch
A Commencement Brunch will be served from 11 a.m. to 4 p.m. at East Side Dining. All you care to eat, for $13.99! Download the menu here.