Skip Navigation
Craig Malbon, PhD, MDiv, FAAAS, FRSM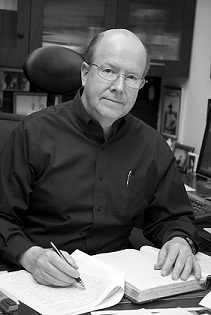 Leading Professor, School of Medicine
Department of Pharmacology; Department of Family, Population & Preventive Medicine.
Medical Ethics
Social Justice
End-of-Life Ethical Issues
Dr. Malbon is former Associate Dean, School of Medicine (1987-1993); founding University Vice-President for Research (1993-1997); and Vice-Dean for Scientific Affairs, School of Medicine (1998-2005) at Stony Brook. He directs a research laboratory (1978- pres.) and is Director-emeritus of the National Institutes of Health (NIDDK)-funded Diabetes & Metabolic Diseases Research Program (1986-2015). Prior to coming to Stony Brook, Dr. Malbon was trained at Case Western Reserve University, Brown University, and the Biological Laboratories at Harvard University. He is the 1997 recipient of the American Cancer Society Research Award, is an Honorary Member of The Biochemical Society (U.K.), and in 2004 Dr. Malbon received the American Cancer Society Award (Top 10 Researchers 1990-2000). Malbon was the recipient of the 2008 Goodman & Gilman Award from the American Society of Pharmacology & Experimental Therapeutics and was elected to the rank of fellow, AAAS that same year. In 2015, Malbon was elected as an Overseas Fellow, The Royal Society of Medicine (London). As an ethicist and theologian, he was appointed as a Visiting Scholar at Princeton Theological Seminary (Princeton, NJ), earned an M. Div. from Union Theological Seminary in the City of New York (focused on ethics), and performed hospital-based chaplaincy training in the Catholic Healthcare Services of Long Island. He is an ordained minister in the United Church of Christ and is the author of a best-selling book on the moral question of abortion, entitled Abortion in 21st Century America (CreateSpace Publishers, 2013). In 2021 Malbon's book entitled, Assaulted Personhood: Original & Everyday Sins Attacking the "Other" was published (Rowman & Littlefield). Malbon's most recent book is entitled, GUN-AMERICA: Gun Rights & Controls Beyond the Uvalde Massacre and was published in late 2022 (KDP). His philosophical interests are in ethics, life, and society in 21st C America, with particular interest focused on end-of-life issues, right-to-die, and application of the moral theories of Immanuel Kant, John Rawls, and Dietrich Bonhoeffer. Malbon's current research interrogates the nature of consciousness, moral formation, "free will," and current failures of bioethics to fulfill its stated goals.