Skip Navigation
Maria A. Basile, MD, MBA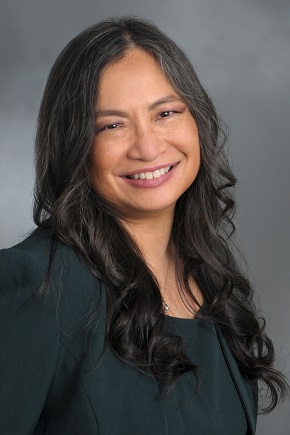 Clinical Assistant Professor and Associate Center Director
Department of Family, Population and Preventive Medicine
Human Values and Medicine
Literature and Medicine
Medical Professionalism
Physician Leadership
Professional Identity Formation
Office Phone: (631) 444-6785
E-mail: Maria.Basile@stonybrookmedicine.edu 
Clinical Assistant Professor in the Department of Family, Community, and Population Medicine at the Renaissance School of Medicine at Stony Brook, Dr. Maria Basile, serves as the Associate Director of the Center for Medical Humanities, Compassionate Care and Bioethics.  Award-winning poet, public speaker, surgeon, and healthcare administrator, Dr. Basile is a dynamic and respected physician leader for nearly 3 decades.
Dr. Basile teaches in a major component of the core pre-clinical curriculum for medical students, contributes to clinical teaching in the clerkship years including reflection rounds, engaging in ethics consultation through the Hospital Ethics Committee, and actively mentoring medical students in the scholarly concentration program. She teaches two seminars per year in the Masters' degree program, engages in scholarly activities with an emphasis on narrative medicine and the use of reflective writing in the process of professional identity formation, and contributes to the intellectual and scholarly life of the Center. Dr. Basile advances the Center with forward-thinking collaborative leadership in an atmosphere of active service to the wider medical school community and to the development of physician humanists.
A graduate of Georgetown University School of Medicine, Dr. Basile founded the consulting firm, PQL Communications Inc, in the summer of 2021 to inspire physicians and other healthcare leaders to communicate with their most authentic voice so that they can lead beyond their credentials with effectiveness and love.
Dr. Basile is passionately involved with organized medicine and is the only woman to have served as President of the Suffolk County Medical Society twice. She is also Vice-speaker and Commissioner of Communications for the Medical Society of the State of New York and is a Delegate from New York to the American Medical Association.
Dr. Basile is a regular contributor to the Poetry and Medicine section of the Journal of the American Medical Association. She is the author of two chapbook poetry collections, Minimally Invasive: poems from a life in surgery and New, Not New: 15 things I'd like to know when I see you after quarantine. Her work has been published in literary and peer reviewed medical journals and anthologized with the creative writing of physicians and other caregivers. She is on the Editorial Board of the Journal of Medical Humanities.