Skip Navigation
Encyclopedia of Bioethics 3rd ed.
Ed. Stephen Post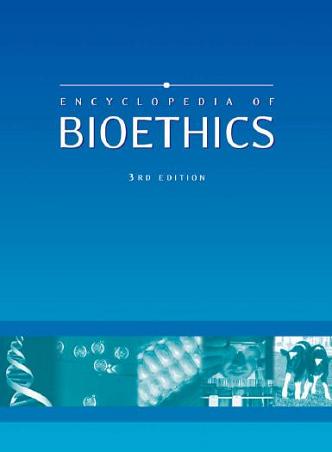 The revolutionary advances in biotechnology and healthcare are so pervasive that no one can avoid debating the ethical questions they raise. Bioethics is a reflection on the moral significance of nature and human nature, and on the development and application of biomedical technologies consistent with that significance.
The Encyclopedia of Bioethics, third edition, is a detailed revision of the Dartmouth Medal-winning set last published in 1995. This five-volume set covers a wealth of topics on healthcare ethics in all its aspects, including fertility and reproduction, genetics, pediatrics, public health, mental health, human subjects and animal research, bioterrorism, organ donation and transplant, death and dying, and healthcare access.
Researchers, students, and general users will find the Encyclopedia a useful tool in considering the impact of the new scientific knowledge and its potential harm or benefit to present and future generations. It offers many voices and traditions to foster dialogue, prevent the narrowing of the field, and engage a wide international readership. The Encyclopedia embraces the full history of bioethics—cross-cultural approaches, comparative religious and philosophical ethics, and global perspective.
New to this edition are entries on emerging topics like cloning, dementia, transhumanism, and stem cell research. A more thorough look is taken at business ethics in healthcare.
The Encyclopedia of Bioethics was guided by an editorial board of scholars who worked with over 400 contributors. Each of the nearly 450 entries contains a detailed bibliography for further reading. Appendices cover a detailed section of codes and oaths for pertinent organizations, influential legal cases, and additional resources. The text is fully indexed for ease of research, and entries are also arranged in a topical outline.
Reviews
"The third edition of this landmark reference work extends its role in defining, shaping, and documenting the field of bioethics. Like its predecessors, it will widen the boundaries of intellectual and professional concern and investigation and will stimulate academic discourse and steer professional practice and public policy, especially regarding issues of emerging biotechnologies and changes in health care delivery. Summing up: Essential."
Designated "Outstanding Academic Title"
—Choice, American Library Association
"This new edition of a classic work, which addresses timely issues such as same-sex marriages and direct advertising of prescription drugs, belongs in all academic libraries and all but the smallest public libraries. It is an outstanding resource for students, professionals, and the interested public."
—Booklist (Starred Review)
"The most important work in bioethics ever produced."
—Japan Times