Skip Navigation
Sightseeing
Stony Brook Museum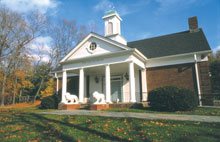 The History Museum presents permanent and changing exhibitions that bring to life the history of Long Island and its relation to American culture. Permanent exhibitions include The Art of Illusion, a collection of 15 miniature rooms featuring charming, period interiors from a 17 th century Elizabethan room to a 1930s antique shop; and The Bayman's Art, honoring the folk art traditions and environmental heritage of Long Island.
The Art Museum features American art from the museum's collection as well as traveling exhibitions. The art collection contains more than 4000 paintings, sculptures and prints dating from the early 1800s to the present, including the largest collection of works by renowned genre artist and Stony Brook resident, William Sidney Mount. Notable recent exhibitions have featured works by Norman Rockwell and Louis Comfort Tiffany.
The Carriage Museum features 10 galleries housing the museum's collection of more than 200 horse-drawn carriages, widely recognized as the finest in the United States. About 100 carriages are regularly on display, along with other rare artifacts from the carriage era. Admired for their beauty and craftsmanship, the carriages are an important part of the dramatic story of the American industrial revolution. Most recently, the museum installed an authentic 19 th century carriage making shop, complete with working machinery, originally located in Williamsburg, Massachusetts.
HOURS: Thursday through Saturday, 10 a.m. - 5 p.m., and Sunday noon - 5 p.m.
ADMISSION: $10, $5 for students
---
Avalon Park

Avalon is a re-creation of the natural environment that greeted the first indigenous people to settle New York State. Its five distinct natural habitats populated entirely by native flora hold the story of our past, and quite possibly, the seeds of our future. Guided tours available by request.
---
Stony Brook Village Center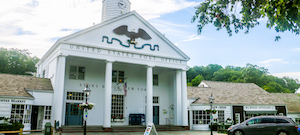 The Stony Brook Village Center is the spot for dining, shopping, events, and local historic information in Stony Brook, New York. 
Located at Main Street on the Harbor, is the creation of philanthropist Ward Melville, and was recognized as the first planned business center in the United States. Its many unique features include a sweeping village green and a crescent-shaped design. In its early years, the American Institute of Architects hosted an annual conference in Stony Brook to meet with Mr. Melville and study his creation. The eagle on the Stony Brook Post Office pediment flaps its wings every hour, on the hour, from 8am to 8pm daily – as it has done so for 75 years, continuing to welcome thousands of visitors to the specialty shops and restaurants in Stony Brook.
---
The Jazz Loft
A 6,000 s/f venue offering thousands of archives from some of the greatest Jazz musicians of their day. On display are instruments, diaries, autographed pictures, original sheet music, letters from world leaders and even an orchestra stage that was constructed from the original Roseland Ballroom dance floor. The mission of The Jazz Loft is to advocate, educate and preserve this American-born art form. The Jazz Loft also offers a full calendar of musical performances as well as classes for special needs people with autism, learning disabilities, dementia and Alzheimer's.
---
Port Jefferson Village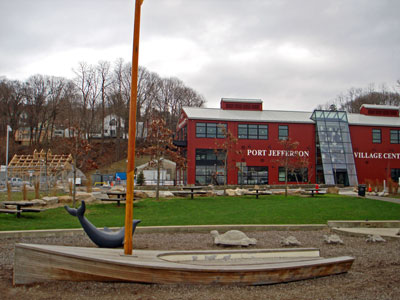 Port Jefferson Village is one of Long Island's hidden treasures, conveniently located 50 miles east of New York City. Combining beauty and history, the Incorporated Village of Port Jefferson offers picturesque seaside views and a rich maritime heritage. Originally named "Drowned Meadow," Port Jefferson became one of the largest shipbuilding towns in Suffolk County in the 1800's. This harbor front town, with pristine beaches and charming architecture, is a growing tourist destination offering an array of unique shops and exceptional restaurants for visitors and residents alike.
Along the shoreline is Harborfront Park and the Port Jefferson Village Center. With its magnificent harbor view, the community center serves as a hub of educational and social activities. Next door, the Maritime Explorium is a wonderful place of discovery and learning for the whole family. Near Harborfront Park is the PT Barnum ferry dock, one of two ports for access to Connecticut, making "Port Jeff" a popular weekend getaway. The Village is also host to many exciting seasonal events, such as the 4th of July Parade and the annual Charles Dickens Festival. Each December, Port Jefferson is transformed into a 19th century holiday extravaganza. So, whether you are a local resident or friendly visitor, remember, Port Jefferson is a destination for a day or a lifetime!