Skip Navigation
Transfer Students
Steps to Enroll
To reserve your space, complete these steps in the  SOLAR System  using your Stony Brook ID number and password by November 1 for Spring 2021 and  May 1 for Fall 2021 or the date on your letter of admission.
Pay your $150 Tuition Deposit
Pay your $200 Campus Housing Deposit*
Pay your $300 Orientation Fee

Complete your New Student Preferences
  * If requesting campus housing. Transfers will be assigned to campus housing only if space exists and are advised to submit their housing deposit and New Student Preferences as soon as possible for fullest consideration. Priority is given based on deposit date and proximity to campus.
Not sure where to start?   Watch our video  to view the steps you need to take to pay your deposits and fees to enroll at Stony Brook!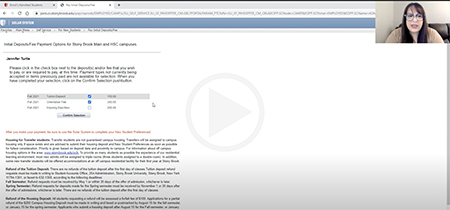 Next Steps
Steps to complete after those above. Starting in April, several days after completing the steps above, you'll receive your NetID, which will serve as your single sign-on login for many University systems, including the campus housing portal and your SBU e-mail.
Your Journey Begins

The first day of classes is Monday, August 23, 2021 for the fall 2021 semester. Click here to view the University's academic calendar.
Additional Information
Making the Transition
The Academic and Transfer Advising Services Office is where you'll find the answers to all your academic questions and concerns throughout your transitional first year. A staff of professional advisors will evaluate your transfer credits for general education requirements, facilitate the evaluation of your transfer credits for major and upper-division requirements, and enter your transfer credits on your Stony Brook transcript. Advisors are available to help students select courses and plan their academic programs, taking into consideration coursework completed at previously attended colleges and universities. The Academic and Transfer Advising Services Office provides a supportive environment for new transfer students, and is committed to fostering and inspiring student success.
Join an Undergraduate College Academy!
Stony Brook's internationally recognized Undergraduate College Academies program adds an academic dimension to the residential experience on campus. Participation in the UGC Academies, offers students the opportunity to work with faculty, staff and other students on projects designed to make academic and co-curricular connections. Each Academy sponsors events on campus and in the residence halls related to the academic minor and theme of each program.
The UGC Academies encourage students to discover, grow and build relationships that promote success during the college years and beyond. They also bring together varied disciplinary specializations, and scholarly topics to create an academic minor and activities related to that minor.
• Environmental Studies
• Health and Wellness
• International Studies
• Leadership Development
• Media Arts
ADV 101 for New Transfer Students
You'll have the opportunity to enroll in Introduction to Stony Brook, a 1-credit seminar designed to enrich your first semester experience. ADV 101 includes only 20 students per class and meets weekly with an academic advisor. Through academic advisement, exploring campus resources, group activities, discussions, and presentations, ADV 101 will provide you with the necessary tools to achieve a successful academic and social transition from your previous college or university.