Skip Navigation
First-Year Students
Steps to Enroll
To reserve your space, complete these steps in the SOLAR System using your Stony Brook ID number and password by December 1 for spring admission or May 1 for fall admission or the date on your letter of admission.
Pay your $150 Tuition Deposit
Pay your $200 Campus Housing Deposit*
Pay your $300 Orientation Fee
*If requesting campus housing. New full-time first-year students are guaranteed housing provided the tuition/housing deposit is paid in SOLAR and request campus housing in your portal by December 1 for spring admission; May 1 for fall admission.
Not sure where to start?   Watch our video  to view the steps you need to take to pay your deposits and fees to enroll at Stony Brook!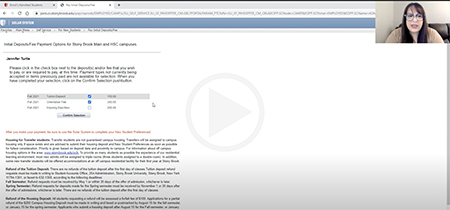 Next Steps
Steps to complete after those above. Starting in April, several days after completing the steps above, you'll receive your NetID, which will serve as your single sign-on login for many University systems, including the campus housing portal and your SBU e-mail.
Your Journey Begins

The first day of classes is Monday, January 24 for the spring 2022 semester and Monday, August 22 for the fall 2022 semester. Click here to view the University's academic calendar.