Skip Navigation
STRIDE Student in the Spotlight: Zahraa Krayem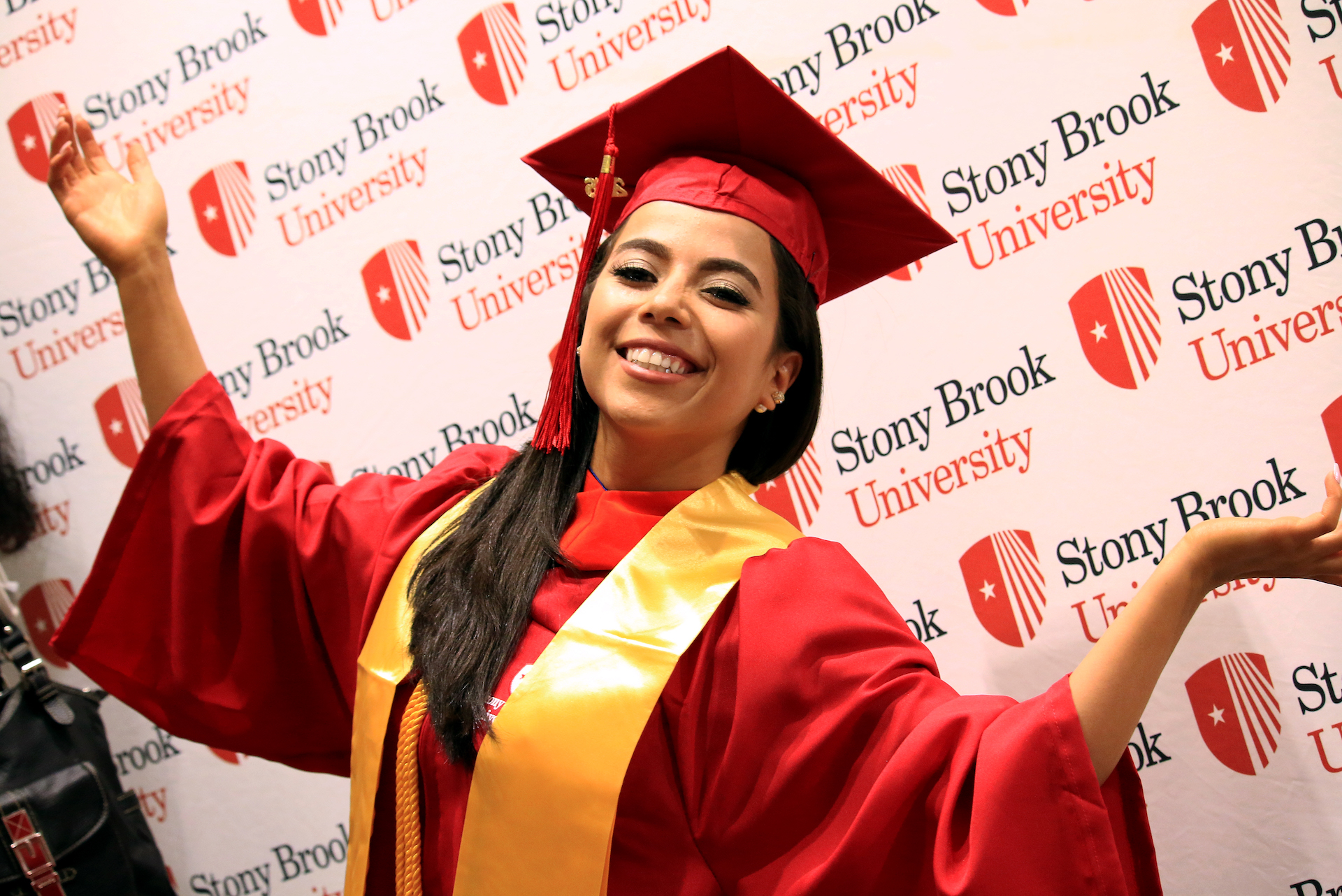 "Time is like a sword—if you don't cut it, it will cut you," is the maxim by which Zahraa Krayem lives her life. Translated from her native Arabic, it is a testament to not wasting time—and as a PhD student in both Electrical and Computer Engineering as well as Science Education, Zahraa is too busy to waste any time.
 Zahraa, who grew up in Lebanon, credits her father as her biggest inspiration.  She says, "My number one inspiration is my dad, definitely. He graduated as an engineer and opened his own business. He's 100% self-made, and I look forward to doing the same thing." Relocating to the United States on her own, Zahraa enrolled at Stony Brook University where she majored in electrical engineering and ultimately served as Valedictorian of her class.
Self-described as hard-working and outgoing, Zahraa reflected on her earliest introduction to science. "As a kid, I was always good at math and science. I come from a family of engineers who went into business. I decided to also go for engineering, but didn't want to take the easy route. I decided to focus on electrical engineering because I was afraid of electricity, so I wanted to learn more about it." An individual who was at one time afraid to insert a plug into an outlet, she now conducts workshops for high schoolers, taking them step-by-step in engineering projects, such as the wiring of a functional nightlight. This past year, Zahraa was involved in an innovative one-day "Women in STEM" workshop designed for high school girls which was sponsored by the STRIDE program. Her efforts on this project led to a first authored paper which she will be presenting at the 2019 IEEE Integrated STEM Education Conference at Princeton University. 
Studying in the lab of Professor Mónica Bugallo, Zahraa conducts research on statistical signaling processing and methods of models to aid in decision-making. In fact, it was her interest in the decision-making process which led her to become involved with STRIDE. Now, a funded STRIDE fellow, she credits STRIDE for the added collaboration in her research. She says, "STRIDE has added so much into my research and has made me aware of different applications that I can do with my own research. I would have worked only with the electrical engineering aspect, and there is so much more in my field than just the signals to deal with."
Aside from her research on statistical signal processing, she is also interested in science education. "I research ways and methods to integrate STEM and engineering in pre-college context for both teachers and students to make them aware of STEM opportunities and fields." She says, " The shortage of science, technology, engineering, and mathematics (STEM) talent could put the technological competitiveness of the U.S. at a risk." Therefore, the next study that she's putting together does a comparison between students of varying countries against the preparedness of US students in STEM education in hopes of changing some education policies in the US."
Outside of science, Zahraa enjoys going to the gym. "I love working out. I love taking care of my health. Also, I love fashion—I have a passion for fashion and dressing up." She is also an avid reader—though she is not interested in murder mysteries or romance novels; rather, she prefers reading mathematical books, such as those pertaining to the stock market.
Having already experienced three separate internships with Zebra Technologies, she credits that experience with the opportunity to work on her own designs. "I projected my voice there. I found myself as an engineer. I decided to go further in my studies because I knew how challenging the technical field is. I wanted to make a name for myself as an engineer and grow in that field."
The future is bright for Zahraa Krayem as she continues to explore different opportunities within electrical engineering and higher education administration.