Skip Navigation
Back to Search Innovations
Novel Bioabsorbable Membranes for Cell Delivery Applications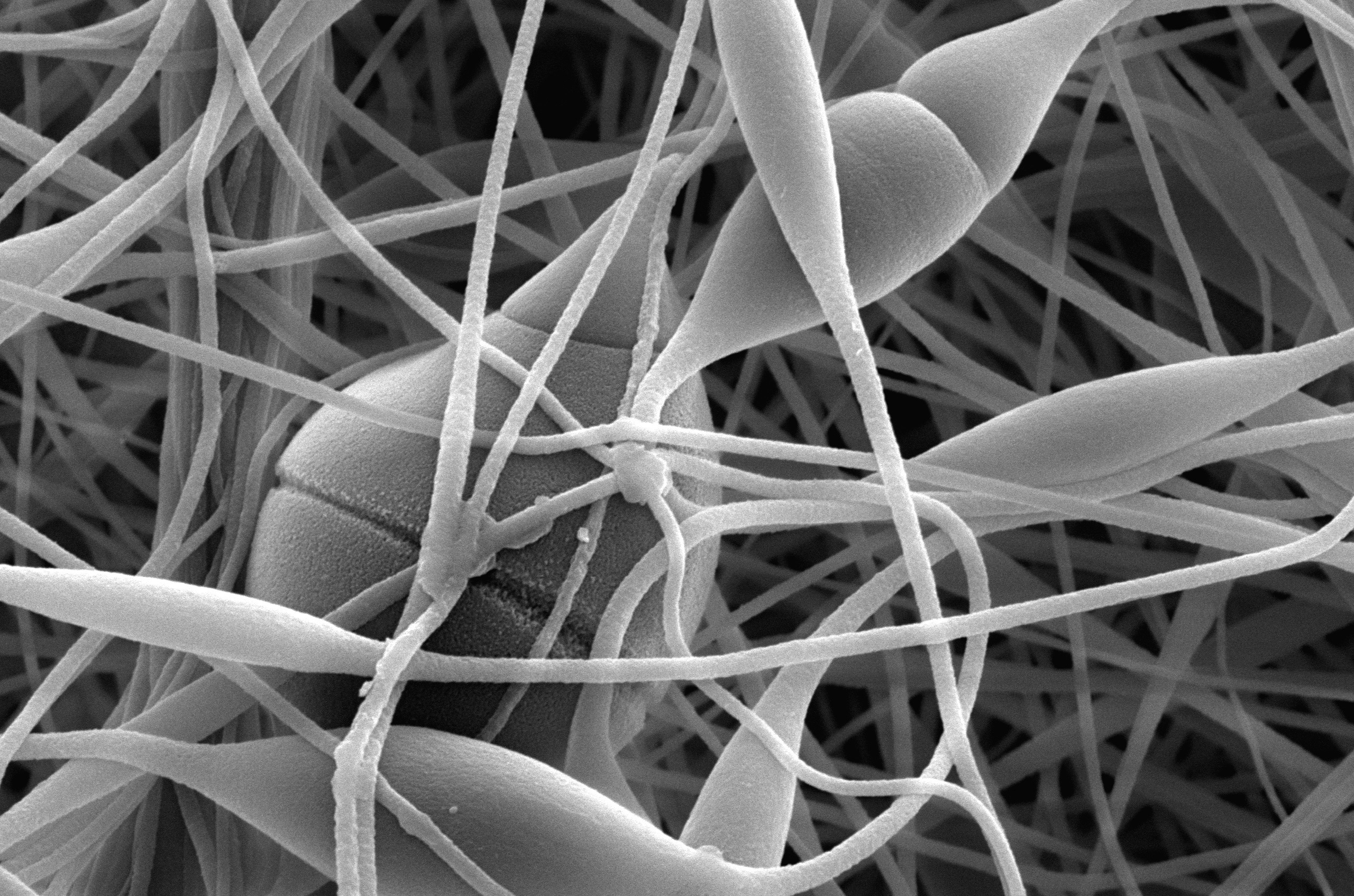 Please note, header image is purely illustrative. Source: Judyta Dulnik, Wikimedia Commons, CC BY-SA 4.0.
Background
Methods and compositions for encapsulating core materials, e.g., materials containing drugs, have been disclosed. These methods generally involve encapsulating the core material within a micro capsule by forming a semipermeable membrane around the core material. Although a number of processes for micro encapsulation of core material have been developed, most of these processes cannot be used for pH, temperature or ionic strength-sensitive material such as viable cells because of the harsh conditions necessary for encapsulation. Thus, there is a need for improved cell storage and delivery systems which can be produced on an industrial scale, which do not have the above-mentioned disadvantages.
Technology
Bio-absorbable polymer membranes are processed by a unique electrospinning technology. The cells can be embedded into the nanostructured membrane during processing. The cell density and the morphology of the membranes can be controlled. The polymer membranes, as a scaffolding material, thus provide the support for localized cell release and growth. These cell-embedded biodegradable membranes may have wide applications in tissue engineering and gene therapy.
Advantages
- The Biodegradable membranes provides a support matrix to encapsulate virtually any type of cell (e.g. bone, skin, tissue, and stem) allowing them to be delivered into a specific area. - The cell density, the diameter of fibers, the porosity of the membrane, and the degradation period can be fully controlled by tuning processing parameters. - The cell loading efficiency can be more than 90%.
Application
Tissue engineering and gene therapy. Support matrix to encapsulate virtually any type of cell. Cell delivery top a targeted area
Inventors
Benjamin Chu, Distinguished Professor, Chemistry
Benjamin Hsiao, Distinguished Professor, Chemistry
Michael Hadjiargyrou, Assistant Professor, Biomedical Engineering
Dufei Fang, Senior Scientist, Chemistry
Xinhua Zong, Graduate Student, Chemistry
Kwangsok Kim, Post-Doc. Research Assoc., Chemistry

Licensing Potential
Licensing
Licensing Status
Available for Licensing.
Licensing Contact
Donna Tumminello, Assistant Director, Intellectual Property Partners, donna.tumminello@stonybrook.edu, 6316324163
Patent Status
Patented
8,021,869 7,323,190
Tech Id
7473