Skip Navigation
Healthier U Walking Programs
Stony Brook University offers two options for its employee walking program: "Walk on Wednesdays" (WOW) and "Walk to Win" (WTW). Both programs Will be back for the Fall season beginning September 9, 2015. To encourage participation, participants will receive a variety of FREE prizes after four instances of participation in either program.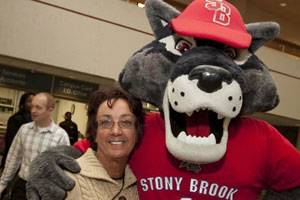 "Walk on Wednesdays" (WOW) is a series of walks held at 12 noon each Wednesday. Walks are held at the eight locations listed below. Check in with your Healthier U walk leader at each site to track your attendance. Groups of faculty and staff will walk at noon, rain/snow or shine.
Here are the walk leaders and locations for Walk on Wednesdays:
Hospital - Main Lobby (Leader: Cynthia Cooke)
Tech Park (Leader: Linda Cuervo)

31 Research Way
8 Research Way

Long Island State Veterans Home (Leader: Daniel Krupski)
2000 Ocean Ave, Ronkonkoma (Leader: Lisa DeSousa)
Main Campus (Leader: Elizabeth Roberts)

Fountain on Academic Mall

South Campus (Leader: Amy Wolf)

Endeavor Hall Lobby (In case of inclement weather, meet in Discovery Hall)
Sullivan Hall Lobby
Suffolk Hall Lobby by EH&S
Courtyard between Putnam Hall and Dana Hall

Research & Development Park (Leader: N/A)

Building 17 - Meet at the main entrance
CEWIT - Meet in the front lobby

Gyrodyne/Flowerfield (Leader: N/A)
Southampton (Leader: Cheri Gostic)
SBUH Ambulatory Surgery Center (Leader: Michelle Strong)
Dental School (Leader: Maria Nardiello)
*Other Locations – please contact Healthier U
Register for Walk on Wednesdays now!
---
Looking to add that competitive spirit and walk at any time? Then " Walk to Win " (WTW) might be right for you!
Walk to Win is a team-based walking program that allows you to walk anytime, anywhere. Be sure to have at least one other co-worker walk with you and report the total distance walked.
At the end of the fall/spring season, the team with the most miles walked per person will win a healthy reward sponsored by Healthier U.
Congratulations to the "Chemistry Solutions" team on winning the 2015 Spring "Walk to Win" competition.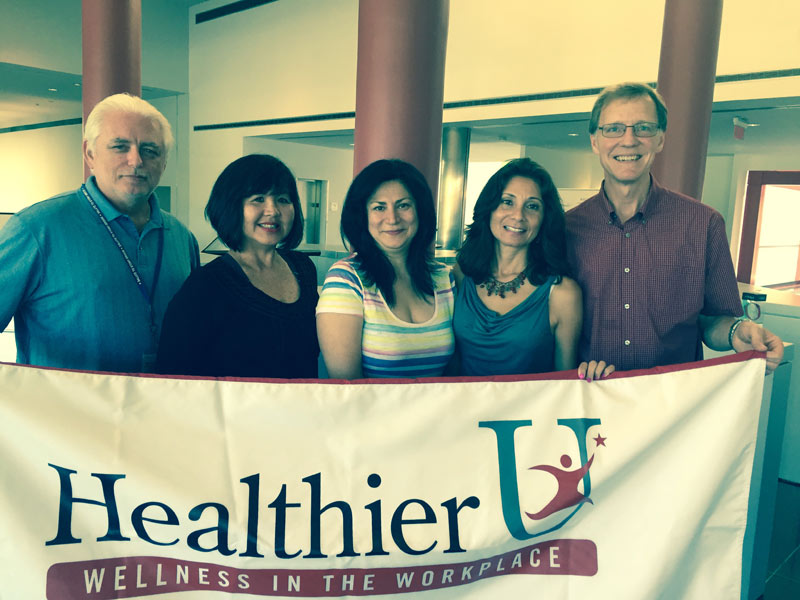 Team Chemistry Solutions: L-R Daniel Cashmar, Charmine Yapchin (Team Captain), Nazini Karimi, Roxanne Brockner, Dale Drueckhammer.
Deborah Murphy & Nicole Fanelli-Burke
---
Indoor & Outdoor Walking Trail Maps
For your convenience, the Healthier U Walking Program has provided several indoor and outdoor walking trail maps of various campuses with the equivalent of laps in miles!
CONTACT US
To learn more about our walking programs, email healthieru@stonybrook.edu or call 632-2945. We look forward to walking our way together toward a Healthier U!