Skip Navigation
Phase 2: Partnering With Purpose 
The Strategic Budget Initiative (SBI) is designed to be a collaborative, strategic undertaking to identify both short-term operational and longer-term strategic opportunities to improve our financial position.  We will be able to implement some of these opportunities immediately, while more significant initiatives will need to be implemented in the next phase, or require additional analysis and evaluation.
SBI ORGANIZATIONAL STRUCTURE
The Strategic Budget Initiative (SBI) will be powered by the work of five focused task forces. The   Task Forces  will be responsible for idea generation, analysis, validation, and recommendations in their subject area.  Each Task Force may create multiple   Working Groups  to explore specific issues.
A Financial Sustainability Steering Committee  will have overall responsibility for coordination, alignment across workstreams, and finalizing recommendations prior to review and approval by the   Executive Leadership   Team.  The Steering Committee will include representatives of each task force and will be led by Rose Martinelli, our new Vice President for Strategic Initiatives. 
A Technical Support Group  of finance, budget, IT, and data experts will provide resources and advice to the task forces, working groups and leadership.
Click on the links below to learn more about the Steering Committee, Task Forces—including membership, leadership, scope, priorities and working groups:
SBI'S 4-STEP STRATEGY
The following reflects when and how the steering committee and tasks forces will undertake their charge.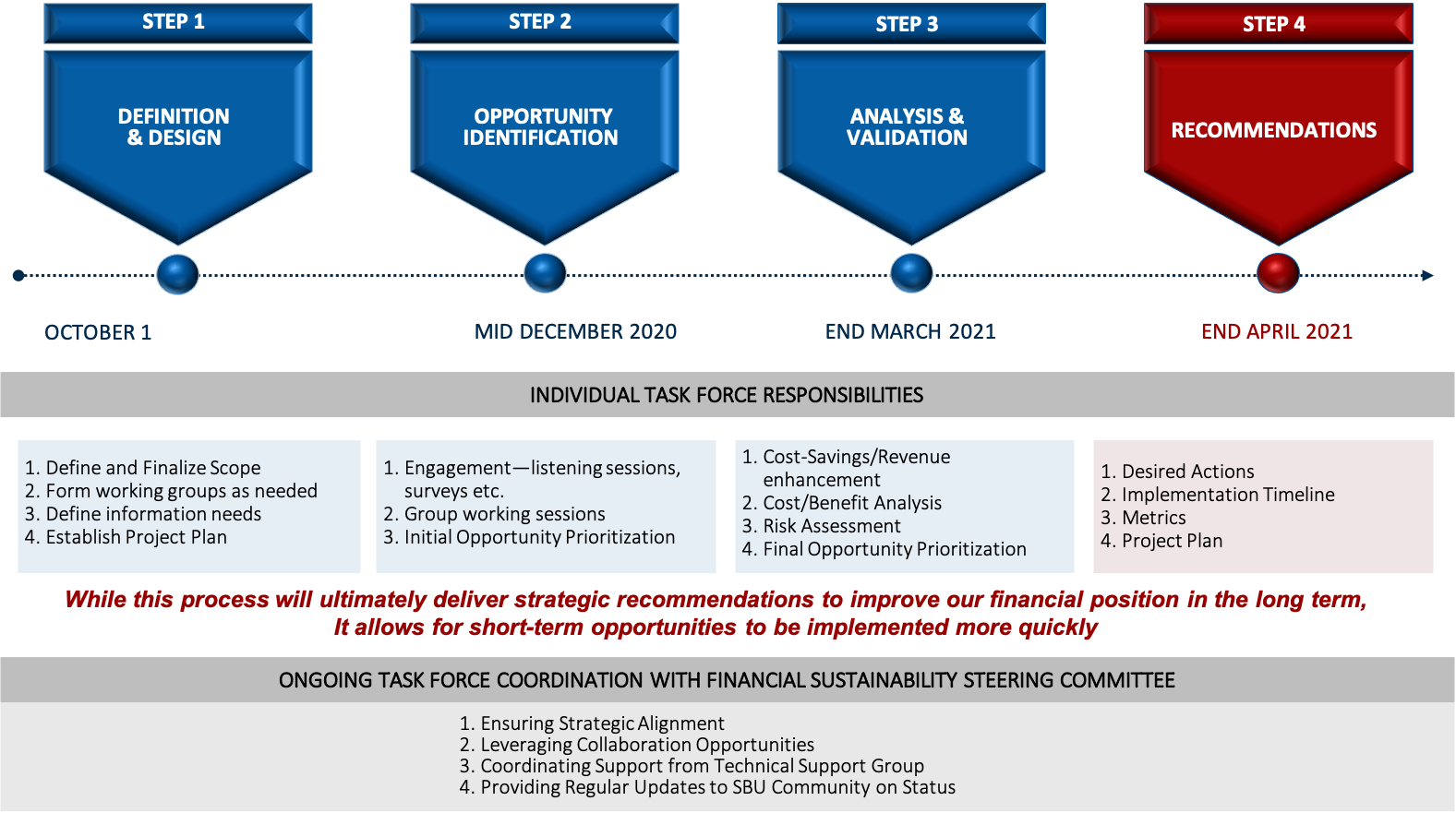 EXECUTIVE LEADERSHIP
Maurie McInnis
President

Fotis Sotiropoulos
Interim Provost

Judith Greiman
Chief Deputy to the President
SVP Government & Community Relations

Kathleen Byington
SVP Finance and Administration

Kenneth Kaushansky
SVP Health Sciences

Margaret McGovern
Knapp Professor of Pediatrics
Dean for Clinical Affaris
Vice President Health System Clinical Programs and Strategy

Teresa Flannery
Interim VP Marketing and Communications

Richard Gatteau
VP Student Affairs and Dean of Students

Carol Gomes
CEO, COO of Stony Brook University Hospital

Lynn Johnson
VP Human Resource Services

Richard Reeder
VP for Research

Richard Larson
President, University Senate

Charlie McMahon
Interim SVP & Enterprise Chief Information Officer